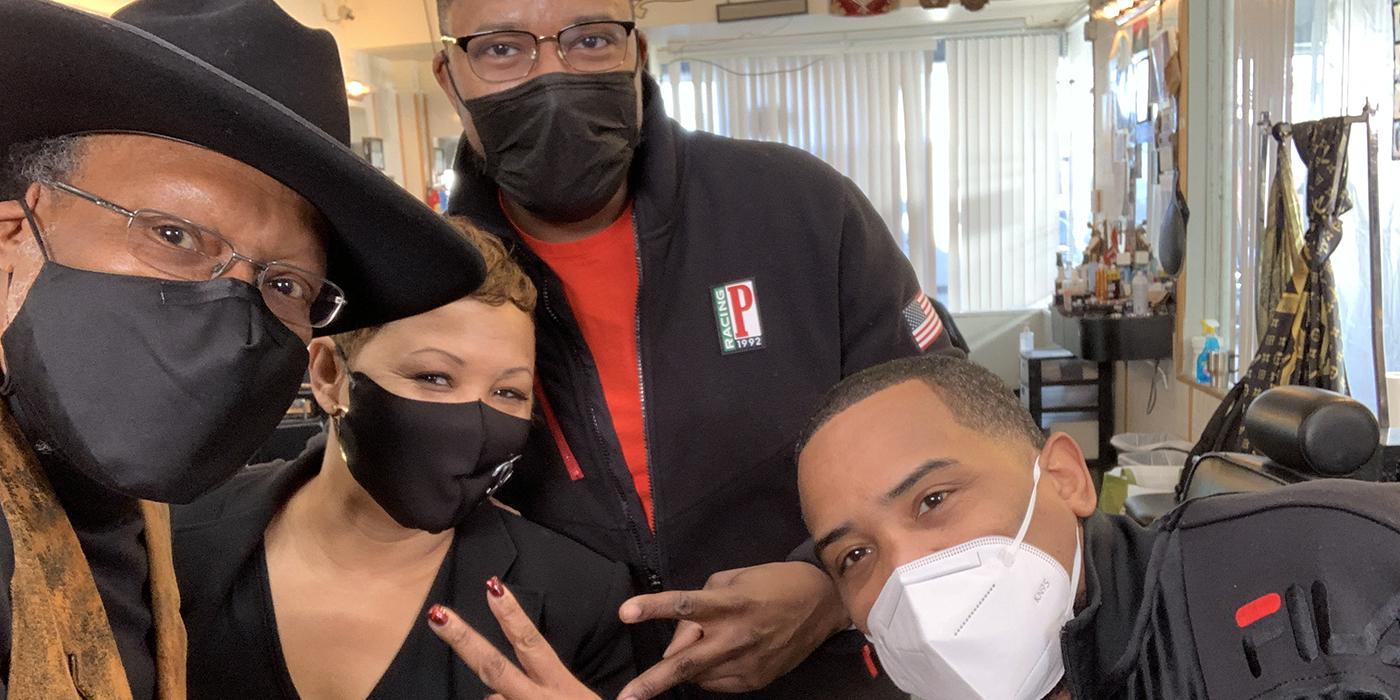 A Hyattsville, Maryland barbershop that serves a predominantly Black and Latino clientele will be the location of a no-cost COVID-19 vaccine clinic on Monday, May 17 from noon to 6 pm. While it is the first Maryland barbershop to serve as a venue for people to get their COVID-19 vaccines, organizers hope it will not be the last.
"The COVID-19 pandemic has made clear why trust matters, so why not go where people already have trust—the barbershop and salon," said Stephen B. Thomas, Professor and Director of the Center for Health Equity in the University of Maryland School of Public Health in College Park. 
Organized as a partnership between Luminis Health and the Health Advocates in Reach and Research (HAIR) project of the University of Maryland School of Public Health's Center for Health Equity, the clinic aims to vaccinate 50-100 community members age 18 and over, who might be hesitant to get their vaccinations, but will feel more comfortable doing so in a trusted venue like their neighborhood barbershop.
The selection of the Shop Spa barbershop for the clinic is no accident. Prince George's County is the second most populous county in the state, and has had the most people with COVID-19 infections throughout the course of the pandemic. African-American and Hispanic Marylanders have been disproportionately impacted by COVID-19, yet are less likely to be vaccinated.  As the percentage of people vaccinated against COVID-19 across Maryland grows, Prince George's lags behind its populous neighbors with only 34% fully vaccinated, compared to 48% and 47% in Montgomery and Howard counties, respectively. In Hyattsville, the number is even lower, with less than a third of the community (~28%) fully vaccinated to date. (data via NYT)
"Luminis Health is proud to have administered approximately 94,000 COVID-19 vaccinations throughout the communities we serve," said Deneen Richmond, president of Luminis Health Doctors Community Medical Center.  "The best way to protect yourself, your family and your community from COVID-19 is to get vaccinated. If we ever hope to reach community immunity, we must be willing think outside the box, like delivering the vaccinations in a barbershop, one by one in the chair."
While the barbershop clinic event cannot compare to the mass vaccination sites in terms of the numbers of vaccinations it can get in arms, micro-targeted events like this one may make a big difference over time in reaching higher risk populations who have a variety of reasons for being skeptical and hesitant to take the vaccine. Since 2010, Dr. Thomas and his UMD Center for Health Equity team have been training barbers and stylists as community health workers and educating their clients about prevention of colon cancer, diabetes, and other preventable chronic diseases. The benefit is that barbers and stylists are influencers, with "street credibility," according to Thomas, and they understand the pulse beat of the community.
"Over the past year, our barbers and stylists have proven themselves to be great partners in the effort to dispel conspiracies and provide accurate information about COVID-19," Thomas said. 
COVID risk for unvaccinated people remains very high in Prince George's County, and the clinic organizers look forward to engaging with community members who want to get themselves, their friends and loved ones protected against the virus. The Shop Spa will give all those who get vaccinated a "Barber Buck" voucher that they can redeem for a haircut at a future date and a fish sandwich on site. The event will include entertainment and the opportunity for participants to help co-create a graphic novel about defeating the COVID-19 pandemic where barbers and stylists are the superheroes.
WHAT: Hyattsville community COVID-19 vaccine* clinic for adults age 18 and over, providing no-cost health information and advice, food and live entertainment. Those who get vaccinated will receive a voucher for a haircut and a fish sandwich. *Vaccine provided will be based upon availability (Pfizer or Moderna or J&J/Janssen)
WHO: Luminis Health and the Center for Health Equity at the University of Maryland School of Public Health have teamed up with the Shop Spa barbershop to offer COVID-19 vaccines in a convenient and trusted environment.
WHEN: Monday, May 17, 2021, 12:00 pm to 6:00 pm
WHERE: The Shop Spa, 5916 Riggs Rd., Hyattsville, MD 20783
REGISTER: go.umd.edu/GetVax (pre-registration is encouraged but not required)
Media information: Members of the media are invited to come to the clinic between 1-4 pm to learn more about the efforts to reach and engage the community to improve vaccination rates. Interviews can be arranged upon request with:
Stephen Thomas, professor, University of Maryland School of Public Health
Deneen Richmond, president of Luminis Health Doctors Community Medical Center
Mike Brown, barber and community health advocate from the Shop Spa
Contacts:
Kelly Blake, University of Maryland School of Public Health
kellyb@umd.edu, 443-851-0272
Justin McLeod, Luminis Health
jmcleod@aahs.org, 540-819-6740
About the University of Maryland School of Public Health 
The University of Maryland, College Park School of Public Health is dedicated to advancing a better state of health for the diverse populations of Maryland and beyond. Accredited by the Council on Education for Public Health, the school is ranked 20th among all public health schools by US News and World Report (2022 ranking). The school's Maryland Center for Health Equity, a national leader in the effort to eliminate health disparities and achieve health equity, engages in innovative research, teaching and service with local communities. One of its projects, Health Advocates in Reach and Research (aka HAIR), engages barbershops and beauty salons in Prince George's County as culturally relevant portals for health education and delivery of public health and medical services in the community. Connect with UMD Public Health: Twitter l Facebook l LinkedIn l Instagram
About Luminis Health
Luminis Health is a leading health system in Maryland, comprised of Anne Arundel Medical Center, Doctors Community Medical Center, J. Kent McNew Family Medical Center and Luminis Health Clinical Enterprise. Formed in 2019, Luminis Health serves residents across eight counties in Maryland and offers services in primary care, imaging, specialty care, emergency care, hospital care, as well as mental health care. With 741 licensed beds and over 80 sites of care, the health system has more than 6,500 employees, 1,800 medical staff and 1,400 volunteers. Luminis Health generates $1.1 billion in operating revenue and contributes $79.9 million each year for the community's benefit. Luminis Health symbolizes light, and a commitment to being a beacon of hope and healing for the region, while igniting new possibilities for how and where health care is delivered. Learn more at LuminisHealth.org and connect with us on LinkedIn, Facebook, Twitter, and Instagram.
Categories
Press Releases
Departments
Center for Health Equity
School of Public Health