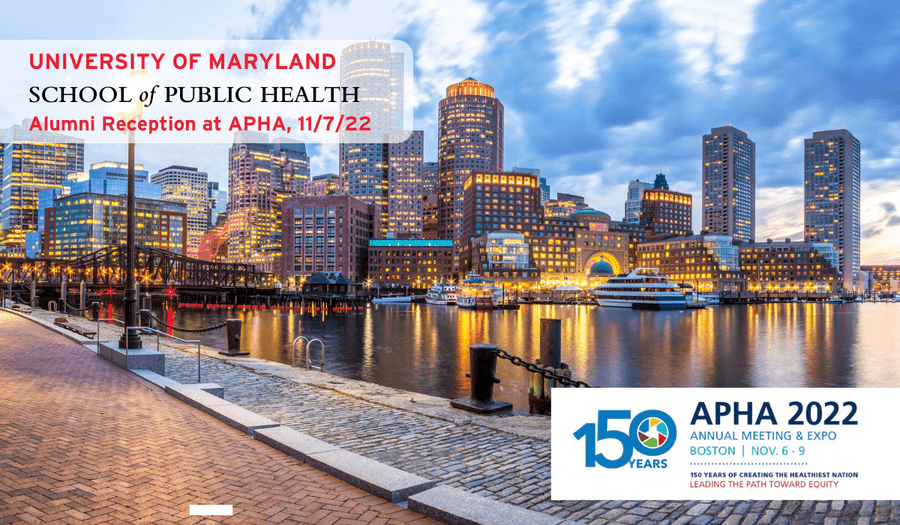 Location: Harpoon Beer Hall 
306 Northern Avenue, Boston, MA 02210
UMD alumni are invited to join University of Maryland School of Public Health Dean Boris Lushniak, along with alumni, faculty, students, staff and friends for a special reception in Boston, MA in conjunction with the annual meeting of the American Public Health Association (APHA). Dean Lushniak will recognize the fifteenth anniversary of the UMD School of Public Health by sharing some highlights of the school's recent successes and future plans. 
All UMD alums are invited to attend regardless of whether you are participating in the APHA meeting. For those attending APHA, please check out the UMD SPH at APHA document for a list of activities and presentations with our faculty, students and staff. 
 
UMD School of Public Health 15th Anniversary Reception
Monday, November 7, 2022
6:30 pm - 8:30 pm
Harpoon Beer Hall 306 Northern Avenue, Boston, MA 02210
Beer, pizza and pretzels will be served! Registration is free!
This event is co-sponsored by the UMD School of Public Health, the University of Maryland Alumni Association, and the Boston Terps Alumni Network.