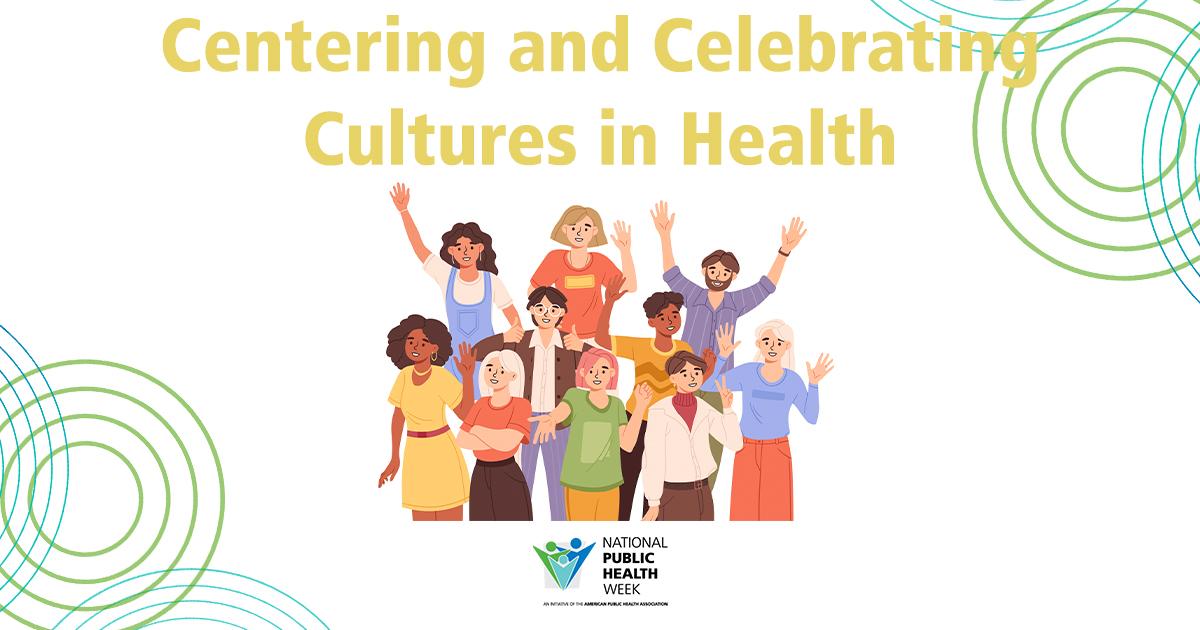 During the first full week of April each year, American Public Health Association brings together communities across the United States to observe National Public Health Week as a time to recognize the contributions of public health and highlight issues that are important to improving our nation's health. 

This year's overall theme is "Centering and Celebrating Cultures in Heath" to ensure everyone, in all cultural communities, has a chance at a long and healthy life. To do so, we must address and prevent the underlying causes of poor health and disease risk. We can use social determinants of health to understand how those causes are different for each person based on various factors like race, gender, sexual orientation, gender identity and financial situation.
Daily Themes
Monday: Community
Tuesday: Violence Prevention
Wednesday: Reproductive and Sexual Health
Thursday: Mental Health
Friday: Rural Health
Saturday: Accessibility
Sunday: Food and Nutrition
Events
NPHW Forum: Centering & Celebrating Cultures in Health
A conversation about the intersections of public health and how public health can collaborate with and learn from community leaders to build trust and a strong foundation for health equity. The Forum includes a keynote address, panel discussion and audience Q&A. 

This large event will be held on APHA's YouTube. Register to recieve access to this kickoff event.
---
Learn More
---
National Public Health Week Alumni Panel
The Office of Public Health Practice & Community Engagement is hosting a School of Public Health Alumni Panel to kick off National Public Health Week! Students, faculty, and staff are invited to the School of Public Health Friedgen Seminar Lounge (SPH Room: 2236) on Monday, April 3rd from 6-8pm. Panelists will be available after the panel for a Q&A and networking session. Please RSVP here so we can estimate the amount of food to provide.
---
Register
---
Early-Career Professionals Panel
How'd you get that job? For public health students and early-career professionals to learn from a panel of early-career professionals as they discuss their start in the public health field. Q&A to follow!
---
Learn More
---
Critical Conversations: Hot Topics in HIV/STI Prevention & Care 
Learn about HIV prevention tools and programs from community and public health leaders.
---
Learn More
---
Cultural Humility
Conversation and Q&A about cultural humility: what it is, and why it's vital for public health leaders to incorporate it into their work. Participants can earn 1 continuing education credit in CHES, MCHES, CME, CNE, CPH and OP (other professional).

Meet the Speakers:
Lawrence Haynes -  Program Manager for Racial Equity, American Public Health Association
Kelly Taylor, PhD, MPH - Assitant Professor of Medicine, University of California, San Francisco
---
Learn More
---
Mental Health is Public Health
A fireside chat for public health professionals focused on culturally appropriate mental health program. Participants can earn 1 continuing education credit in CHES, MCHES, CME, CNE, CPH and OP (other professional).

Meet the Speakers:
Debra Houry, MD, MPH - Chief Medical Officer and Deputy Director for Program and Science, Centers for Disease Control and Prevention
Kevin Dedner, MPH - founder and CEO, Hurdle
---
Learn More
---
All-Levels Virtual Yoga
Celebrate the end of the Keep It Moving Challenge with this hour long yoga class available for all levels of yoga practice.
---
Learn More
---
Do Good Challenge: School of Public Health Alumni Network x Maryland Food Bank
Join the School of Public Health Alumni Network in aiding Maryland families experiencing food insecurity by donating to a virtual food drive benefiting the Maryland Food Bank. The purchase of food items and cash donations are welcome. Donations will be accepted through this link from March 30, 2023 until May 15, 2023.
DONATE