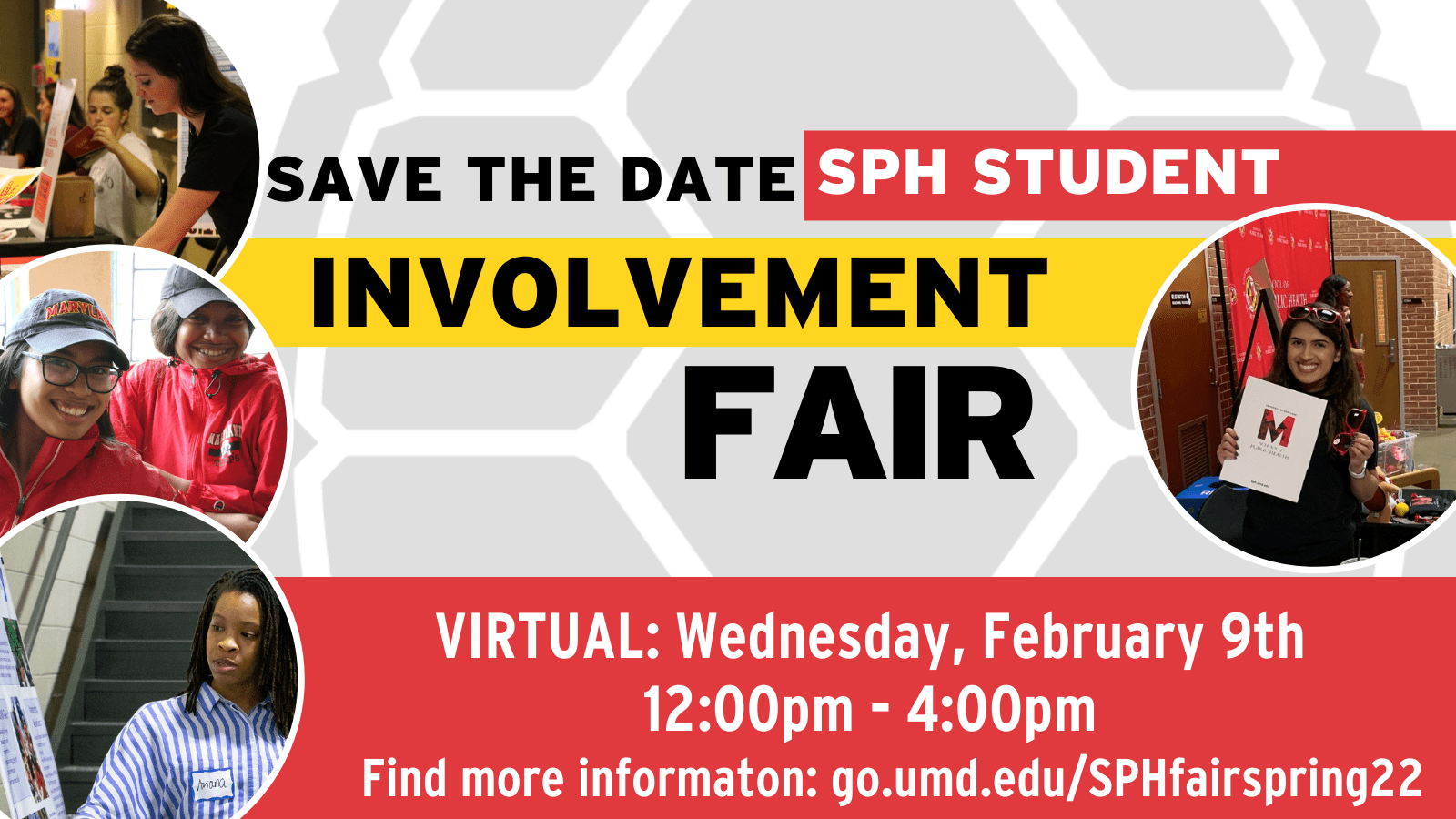 Location: Zoom (Virtual)
This one-day school-wide event is an opportunity to showcase SPH student groups, academic programs, research centers, and so much more! Start your semester by discovering all of the ways to get involved and get connected! All students, staff, and faculty are encouraged to attend. 
Virtual Fair
Date: Wednesday, February 9, 2022
Time: 12:00 PM - 4:00 PM
Location: This website via Zoom Links
Event Details: This virtual fair will take place via Zoom. Please register for the virtual event in order to gain access to the Zoom links. Each organization/group will be divided into their own breakout rooms. Students will be permitted to move through each breakout room freely.
REGISTRATION DETAILS:
For Organizations, Departments, or Programs, please register here:
Virtual Fair - February 9th (Vendors) 
For Student-Attendees, please use the registration link below:
Virtual Fair - February 9th (Students)
Fall 2021 attended organizations are listed below.
Description: American Medical Women's Association is an organization dedicated to advancing women in medicine, advocating for equity, and improving women's health through various outreach, education, and leadership efforts/ events.
Email: umd.amwa@gmail.com
Facebook: @AMWAUMD 
Instagram: @AMWAUMD 
GroupMe: https://groupme.com/join_group/62576066/DQsxncxx
Description: PHACE is a student-led organization that focuses on providing accurate and current information on public health issues that affect our communities and educating students on the ways they can be civically engaged.    
Email: asangrau@terpmail.umd.edu    
Description: Public Health Beyond Borders (PHBB) consists of a globally-minded group of students aiming to address health needs in partnering communities. The overall mission of the organization is to reduce health disparities around the world and increase awareness about good health practices while exposing undergraduate and graduate students to opportunities for responsible global development work through faculty-mentored international trips. We currently have three international partner communities in Peru, Sierra Leone, and India as well as a local project in Langley Park, Maryland.    
Email: phbbumd@gmail.com    
Description: The Pre-Physical Therapy Association gives students the opportunity to discover various aspects of PT as a career, as well as the undergraduate requirements needed for graduate school. Our goal is to be an effective organization that guides its members to become competitive candidates for PT school. We prepare our members by organizing meetings regarding GREs, PT school applications, resumes, community service, different paths in the PT field, plus much more!
Email: umdprepta@gmail.com    
Description: UAEM at UMD is a group of dedicated students who passionately believe in social justice and health equity. Our mission is to promote access to medicines and medical innovations in low- and middle-income countries by changing norms around academic patenting and licensing, ensure that university medical research meets the needs of people worldwide, and empower students to respond to access and innovation crisis. 
Email: uaem.umd@gmail.com