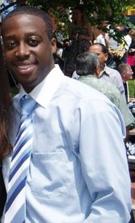 Rising Family Science senior Erin Sullivan was recently chosen as a 2017-2018 UMD Philip Merrill Presidential Scholar. This scholar program recognizes the academic excellence of a select few University of Maryland seniors, as well as the instructors these students identify as mentors who had the greatest impact on their academic achievement. Erin selected recent Family Science graduate, Dr. John Hart as her faculty mentor after taking Dr. Hart's Poverty, Affluence, and Families course, FMSC 381, this past Spring semester. Erin reflects on Dr. Hart's superior teaching ability, saying "Professor Hart challenged us to produce exceptional work and to overcome our own biases in order to address the most controversial social issues of today."
Scholars are selected each year by their academic colleges and schools with undergraduate major programs as an opportunity to honor and support  This year's scholars and mentors will be honored with a celebratory event on Friday, November 17, 2017 from 12pm to 2pm at the University House.
"It's been a pleasure teaching and mentoring Erin," says Dr. Hart. "You cannot replace an Erin Sullivan—as a student and as a person. She has a willingness to not just make herself better but those around her. Her dedication for politics and social change is admirable and I look forward to seeing the structural change she is a part of in the future."
Learn more about the scholarship and hear from Erin about her mentors on the UMD Philip Merrill Presidential website.
Categories
Students
Faculty
Departments
School of Public Health
Center for Health Equity