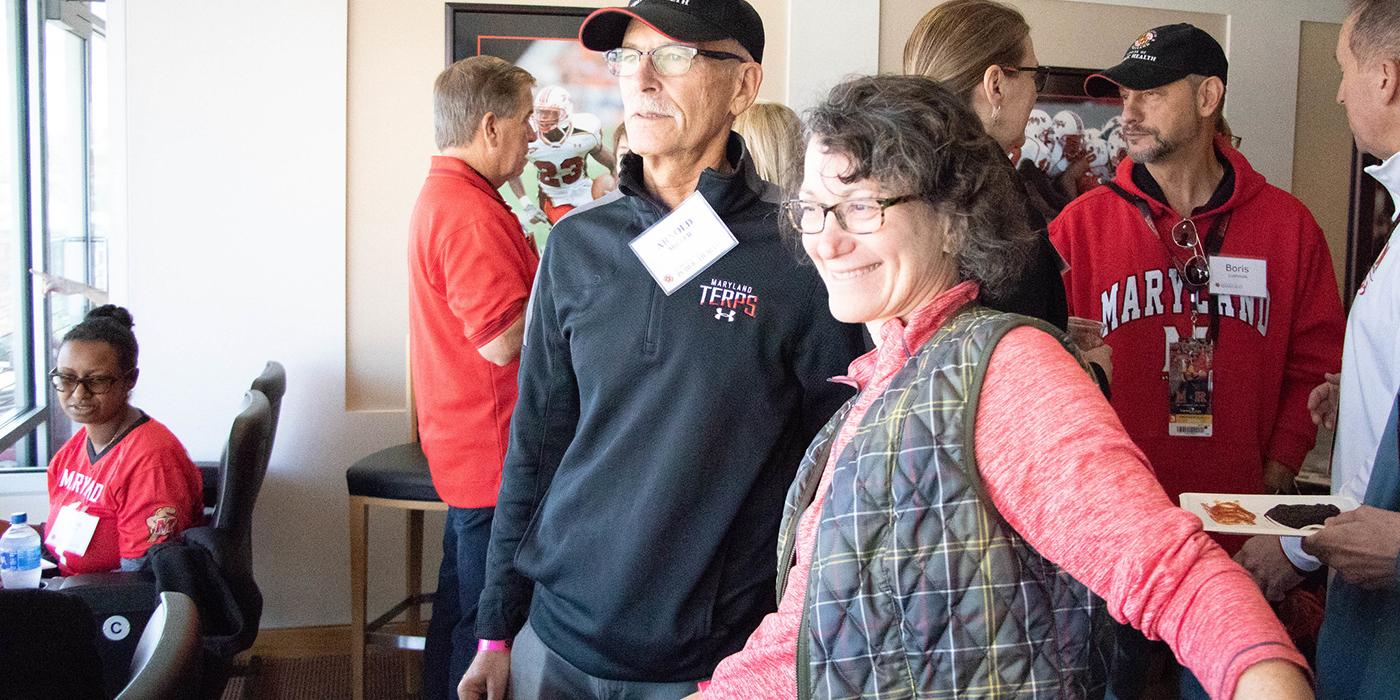 The School of Public Health community has lost a devoted alumna whose engagement with the University of Maryland has spanned decades and included many roles, most recently as an advisor to Dean Boris Lushniak as a member of the school's Dean's Council. Ayne Furman '77 died on September 26, 2021 after a struggle with cancer. She was 64 years old.
Ayne was among the first students to graduate from the newly created "Kinesiological Sciences" bachelor's program (now simply called kinesiology) in 1977. The University of Maryland's Department of Kinesiology was the first in the country to launch such an undergraduate degree focused on a rigorous, science-based approach to studying the complex role of physical activity in our health and well-being throughout life. 
As an undergraduate, Ayne ran for the UMD cross-country team. After graduating from Maryland, she went on to earn her Doctorate in Podiatric Medicine at Rosalind Franklin University of Medicine and Science in Chicago, becoming one of the first female podiatrists focused on sports medicine and gait analysis. Her successful podiatric practice in Alexandria, Virginia served patients for more than 33 years. 
"Ayne was a pioneer. Her love for the University of Maryland, support for Terp teams, and gifts of time, expertise and money have made a real impact," Dean Lushniak said. "She was an ardent supporter of our school and the Department of Kinesiology. In her role on the Dean's Council, she joined our campaign cabinet, selflessly helping our development office to broaden its network of potential supporters for the highly successful Fearless Ideas campaign." 
Ayne and her husband Arnold Miller were philanthropic supporters of School of Public Health programs for many years. In 2014, they established the Furman/Miller TerpStart Endowed Scholarship in the School of Public Health, which provides need-based scholarships for Kinesiology students and helps them to graduate with less debt. She and Arnold also provided generous annual support to the Department of Kinesiology.
Arnold and Leo Braudy, Ayne's son, are honoring her legacy and commitment to Maryland through the establishment of the Anye Furman Endowed Discretionary Fund with $100,000 to support the Department of Kinesiology and the School of Public Health. In recognition of this gift, the School of Public Health will rename the kinesiology department conference room the "Dr. Ayne Furman Memorial Conference Room." 
"Ayne was a wonderful friend to Kinesiology and we appreciate all that she did," said Dr. Brad Hatfield, professor and chair of the Department of Kinesiology. "And I am grateful that her legacy will live on through the endowment that will support the department's initiatives for decades to come."
Ayne is remembered by her family as a devoted wife, mother, runner, golfer, rower (who owned her own shell), friend and avid traveler. By her fellow Terps she will be remembered as someone who lived an admirably generous and active life. Even while undergoing cancer treatment, she ran or played pickleball most days. 
"Ayne was one-of-a-kind with her passion and enthusiasm," recalled Dean Lushniak. "She will be missed."
Departments
Department of Kinesiology