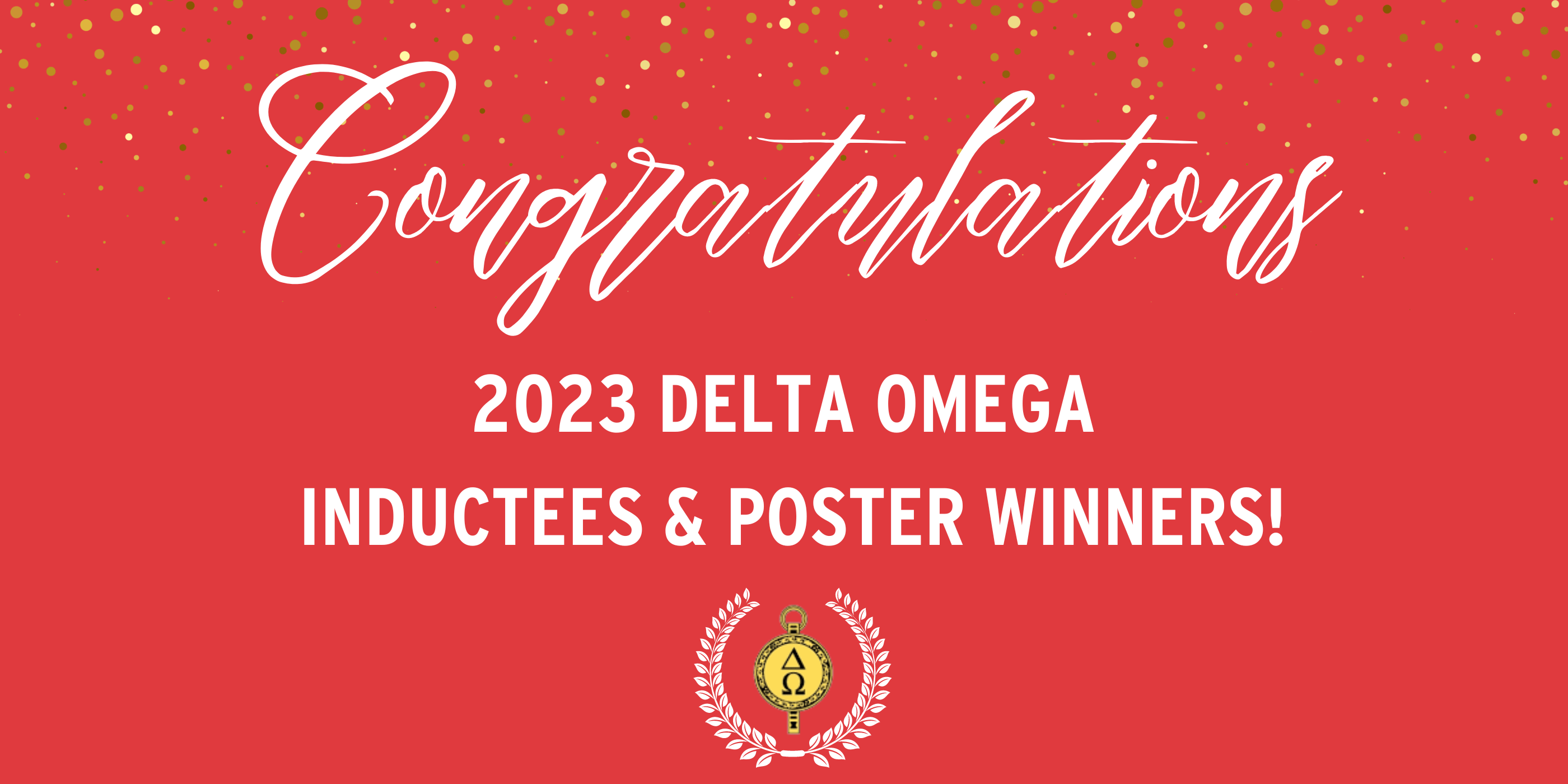 The Gamma Zeta chapter of the Delta Omega Honorary Society in Public Health at the University of Maryland School of Public Health is pleased to announce its 2023 inductees. Inducted are 12 students, five faculty members, two alumni and one community partner.
Election to Delta Omega is based on high academic standards and outstanding performance in scholarship, teaching, research and community service. Election of membership in Delta Omega is intended to not only recognize merit but also to encourage and further excellence in and devotion to public health work.
Delta Omega is the honorary society in public health. The Gamma Zeta  chapter of Delta Omega was established at the University of Maryland  School of Public Health in 2011 to honor our distinguished students,  alumni, faculty and honorary members. The mission of the society is to  encourage and recognize excellence in practice, research, education and  academic achievement in the field of public health.
For more information about Delta Omega, please visit the National Chapter's website at www.deltaomega.org.
Student Inductees
Zeina Alkhalaf, PhD '23 (FMSC)
Sylvia Costa, MPH '23 (MIAEH)
Sahra Ibrahimi, PhD '24 (FMSC)
Charlene Kuo, PhD '23 (BCH)
Jianyu Lai, PhD '23 (EPIB)
Michele Morgado, PhD '23 (MIAEH)
Jailyn Morris, MPH '23 (KNES)
Taylor Palmer, MPH '23 (BCH)
Emma Powell, MPH '23 (KNES)
Chawin "Win" Reilly, MHA '23 (HPM)
Nate Woodard, PhD '23 (BCH)
Martha Yumiseva, PhD '23 (FMSC)
Faculty Inductees 
Danielle Catona, PhD (Dean's Office)
Mariana Falconier, PhD (FMSC)
Rebecca Gourevitch, PhD (HPM)
Devlon Jackson, PhD (BCH)
Abdel-Razak Kadry, PhD (MIAEH)
Alumni Inductees
Kristin Cipriani Yee, MA '14 (PHSC)
Michelle Jasczynski, PhD '22 (BCH)
Delta Omega Gamma Zeta Chapter 2022 Community Partner Award
Identity, Inc. is a non-profit positive youth development and health promotion organization based in Montgomery County, focused on assisting Latino youth and their families. Founded in 1998, Identity offers a wide array of programming from social emotional learning, recreation, and academic support for children in elementary school, middle school, high school, and Youth Opportunity Centers serving older youth who are disconnected from school and work. A large percentage of Identity clients are immigrants, particularly from Central America, and many are undocumented or part of mixed-status families. Each year Identity serves over 3,000 youth and their families, and has become a leader in the region for service and advocacy on behalf of Latino youth, earning numerous recognitions and awards. Identity is a driving force in the community addressing critically important social determinants of health for a highly marginalized and vulnerable group of families.
Departments
School of Public Health
Maryland Institute for Applied Environmental Health
Department of Behavioral and Community Health
Department of Epidemiology and Biostatistics
Department of Family Science
Department of Health Policy and Management
Department of Kinesiology