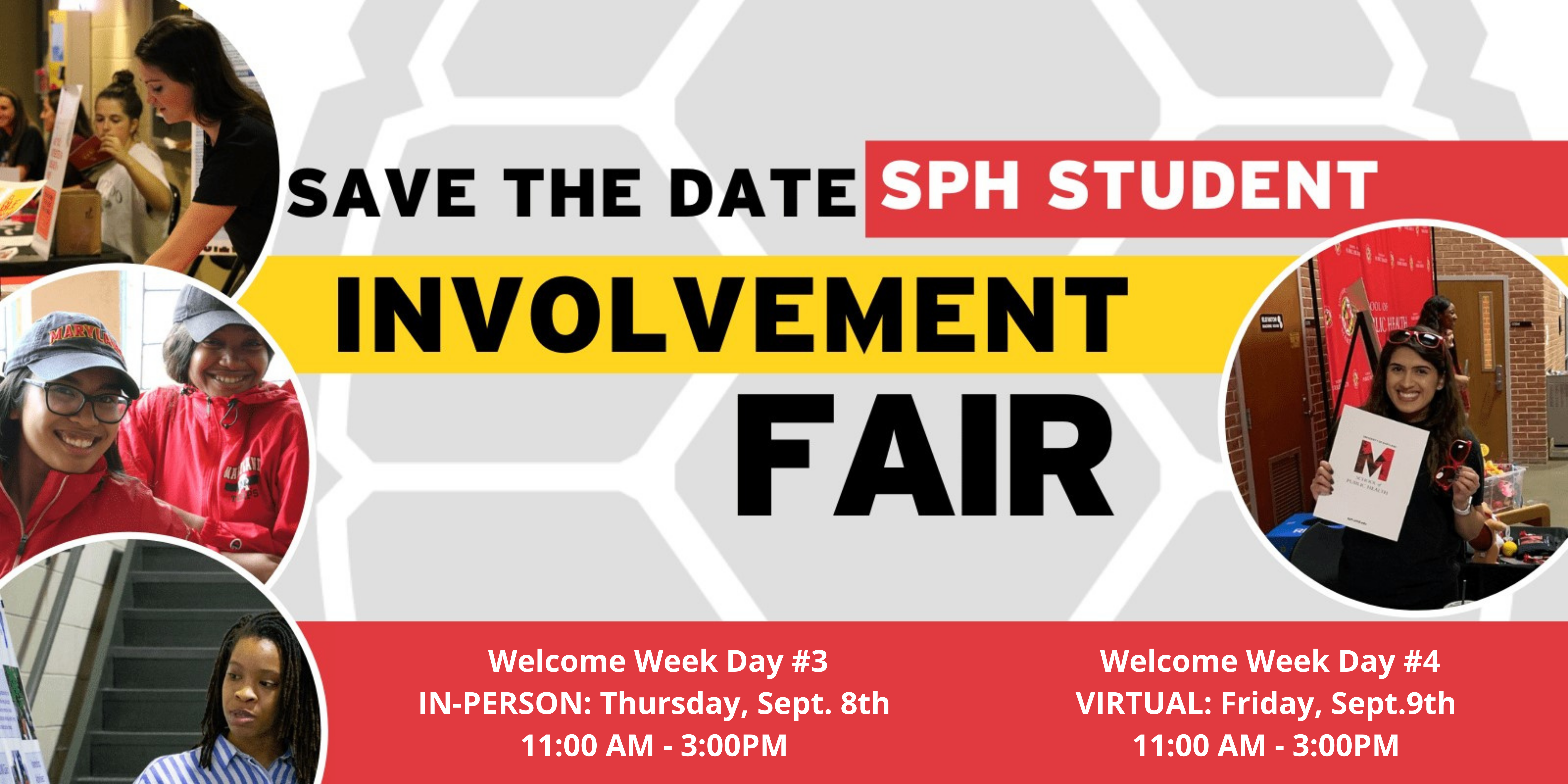 Location: In Person - Outside, SPH Building Overhang
Virtual - Zoom
This two-day school-wide event is an opportunity to showcase SPH student groups, academic programs, research centers, and so much more! Start your semester by discovering all of the ways to get involved and get connected! All students, staff, and faculty are encouraged to attend. '
In Person Fair
Date: Thursday, September 8, 2022
Time: 11:00 AM - 3:00 PM
Location: SPH Building Overhang - Outside
Event Details: This in person fair will take place outside of the SPH Building under the Overhang (next to Lot PH2). Please register for the event. 
Virtual Fair
Date: Friday, September  9, 2022
Time: 11:00 AM - 3:00 PM
Location: This website via Zoom Links
Event Details: This virtual fair will take place via Zoom. Please register for the virtual event in order to gain access to the Zoom links. Each organization/group will be divided into their own breakout rooms. Students will be permitted to move through each breakout room freely.
REGISTRATION DETAILS:
For Organizations, Departments, or Programs, please register here:
For Student-Attendees, please use the registration link below:
In-Person Fair - Thurs, Sept.8th (Students)
Virtual Fair - Fri. Sept. 9th (Students)
Past attending organizations are listed below.
Description: The American Medical Student Association was founded in 1950 and is committed to improving health care and healthcare delivery to all people; promoting active improvement in medical education; involving its members in the social, moral and ethical obligations of the profession of medicine; assisting in the improvement and understanding of world health problems; contributing to the welfare of pre-medical and medical students, interns, residents and post-MD/DO trainees; and advancing the profession of medicine.
The UMD Chapter pursues these goals with a specific focus on preparing undergraduate students for careers in medicine by offering opportunities for service learning, professional development, mentorship, community, and advocacy.
Website: https://umdamsa.wixsite.com/home
Email: umdamsaboard@gmail.com
Description: The CARE Office provides free, confidential advocacy and therapy services to primary and secondary survivors of sexual assault, relationship violence, stalking, and sexual harassment, while simultaneously empowering the campus community to prevent violence through educational presentations, events, and outreach activities.     
Email: uhc-care-prevention@umd.edu    

 
Description: Fearless Terps think outside their borders! Education Abroad offers 400+ exciting and extraordinary learning opportunities around the globe - a study abroad journey for every student to fulfill academic, personal and professional goals. Learn how to incorporate international education into your academic plan through in-person and virtual programs with partners across the world.
Email: educationabroad@umd.edu
Description: Eta Sigma Gamma is the only National Professional Honorary in Health Education. Since being revitalized in 2017, the Epsilon Chapter of Eta Sigma Gamma (ESG) has proudly excelled in the areas of service, academics, and membership growth. Through our philanthropy and social activities, members find lifetime friendships and valuable connections for the future.
Insta: @epsilonesg
Email: epsilonesg@gmail.com 
Website: https://terplink.umd.edu/organization/etasigmagamma   
Description: The Federal Fellows Program combines a fall seminar course taught by industry experts with a spring internship in the DC metropolitan area. Throughout the year, fellows are supported with professional development workshops, one-on-one resume and interview reviews, and federally-related events. The program's mission is to prepare talented and diverse undergraduate students to excel in professional internships and to pursue careers of influence and impact, especially in the public sector.
Email: fedglobal@umd.edu
Description: The Human Integrative Physiology Lab serves to expand our understanding of human physiology at the intersection of sex, race, and the benefits of physical activity, with a focus on the vascular system (arteries).
Email: hipl.research@umd.edu
Name: Public Health Student Ambassadors
Description: PHSC Student Ambassadors assist prospective students in the enrollment process and represent the Public Health Science program (PHSC) at outreach activities and events for current and prospective UMD students.
Email: jms15@umd.edu
Description: The purpose of the "Pre-PA Club" is to prepare students for the profession by providing students with different opportunities to explore and learn the profession, inform students of the history and the purpose of the profession, and to provide students information about the admission requirements for PA schools and on the application process. The club provides a welcoming, safe and fun environment for students to come together with an interest in becoming a physician assistant. We will do volunteer work, fundraisers, guest speaker events and more to learn and gain knowledge and access to the medical world.
Email: umdpaclub@gmail.com
Description: PHACE is a student-led organization that focuses on providing accurate and current information on public health issues that affect our communities and educating students on the ways they can be civically engaged.    
Email: asangrau@terpmail.umd.edu    
Description: Public Health Beyond Borders (PHBB) consists of a globally-minded group of students aiming to address health needs in partnering communities. The overall mission of the organization is to reduce health disparities around the world and increase awareness about good health practices while exposing undergraduate and graduate students to opportunities for responsible global development work through faculty-mentored international trips. We currently have three international partner communities in Peru, Sierra Leone, and India as well as a local project in Langley Park, Maryland.    
Email: Phbbumd@gmail.com    

 
Description: The Student Health Advisory Committee (SHAC) acts as a student voice to the University Health Center staff and administration.SHAC members are available to listen to comments, suggestions, complaints, or compliments about the University Health Center. SHAC also monitors and regularly reports on the University Health Center's ongoing American College Health Association Patient Satisfaction and Assessment Survey. SHAC works closely with the Director of the University Health Center to help resolve any complaints. Aside from their liaison duties, SHAC gets involved in some outreach programming to support campus wellbeing.
Email: shac.umd@gmail.com
Website: https://health.umd.edu/about-us/student-health-advisory-committee-shac
Description: Students Engaged in Public Health (SEIPH) is the student organization for the Public Health Science major at the University of Maryland. Our goal is to make our members informed about issues that are prevalent in Prince George's county, as well as the United States as a whole. Our mission is to build a community among Public Health Science students; serve the community through public health outreach and activities; provide networking opportunities to members; develop leadership and management skills. We will work on understanding the intricacies of various public health issues by listening to knowledgeable speakers, participating in open panel discussions, taking part in community service and hosting events that raise money and awareness.    
Email: seiph.umcp@gmail.com
Insta: instagram.com/seiph.umcp
Website: https://sph.umd.edu/student-opportunities/student-organizations-honor-societies-and-honor-programs/students-engaged-public-health 
Description: The STEP Program is a professional training program designed to help students gain practical knowledge and develop essential skills to succeed in the "world of work." Through a series of workforce training workshops, students will enhance their competencies in communication, leadership, and teamwork in a professional environment.     
Email:sph-step@umd.edu    
Website: go.umd.edu/STEP
 
Description: The Pre-Physical Therapy Association gives students the opportunity to discover various aspects of PT as a career, as well as the undergraduate requirements needed for graduate school. Our goal is to be an effective organization that guides its members to become competitive candidates for PT school. We prepare our members by organizing meetings regarding GREs, PT school applications, resumes, community service, different paths in the PT field, plus much more!
Email: umdprepta@gmail.com  
Description: The TOGETHER program promotes healthy family relationships, personal well-being, as well as employment and financial stability in our communities. We typically serve low to moderate income couples through a 14-hour workshop providing education on relationship and financial management. Research assistants will participate in recruiting, screening, and enrolling participants, observing workshops and providing feedback, developing marketing strategies, and keeping our social media accounts up to date. This is a great opportunity for students who are interested in pursuing graduate work in couple and family therapy, family science, social work, community health, psychology, human development, intervention science, or related fields. You may find additional information on our website, www.togetherprogram.org.
Email: vjludwig@terpmail.umd.edu
Description: The Undergraduate Teaching & Education Assistants and Mentors (UTEAM) Program facilitates peer educational support in the School of Public Health through coursework and hands-on experiences. Working closely with faculty and graduate assistants, UTEAM members are an asset to the SPH learning community.
Email: sph-uteam@umd.edu