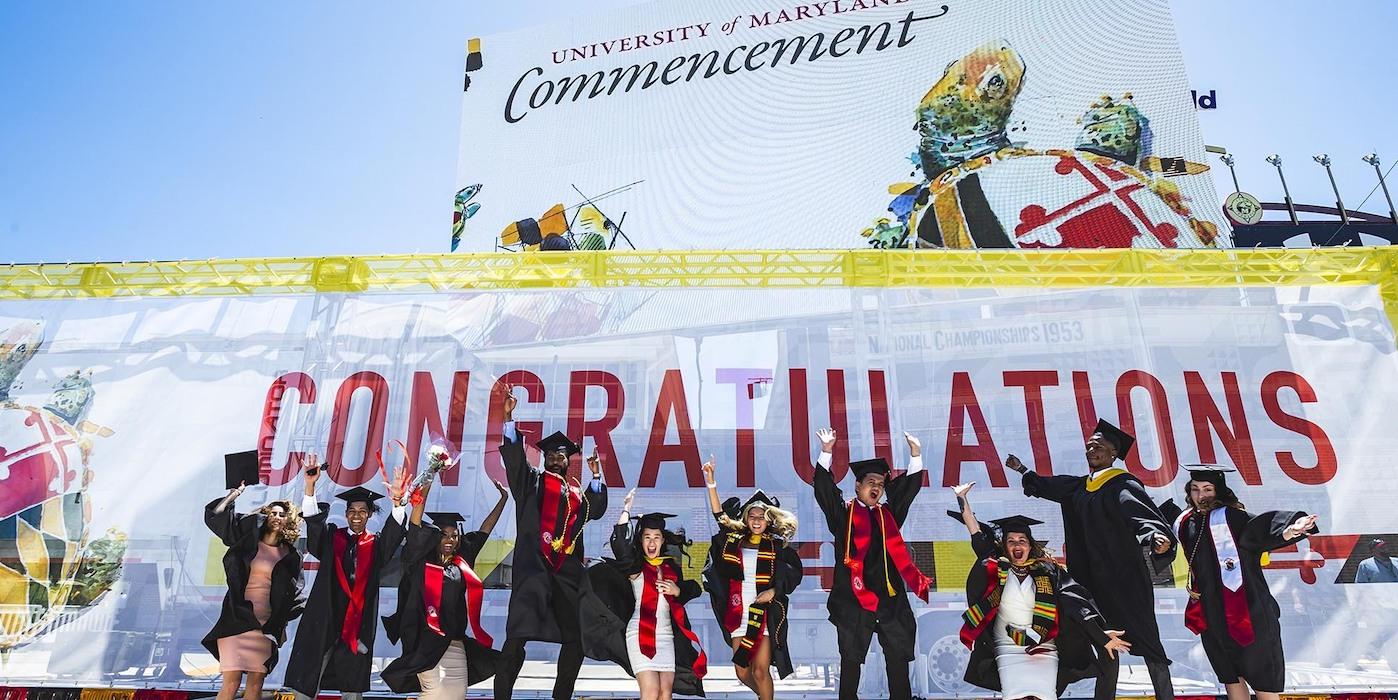 Location: UMD Xfinity Center
Congratulations Spring 2022 graduates!

The SPH Spring 2022 Commencement was held onThursday, May 19, 2022 from 12:00 pm - 2:00 pm in the UMD Xfinity Center. 
View a live stream of the ceremony at go.umd.edu/sph22live.
View photos from the ceremony at: go.umd.edu/sph22photos
Keynote Speaker 
Robin Mockenhaupt, Ph.D. '99 (Health Education)
Independent Consultant in Philanthropy and Non-profit Management
Chair of the UMD School of Public Health's Dean's Council
Robin Mockenhaupt is a national philanthropic and non-profit leader in population health, with a lifespan focus from maternal and child health to healthy aging. She is an independent consultant in philanthropy and non-profit management.
Robin worked for 21 years at the Robert Wood Johnson Foundation, retiring in 2020. Before joining the Foundation, Robin spent 16 years with AARP, where she specialized in health and aging.  She also worked in non-profit organizations in maternal and child health and community health. She received a PhD in health education and a graduate certificate in gerontology from the University of Maryland, a Master's degree in Public Health from Columbia University, and a Masters of Business Administration and Bachelor's degree in Biology from the Pennsylvania State University.
Student Speaker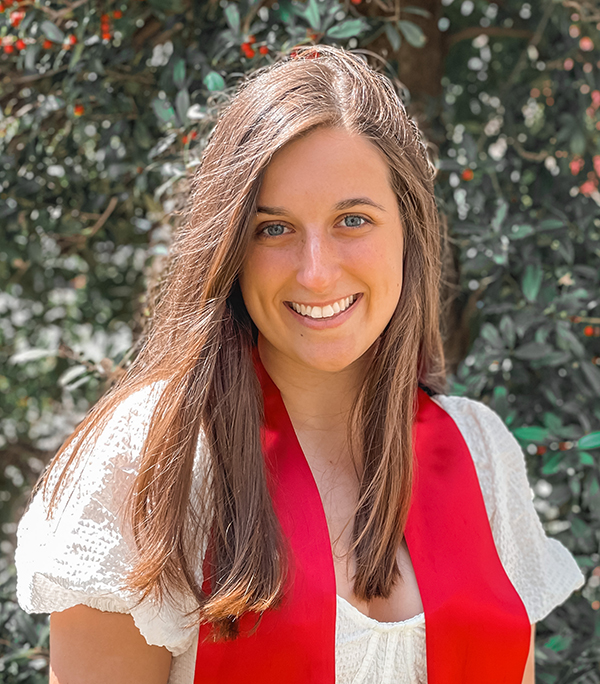 Brianna Nabet
Bachelor of Science in Family Science
Brianna Nabet dedicated her undergraduate career to empowering students to find their academic, personal and professional passions. Brianna has held various leadership roles on campus from serving on Omicron Delta Kappa's executive board, an SPH representative to the University Senate, an Educational Assistant for men and women's basketball, and a Public Health Policy federal fellow. 
Her passion for creating equity in communities, especially advancing the health of children and families, led her to create a one credit course that she self developed and taught to over 60 students, FMSC215 Foster Care and Adoption; Law, Policy, and Family. Teaching the course was the highlight of her undergraduate career, as Brianna was able to educate and empower students to promote advocacy for socially disadvantaged and marginalized youth in our child welfare systems. 
Post graduation, Brianna is looking to continue her passions of empowering others to create change in their communities in Charlotte, NC.
Tickets
No tickets are required for graduates or guests to attend the School of Public Health Commencement Ceremony for Winter or Spring.
Regalia
Students are required to wear regalia in order to participate in the commencement ceremonies. Regalia information is available at www.commencement.umd.edu.
Parking and Shuttles
Parking in all surface and pay lots is free and available on a first-come, first-serve basis on commencement days.
Parking for guests with disabilities is available at the Xfinity Center in Lot 4, 6 (Terrapin Trail Garage), 9, and 11 surrounding the Xfinity Center. No special permit is required for the SPH ceremony.  The Terrapin Trail Garage has elevators that will take guests to the entrance level of Xfinity.    
The University of Maryland does not have wheelchairs available. If you have difficulty walking long distances, consider renting a wheelchair from an off-campus vendor. If you require accessible transportation for a disabled guest on the day of commencement, please make arrangements by calling dispatch services at 301-314-0318.
Seating
Sections 120 and 121 inside Xfinity are reserved for elderly or disabled guest seating. Ushers can direct you to these sections once inside the building. Due to limited space, the university recommends that only the person with the disability and one other guest sit in the accessible seating. Additional members of your party should sit in regular seating areas. You do not need to reserve seating for special needs guests. Please plan to arrive early to give yourself plenty of time.
Arrival Time
Students participating in the SPH Commencement Ceremony should report to the Xfinity Center's Small Gym (Pavilion) at 11:00 am for line up. Students will begin processing to the stage at 11:45 am so that the ceremony will begin promptly at noon.
Security
IT IS IMPORTANT THAT ALL GRADUATES ARRIVE ON TIME! Security measures, such as wanding or bag checks, will be in place for entrance into XFINITY. Backpacks and bags larger than 8"x11"x12" are prohibited. Having to go through security will slow you down and delay your entrance. Please be sure to allow enough time for this potential delay.
Visit the Items Allowed and Security Procedures link for additional information about security in the Xfinity Center.
Personal Items
Students should leave coats, purses, etc. with family members—we are not responsible for lost items.
All Students Graduating
Be sure to arrive at 11:00 am to line up for the processional. Upon entering the Pavilion (room 0601/Auxiliary Gym) at the XFINITY Center look for Check-In/Registration tables.
Each graduate should:
Obtain an announcement card from the Check-In/Registration tables in the Pavilion Room 

Complete the survey on the back of the card

Find the sign with your degree/major and lineup

Hold the card and give it to the person reading your name on stage
Information about the main University Commencement can be found on the University Commencement webpage.

All campus events are contingent on evolving COVID-19 conditions and guidelines from the Prince George's County health department. Hosting successful in-person commencement ceremonies will depend on everyone doing their part, and remaining diligent in following our guidelines. Please refer to the 4 Maryland website for the most up-to-date information.