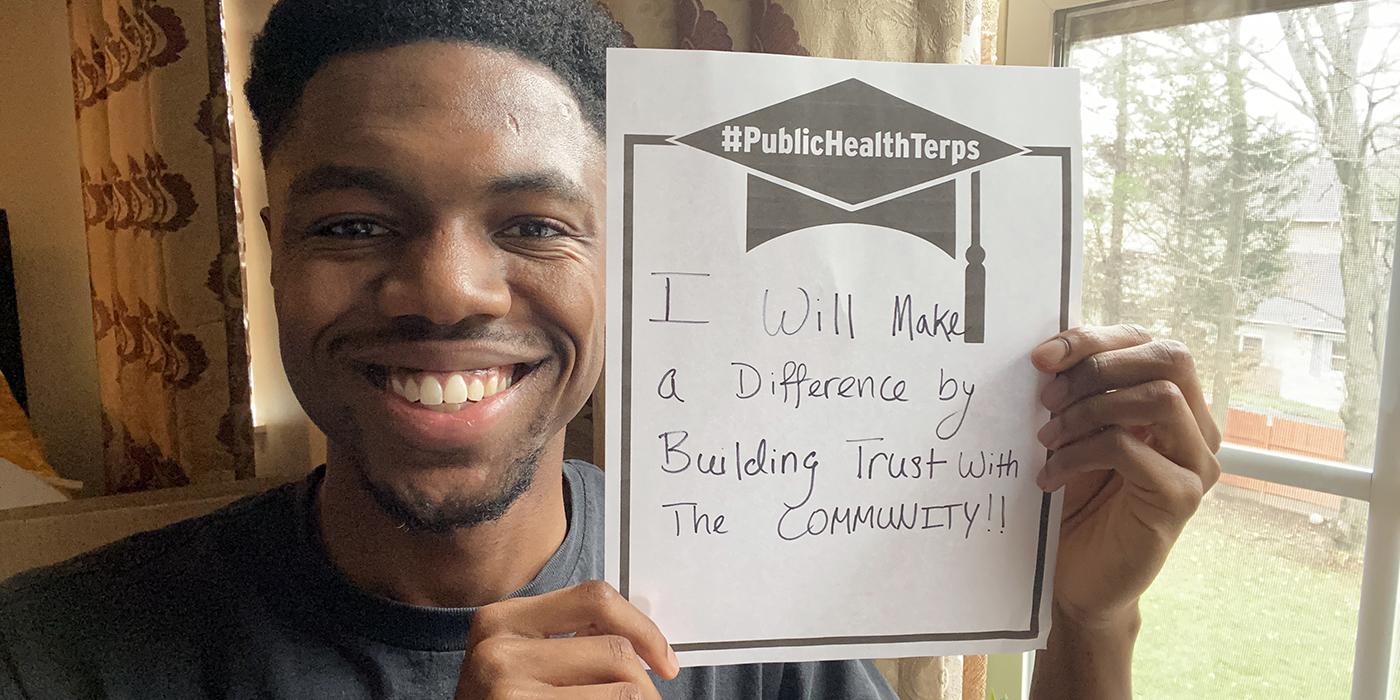 With COVID-19 dramatically demonstrating the need for a robust, well-funded and equity-focused public health system, a new $1.5 million gift to the University of Maryland School of Public Health (SPH) will support efforts to prepare a new generation of public health leaders—a diverse group ready to confront challenges ranging from disease pandemics to systemic racism, the climate crisis and more.  
The gift from the Robert Wood Johnson Foundation (RWJF) honors Robin Mockenhaupt Ph.D. '99, who retired as senior vice president of strategic initiatives at the foundation in December after more than 20 years in strategic leadership roles aimed at bolstering the nation's health. It will enable SPH to expand opportunities for undergraduate and graduate students to gain practical experiences in public health by accelerating the creation of an Office of Public Health Practice, which will oversee partnerships with federal, state and local government agencies, non-profits and community groups.
Although many School of Public Health students already do internships as part of their programs, the new office will help even more take advantage of these and other experiential opportunities in and out of the classroom, as well as expand access with the creation of new student awards and scholarships.
"I feel really strongly about helping students, because finances shouldn't be a barrier to pursuing the career you want," said Mockenhaupt, who facilitated the gift and chairs the SPH Dean's Council. "I am so pleased that this gift is focused on public health practice so that students can get the hands-on experience they need to lay the foundation for their future in public health." 
"I am so pleased that this gift is focused on public health practice so that students can get the hands-on experience they need to lay the foundation for their future in public health." 
Combined with matching funds through the Clark Challenge for the Maryland Promise, funded by the A. James & Alice B. Clark Foundation and the University of Maryland, the $1.75 million total gift amount establishes the Mockenhaupt Endowed Faculty Fellow of Public Health Practice and Mockenhaupt Endowed Distinguished Graduate Fellowship of Public Health Practice. These endowments will support the hiring of a Director of Public Health Practice and a graduate student with practical public health experience to assist in managing the office.  
The gift also establishes the Mockenhaupt Endowed Student Award of Public Health Practice and a Maryland Promise Scholarship in Mockenhaupt's name. They'll be awarded annually to provide public health students with access to these essential "practice" experiences, with a priority for those from underrepresented and underserved populations.
Partnering with communities gives students the opportunity to directly apply knowledge from coursework, while gaining insight into the impact that public health programs can have. The experiences also help keep them motivated and engaged.
"I like working on things where I can see a tangible impact—it's the reason why I went into public health in the first place," said Elle Pope, a Ph.D. candidate in health services. Pope is part of a team working on an evaluation of the Baltimore Health Corps, a program established in June 2020 to address the both health and economic costs of the COVID-19 crisis by training people who lost jobs to be community health workers and contract tracers.
"Working with the Baltimore Health Corps has reassured me that I am excited about doing this kind of work and confirmed that I am headed in the right direction. The project has a strong equity lens and is focused on putting public health into action to improve people's lives," she said.
With a student body more than half composed of students from underrepresented racial and ethnic backgrounds, as well as many first-generation college students, SPH aims to provide all students with access to experiences in public health practice regardless of financial circumstances—a purpose it shares with the Robert Wood Johnson Foundation.
"We must ensure that there is opportunity for those for whom opportunities have been the most limited—students of color, first-gen students, and those from immigrant families—to have a unique and essential role in the re-imagining and re-structuring of public health," Richard Besser, M.D., president and CEO of the foundation said of the gift.
Mockenhaupt earned her Ph.D. in health education from the University of Maryland in 1999, eight years before the School of Public Health was officially established. In the interim, she was tapped by founding Dean Robert S. Gold as a member of the inaugural Board of Visitors to contribute to the vision for the emerging school. In 2018, she joined what is now the Dean's Council, a group of distinguished leaders that advises Dean Boris D. Lushniak and the school's leadership.  
At the Robert Wood Johnson Foundation, the nation's largest philanthropy dedicated to health, Mockenhaupt played a key leadership role in creating signature programs including the Commission to Build a Healthier America and the Culture of Health program. Both initiatives helped to expand the national conversation about health, refocusing it on the importance of factors like education, jobs, housing, experiences of discrimination and trauma and environmental exposures.
"Robin's vision and commitment to public health is an inspiration. I am deeply appreciative of her outstanding service and guidance to our school," said School of Public Health Dean Boris D. Lushniak.  "This gift, given by Robert Wood Johnson Foundation in her honor, will highlight her career as a model to our students for years to come."
Categories
Students
Philanthropy