Our Happiness and Wellness Initiative shares "Some Good News" from the SPH and our extended community. You can submit your own good news by email to: happyandwell@umd.edu. 
This story was written by Nina Branwell '23.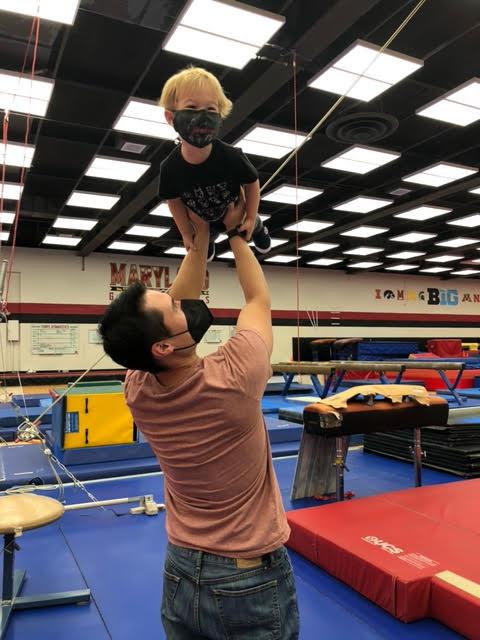 There are many tools to take charge of self-care. One of the strategies that has proven impactful is the daily practice of affirmations.
Ben Prescott '08, assistant director for Gymkana and SPH interim facilities manager, and his wife Angie Prescott '06, assistant coach for Gymkana, have added affirmations to their daily routine.
The "ritual," as Ben called it, started while taking his two-year-old son Kyler to daycare over the summer.
"Be brave. Be kind. Be curious. And have fun!" is the daily affirmation of the Prescott family.
Ben and Angie started the affirmation to help his son transition to daycare. The affirmation is used as a steppingstone for Kyler to strengthen his mindset as he grows up. Bravery, kindness and curiosity are all things he can remember and use throughout his lifetime. Ben also hopes that these little reminders will also aid him in gaining other character traits seen that will help him succeed and be positive. Kyler now repeats the affirmation when prompted and says it when Ben and Angie leave for work.
Be brave. Be kind. Be curious. And have fun!
Angie believes that it's important to introduce values of positive intention and in the long-term instill and reinforce positive character traits. The power of the affirmation is to set the day up to be positive.
"Positive intentions are, in many ways, foundational to a lot of the positive character traits for success, so we thought the daily affirmation would be a great starting point for that," shared Angie.
The hope is that in doing these four things, Kyler will eventually understand that if you try your best in these aspects, it doesn't matter how you perform or measure up in terms of success.
Having fun is the key to being happy in stressful situations. The positive parenting framework Ben and Angie use is to bring a positive outlook no matter the outcome. They believe that nothing sets you back further than a negative mindset and that the little victories are worth praising throughout the day.
Their goal includes intentions to convey certain values and guiding Kyler into being better every day. The easy organization and routine of the affirmation helps them see its results.
"It's certainly about getting your mind right. It's not the answer to everything; you still have to put in the work, the effort," shared Ben.
This goal is a reminder for Ben and Angie to also go into their day with a similar mindset as Kyler. The affirmation has impacted the whole family. Being role models for Kyler is important for both of his parents.
Ben expressed, "Affirmations can be powerful!"
Affirmations can be powerful!
If you are considering adding affirmations to your life, try a few of these tips:
Make them short and easy to remember
Implement them into your routine
Focus on what you can control
As Angie, Ben and Kyler showcase, the road to making positive decisions starts with a positive mindset. There are many activities that you can engage in to facilitate healthier wellbeing, mentally, physically and emotionally. Affirmations can be used as a puzzle piece in a grand scheme of everyday behaviors to help build strong, positive attitudes.
View a gallery of images from the Prescott family. 
Categories
Some Good News