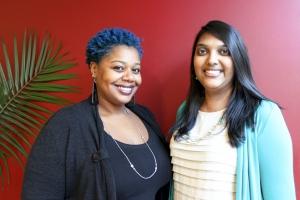 Kecia Ellick and Joanne D'Silva, doctoral students in the School of Public Health were two of 28 students selected nationwide to present research at the Delta Omega Honorary Society in Public Health poster session, which was held at the American Public Health Association annual meeting and exposition held in Atlanta from Nov. 4-8, 2017. 
Kecia Ellick, a doctoral student in the Department of Family Science, presented a poster titled "African American Teen Mothers' Parenting Stress, Self-Efficacy, and Child Behavior."  Ellick's research, which is advised by Dr. Amy Lewin, found that boosting a mother's belief in her skill and ability to parent well can help interrupt the negative impact of parenting stress on child behaviors for teen mothers and their children. 
By boosting the confidence of mothers, Ellick believes the interventions could alter and limit the detrimental psychological trajectories of children born to teen mothers. 
"While teen pregnancy rates are decreasing, teens are still getting pregnant and raising children at significant rates," Ellick said. "It is important to identify pathways through which negative outcomes occur as well as identify protective factors that promote positive development for teen parent families."
Joanne D'Silva, a doctoral student in the Department of Behavioral and Community Health advised by Dr. Craig Fryer, researches tobacco-related disparities among racial and ethnic minority populations. She presented a poster, co-authored by Dr. Bradley Boekeloo, titled "Marijuana Risk Perceptions are Associated with Past Month Marijuana Use among First-Year College Students." Her study examined the relationship between marijuana risk perceptions and marijuana use in a sample of first-year college students, after controlling for demographic characteristics and other substance use. The study's results suggest an inverse relationship between perceived risk and marijuana use. Policy changes in the legalization of marijuana for medical and recreational use have the potential to change perceptions of marijuana risk, and D'Silva's work indicates that efforts to increase awareness about known adverse consequences from marijuana use are warranted.
As part of the selection process, Ellick and D'Silva were each awarded a cash prize of $350 at the Delta Omega National Meeting and reception, and each had the opportunity to present her findings at the APHA meeting.
Categories
Students
Research
Departments
Department of Behavioral and Community Health
Department of Family Science