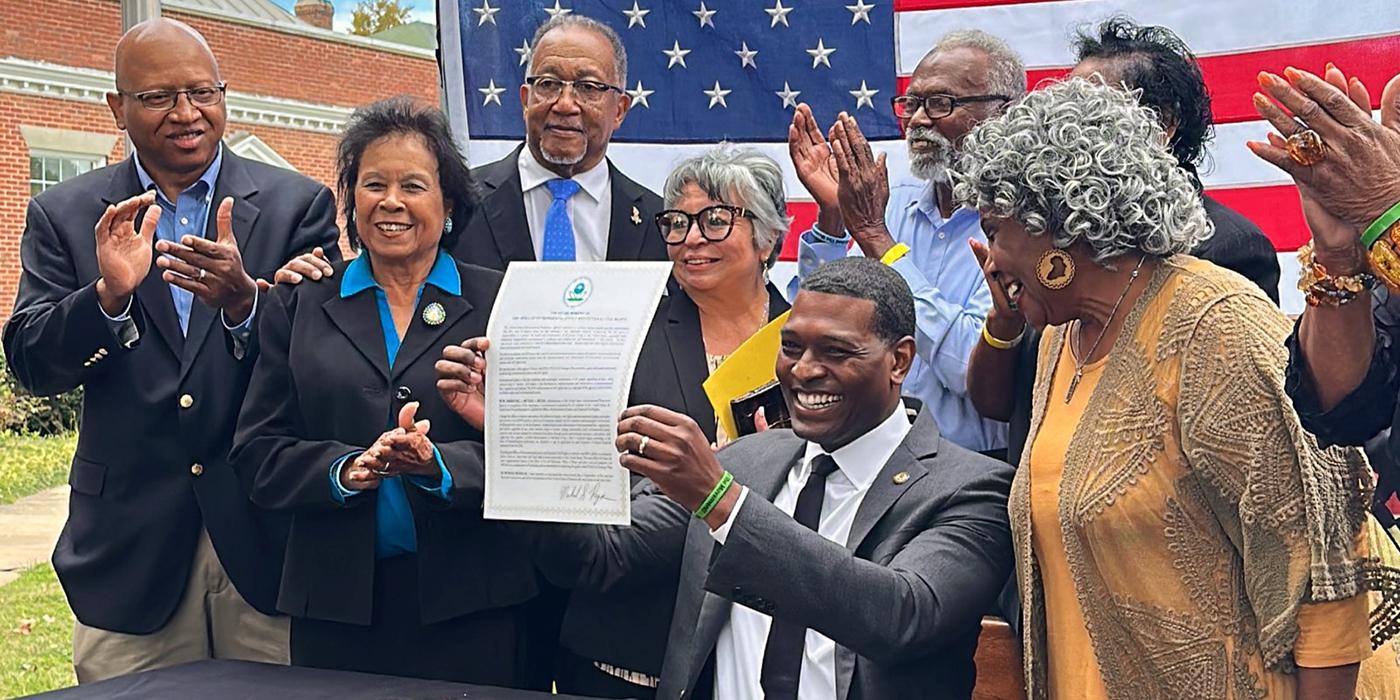 On September 24, the U.S. Environmental Protection Agency announced creation of the Office of Environmental Justice and External Civil Rights, a new national office charged with advancing environmental justice and civil rights. EPA Administrator Michael S. Regan made the announcement in Warren County, North Carolina – the site of protests that launched the environmental justice movement 40 years ago. Among the environmental justice leaders in attendance: Sacoby Wilson, professor at the School of Public Health and director of the Community Engagement, Environmental Justice, and Health group. Below, he shared his thoughts on the importance of this new office and how it will impact the work of environmental justice advocates everywhere.  
Q: Share with us the significance of hosting this event in the "birthplace" of environmental justice. 
A: Forty years ago, residents from Warren County came together to try to stop a landfill from being placed in Afton, a rural, poor and mostly Black community in North Carolina. This landfill would house contaminated dirt, filled with toxic polychlorinated biphenyls, or PCBs, which are carcinogens. While the residents did not stop it from opening, they kept advocating and protesting until the landfill was closed and cleaned up. It's very appropriate for the announcement of this new office, an evolution of the EJ movement, to take place where the movement first began. Some of the leaders who were there at the Warren County protests were in attendance, including Dollie Burwell, one of the mothers of the EJ movement.  
Q: What does it mean for the country to have a high-level EPA office dedicated to advancing environmental justice and civil rights? 
A: The impact they will have as a national office is huge. For example, they will oversee implementation of a $3 billion climate and environmental justice block grant program, which was created in August when Congress approved the nation's first major climate law. They have other monies from the Infrastructure Bill too. More money means direct action, building infrastructure, problem-solving.
What's also interesting is the original office of environmental justice has been around for almost 30 years, but it was not a national office like the EPA's Office of Water. When you have a national office, you have more resources, more infrastructure, more staffing and dedicated staff at the regional levels. This new office will have 200 staff members, going out into the EPA's 10 regions. It's great to have folks in D.C. at the headquarters, but EJ happens on the ground. EJ is local.  
Q: How do you expect this new office will incorporate civil rights into its mission? 
A: This office, and in many ways the environmental justice movement, is a child of the civil rights movement. Everybody should have a right to clean air, clean water, safe food, safe housing. Everybody should have a right to live in an environment free of toxicants. The fact that the EPA did not really have a plan to implement the Civil Rights Act, as required by the law, was an egregious oversight on their part. Particularly Title VI, which prohibits discrimination based on race, color or national origin in any program or activity that receives federal funds or other federal financial assistance. The office will use its authority to make sure we hold other agencies and entities, industries in compliance with Title VI, and with the Civil Rights Act in general. Hopefully, that will lead to less environmental injustice happening in the first place.  
Q: What policy changes do you think the office may push for?  
A: With environmental justice, the voices of those who are most impacted need to be heard in policies. Through its regional staff, this new office will hear from the folks who are impacted in frontline communities to make sure policy decisions are benefiting them and not disproportionately impacting them. For example, if someone requests funding for a project that may lead to additional pollution in the community that is already overburdened, this office has the power to make sure that those projects don't move forward. Then we get to restorative justice … We can also repair some of those communities and make sure there's distributional justice. 
Q: How will this new office impact the work of the Community Engagement, Environmental Justice and Health (CEEJH) group? 
A: Well, I think it's going to be really helpful. This office will take the lead for the EPA on implementing the Justice40 Initiative … I'm doing a lot of Justice40 work on air quality, climate change, clean energy in communities that are overburdened. This new office will give me more tools to be more impactful. We do a lot of work in EPA Region 3, which includes Delaware, D.C., Maryland, Pennsylvania, Virginia and West Virginia. These communities will also be able to access more resources. There's interest in developing regional environmental justice advisory councils where community folks will help hold our state agencies accountable for implementation and funding. (Access the new CEEJH Environmental Justice Agency Scorecard.)
Q: You have close connections with the founders of the environmental justice movement in the United States – many of whom were in attendance. How did they respond to the new office announcement? 
A: It was a huge moment, and it's something they thought would never happen. They all know it was a momentous occasion. When Catherine Flowers, who founded the Center for Rural Enterprise and Environmental Justice, walked off the stage, she said it looked like a Marvel movie because of all the environmental justice superheroes in attendance. You had Catherine, Dollie, Hilton Kelley, Charles Lee, Vernice Miller-Travis, Benjamin Chavis, Beverly Wright and Mustafa Ali … A lot of those folks have been fighting for environmental justice for 40 years. And they're still fighting. This is progress, and President Biden has done more to address environmental justice than any other president in the past 40 years. But a whole lot more needs to be done. 
Departments
Maryland Institute for Applied Environmental Health