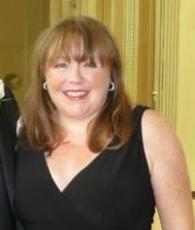 Deirdre Quinn, who has successfully defended her PhD dissertation, has been awarded the Outstanding Paper Award for a student paper from the National Council on Family Relations (NCFR) in the category of Religion, Spirituality and Family. The paper, "Family Religiosity, Parent Monitoring, and College Students' Sexual Risk," is based on her dissertation research examining family-level and individual-level influences on college students' sexual risk and protective behaviors. Her preliminary findings indicate that family religiosity during childhood may be a protective factor against sexual activity and sexual risk-taking in college.
Deirdre will be presenting a poster on her paper at the 2017 NCFR Annual Conference on Friday, November 17.
Deirdre's dissertation chair Dr. Amy Lewin had this to say: "Deirdre has done some excellent research that improves our understanding of sexual risk behaviors among emerging adults, and the role that family religion and parenting practices play in their sexual decision-making. She will undoubtedly go on to a career in which she will meaningfully improve sexual and reproductive health for young people in our society."
Categories
Students
Research
Departments
Department of Family Science