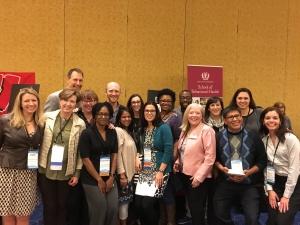 Many faculty members, graduate students, and alum of the Family Science (FMSC) Department attended the 2016 National Council on Family Relations Annual Conference in Minneapolis, Minnesota. Faculty members included Department Chair Dr. Elaine Anderson, Graduate Program Director Dr. Kevin Roy, and Professors Dr. Amy Lewin, Dr. Leigh Leslie, Dr. Ali Hurtado, Dr. Mona Mittal, and Dr. Patricia Barros-Gomes.
PhD students Sam Allen, John Hart, Deirdre Quinn, Towanda Street, Kecia Ellick, Allison Schroeder, Laura Drew, and Ashley Pantaleao presented posters and papers in sessions throughout the week. FMSC alumni Katie Hrapczynski, Bethany Letiecq, Katherine Kuvalanka, Elizabeth Pollock, and Jeffrey Jackson also presented their research. The presentation topics spanned fatherhood, sexuality, teen parenting, policy analysis, couples therapy, intimate partner violence, and self-esteem.
We are very proud of all of our faculty members and students and the amazing research they have done.
Categories
Students
Faculty
Research
Departments
Department of Family Science