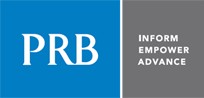 Deirdre Quinn was recently accepted into the Population Reference Bureau (PRB) 2016-2017 U.S. Policy Communication Program, a program designed to improve understanding about the process by which research informs the policy environment, and to learn various ways to communicate research findings to diverse U.S. policy audiences. Funding for the program comes from the U.S. Department of Health and Human Services – National Institutes of Health (NIH) Eunice Kennedy Shriver National Institute of Child Health and Human Development (NICHD). Ms. Quinn, along with other participants, will attend a week-long workshop at PRB in D.C. in June 2016, where she will learn about the role of research in the U.S. policy process techniques for effective communication of research findings to decision-makers, media, and non-technical audiences. Ms. Quinn will then work with other participants to integrate the knowledge they gained from the workshop to produce two policy communication materials based on their own dissertations or other research.  The program offers an opportunity for the participants to be eligible for a travel stipend to present the materials they created at a policy-oriented meeting or conference.
Ms. Quinn says, "I'm excited for the opportunity to explore new ways of communicating my research findings to a broader audience. I think my research on adolescent sexual health and decision-making absolutely has the potential to inform health and education policies in the future, and I think this program will give me the skills to communicate more effectively in the policy world."
We congratulate Ms. Quinn on her acceptance to the program and thank her for her commitment to the important intersection of research and policy!
Categories
Students
Research
Departments
Department of Family Science