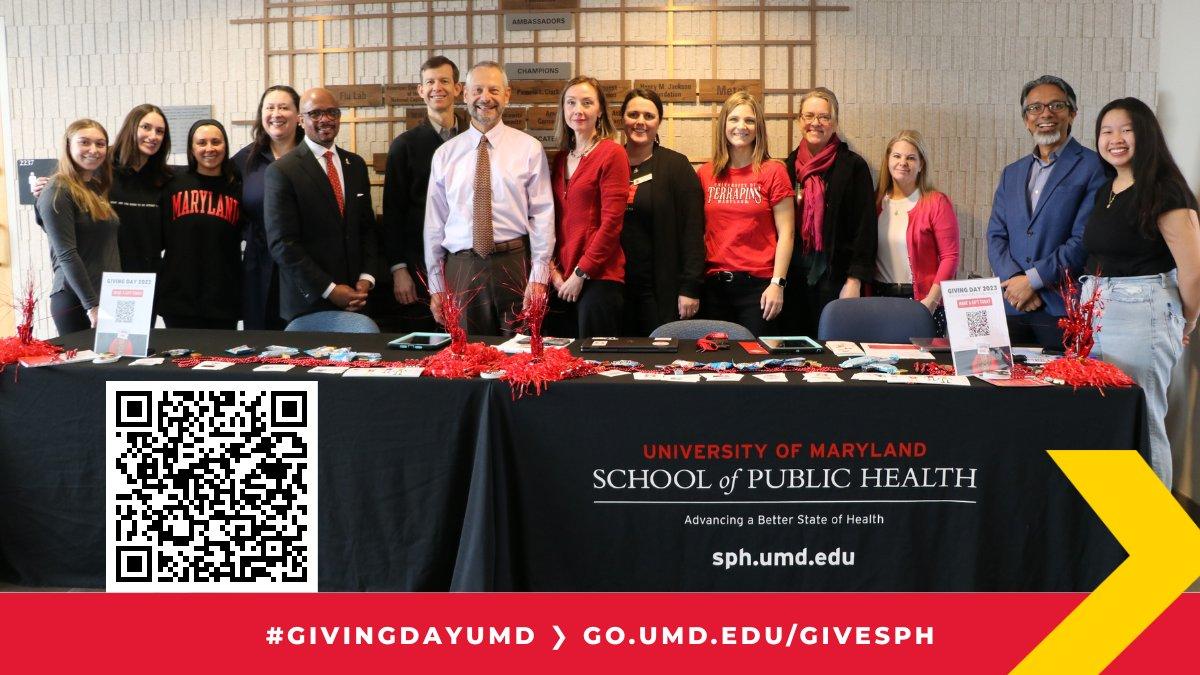 On Giving Day (March 8), the University of Maryland's annual 24-hour fundraising event, alumni, faculty, staff, students, parents and friends raised an impressive $177,644 for School of Public Health research initiatives, scholarships, educational programs and public health practice activities.
Nearly 300 donors showed their support for the school, helping the School of Public Health rank eighth on the leaderboard for the most funds across the campus. 
Among the most popular funds: the School of Public Health Student Emergency Scholarship Fund, which raised more than $9,200 for students who are confronted with economic hardships that could prevent them from being able to remain in school.
Thanks to generous gifts from the community, the school met all of the match challenges posed by Dean Boris Lushniak and Dr. Patricia Cusamano, the Dean's Advisory Council, Research Professor Emerita Dr. Pamela I. Clark, Former Dean Jane E. Clark and Dr. Jill Whitall; Susan and Jeff Goldenberg P'24 and the Clarvit Family.
The school also won additional prize money through Giving Day challenges, including:
Power Hour: Most Faculty & Staff Donors - Tier 2 Runner Up ($1,000)
Power Hour: School/College Most Donors - Tier 2 Runner Up ($1,000)
Worldwide Terp Pride Photo Challenge ($200) - Photo posted by Research Professor Dina Borzekowski, director of the Global Health Initiative, showing students doing data collection in Sierra Leone
A special thank you to everyone who participated in Giving Day. The support we received will help us to lead Fearlessly Forward for public health, take on grand global health challenges and build a healthy, sustainable future for all!
Departments
School of Public Health