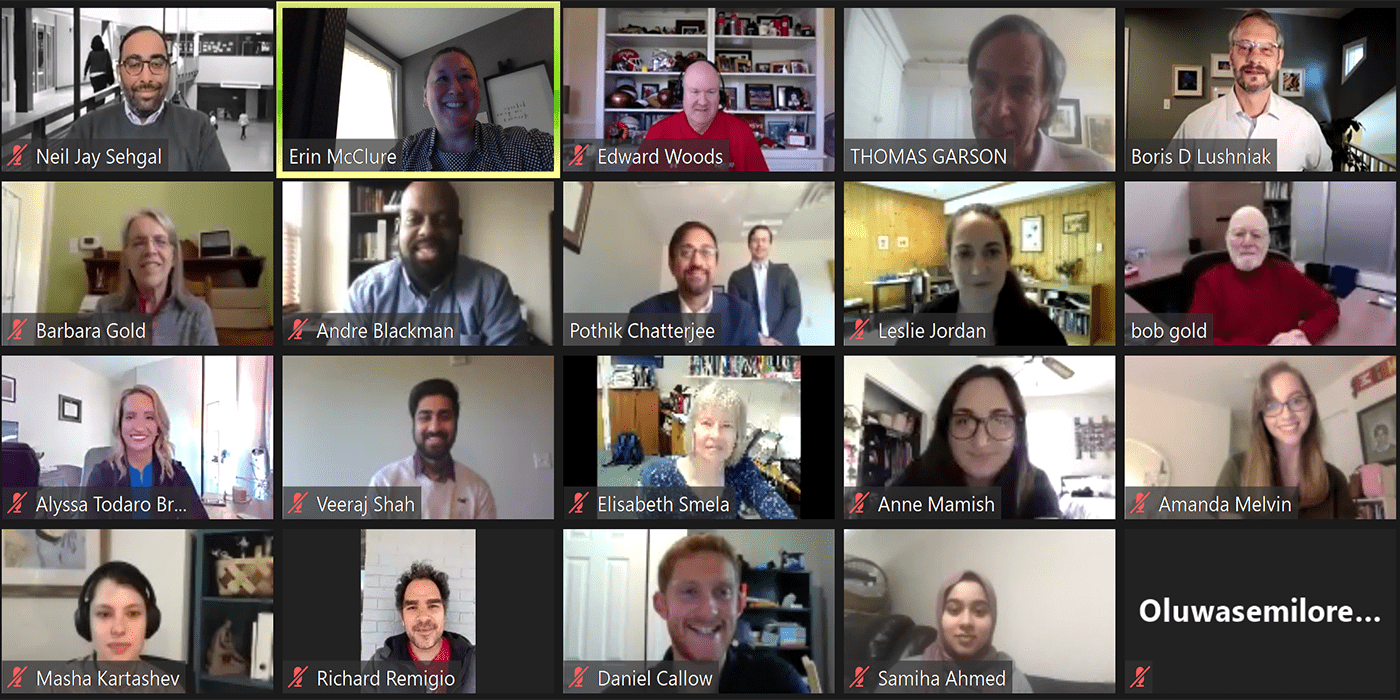 Seven School of Public Health students were recognized with the Gold "Creativity in Crisis" Prize on Friday, April 23, during the Innovation in Public Health Seminar. The award included a monetary prize of $750. Four more students received honorable mention.
Due to the COVID-19 pandemic, the annual Gold Public Health Innovation Award competition, launched in 2017, was a little different this year and was reframed as the "Creativity in Crisis" prize.
Undergraduate, master's and doctoral students were invited to submit papers, capstone projects, theses, dissertation proposals and publications of all types. Priority was given to contributions emphasizing the application of public health knowledge to promote health and prevent disease in the context of the pandemic.
Assistant Professor Neil J. Sehgal and University of Maryland School of Public Health Dean Boris D. Lushniak emceed the event. Dan Durand, LifeBridge Health's Chief of Innovation provided an opening message on public health innovation, followed by a panel moderated by André Blackman, BS '05. 
The panelists included Pothik Chatterjee, LifeBridge Health's executive director of Innovation and Research, Veeraj Shah, co-founder of Chat Health and 2019 Gold Award Winner, as well as Dr. Elisabeth Smela, a mechanical engineering professor at the UMD Clark School of Engineering. They discussed how their organizations found innovative ways to adapt to the challenges and difficulties of the pandemic. 
The event concluded with the presentation of awards, led by the Gold Award committee:
The 2021 Gold "Creativity in Crisis'' Prize winners are:
Undergraduate Student Awards
Anne Mamish (Public Health Science) - Health Literacy and Vaccine Compliance 
Andy Okhuereigbe (Public Health Science) - COVID-19 on Childhood Development 
Master's Student Awards
Samiha Ahmed (Epidemiology) - E-Mentoring Female Minority Researchers
Amanda Melvin (Health Policy and Management) - Return to School A-Team Model 
Doctoral Student Awards
Daniel Callow (Neuroscience and Cognitive Science) - Mental Benefits of Physical Activity in Older Adults During COVID-19
Leslie Jordan (Neuroscience and Cognitive Science) - Forward Focus Coping During COVID-19
Richard Remigio (Environmental Health Sciences) - Climate and End-Stage Renal Disease
Honorable Mention Awards
Undergraduate Submissions:
Semilore "Semi" Ayo-Gbenjo (Public Health Science) - Personal Journal on Behavior Change with Health Behavioral Frameworks
Rachel Martin (Public Health Science) - 2 submissions on Bioethics, 1) Physician-Assisted Suicide and 2) Genetic Enhancement 
Eden Adhanom (Public Health Science) - Food Insecurity in College Park
Master's Submissions:
Masha Kartashev (Couple and Family Therapy) - Dyadic Coping in Black Heterosexual Relationships 
The world doesn't move unless we have innovation.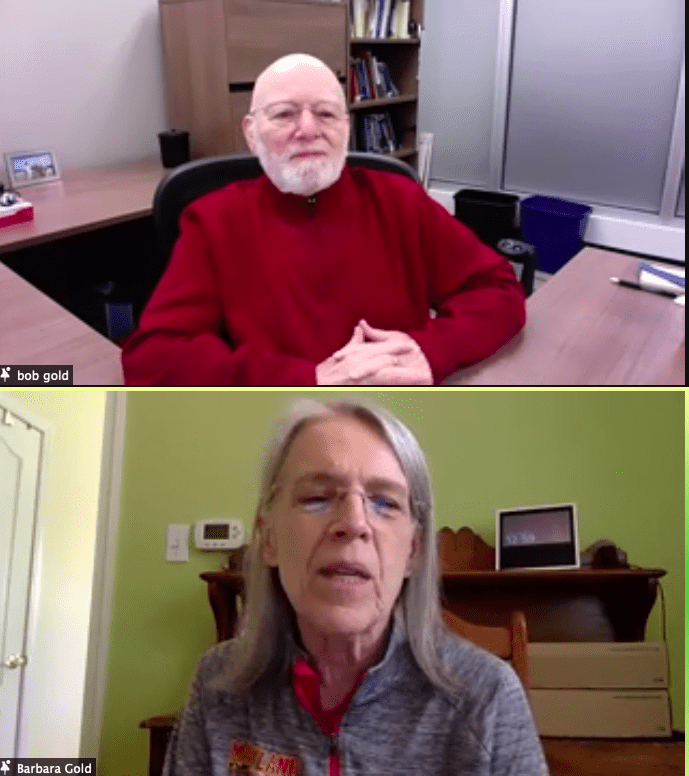 The School of Public Health would like to extend gratitude and recognition to the school's founding dean Dr. Robert "Bob" Gold and his wife Barbara Gold for their vision and ongoing support. They created the Robert S. Gold and Barbara A. Gold Public Health Innovation Award Endowment with a $100,000 gift. The Gold Public Health Innovation Award is intended to spark public health innovation, design thinking and solutions to big public health challenges. 
"Apart from being warm and welcoming, Bob actually was, I think, the first to welcome me to the University of Maryland and largely the reason that I joined the faculty," Sehgal said during the event. 
"Apart from being visionary, Bob and Barbara have left their mark, not only on our school, for our school, but on the University of Maryland through their supporting ongoing student innovation in the pursuit of solving big problems," he added.
Although Dr. Gold is retiring at the end of this semester, the School of Public Health will continue to honor his legacy, contributions and influence through the annual Gold Public Health Innovation Award.
"The Gold Award brings out the best in our students and in the innovative approaches of our school and we're very proud of all the student awardees of this year's 'Creativity in Crisis' prize," said Dean Boris Lushniak.
"I also want to thank all those who contribute to the Gold Award effort and play a role in how we apply innovative thinking to solve public health challenges."
Categories
Research
Students
Philanthropy