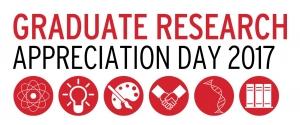 As a part of Graduate Student Appreciation Week, the Graduate Student Government (GSG) hosted the annual Graduate Research Appreciation Day (GRAD) on April 5, 2017. Graduate students from all programs and disciplines across campus presented their research and work. Below are the GRAD 2017 winners from the School of Public Health, who were selected as the best presentations from their respective subject-themed oral, poster, and elevator-speech presentation sessions.  
GRAD 2017 Winners by Category:
ORAL I Culture A Session
FIRST PLACE- Julie Brice, KNES, The Influence of US Women's National Soccer on the Formation of The White Woman Millennial's Subjectivity
ORAL I Health Session
FIRST PLACE- Zahra Saboori, BCH, An Assessment of Attitudes and Beliefs Towards Community Health Worker Intervention Models at a Rural Health Clinic in Southern Maryland
SECOND PLACE- Hannah Allen, BCH, Anxiety, Depression, and Substance Use Among Graduate Students
ORAL III Health A Session
FIRST PLACE- Anthony Kondracki, FMSC, Comparing differential effects of the association of preterm birth with intensity and timing of maternal smoking by trimester to identify a critical risk window: Is there a reduced association in all three trimester smokers?
ORAL III Health C Session
SECOND PLACE- Mary Jung, EPIB, Randomized controlled trial to increase quality of life and reduce perceived stress among Korean American breast cancer survivors
POSTER/ARTWORK I Health Session
SECOND PLACE- Neha Trivedi, BCH, Community-Based Participatory Research in Prince George's County Health Enterprise Zone (HEZ): Creation of Health Literacy Resource Guide Mobile App
POSTER/ARTWORK II Society Culture Session
SECOND PLACE- Kecia L. Ellick, FMSC, Teen Mothers' Parenting Stress, Parenting Self-Efficacy, and Child Behavior
POSTER/ARTWORK II Health Session
FIRST PLACE- Ana P. Valencia, KNES, Both fatty infiltration and atrophy account for supraspinatus weakness after rotator cuff tear
SECOND PLACE- Deirdre Quinn, FMSC, The Changing Role of Social Support in Teen Mothers' Ongoing Contraceptive Use
POSTER/ARTWORK III Health Session
FIRST PLACE- Rianna Murray, MIAEH, Surviving Ebola in Sierra Leone: A community's experience during and after the epidemic - A qualitative study
ELEVATOR II Society and Culture Session
SECOND PLACE- Abigail Bickford, BCH, #BlackLivesMatter: Investigating a Social Movement Through Social Media
Departments
Department of Behavioral and Community Health
Maryland Institute for Applied Environmental Health
Department of Epidemiology and Biostatistics
Department of Family Science
Department of Kinesiology