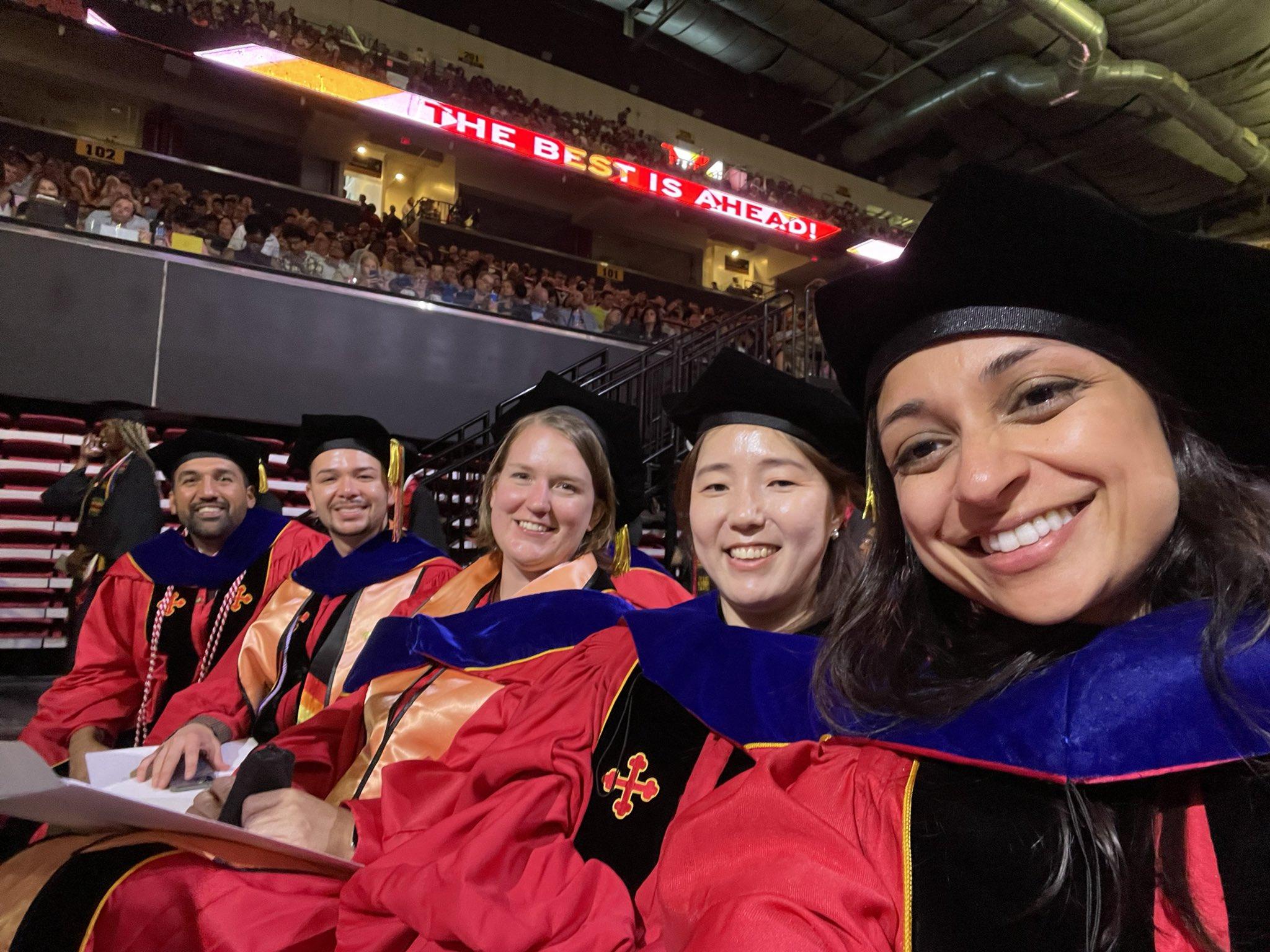 Nine years after his journey to earn a doctoral degree began, Junaed Siddiqui crossed the stage at the Xfinity Center on May 23, 2023 to officially graduate from the School of Public Health.
While the average public health doctoral student at UMD completes their Ph.D. within five years, Siddiqui is far from average.
The data scientist began working toward his Ph.D. in behavioral and community health in 2014. Since then, he has developed multiple digital health products and launched a startup company around his app to reduce the prevalence of prediabetes. He began working for PwC, where he leverages artificial intelligence and machine learning technologies to improve health outcomes. He also became a father, welcoming his two daughters into the world with his wife, Afeera.
"Graduation was surreal," he said. "A long chapter of my life was finally closing, and honestly I still had anxiety and disbelief that it was actually happening. It was so nice to have all my biggest supporters over the years, from friends and family to faculty and staff at University of Maryland there to celebrate me and all the other graduates."
Siddiqui's path to public health began at UMBC, where he studied biology and envisioned a career in medicine.  
"As an undergraduate, I tried all of the traditional, medical-oriented student positions: researcher in a Baltimore hospital, athletic trainer at UMBC, ER scribe," he said. "Medicine is really wonderful in that you can truly make an impact in the life of one person. But I wanted to make a broader, lasting impact for people at scale."
After graduating, he enrolled at Towson University to pursue a master's degree in health administration.
"After my first year, I took a few classes on health behavior, and I fell in love with it," he recalled. "You have interpersonal theories and broader, organizational-level theories. In my head, it was kind of like a 'choose your own adventure' for how you wanted to enact change."
That adventure took root at UMD.
In 2014, technology applied to behavioral and community health was on the rise.
"Before, we only had a handful of data points, and we were making assumptions on how we think someone might behave," Siddiqui said. "It wasn't necessarily reliable. But now, with machine learning and the ability to ingest billions and billions of data points quickly, we're moving closer towards understanding specific behaviors that affect individuals' health the most." 
He took a technology and behavior change class at the Robert H. Smith School of Business. He also taught himself how to code.
Siddiqui had found his niche.
In 2015, he and a team of fellow students won the American Public Health Association Public Health Codeathon with an app and text message campaign that helped users improve their own health, analyze risk behaviors and understand life expectancy.
That same year, he launched PuffinTech to promote his app to reduce the prevalence of prediabetes in teens and young adults through wearable technology (think Fitbits). 
And his doctoral dissertation, aptly named "Alexa, do I have an STD?," explored how young adults use home assistant devices to seek information about sexually transmitted diseases.
Even though Siddiqui's journey took longer than most, support from his family, faculty and Cynthia Baur, his advisor and endowed chair and director of the Horowitz Center for Health Literacy, kept him focused.
"There were a few times where I was like, 'Man, I'm done. Do I really need to finish?'" he said. "And my wife said, 'Yes. You need to see it through so you don't have regrets in the future. Your daughters are also going to remember this moment.'"
"Researching and writing a dissertation is a long haul and a labor of love," Dr. Baur said. "Even though Junaed works full-time as a data scientist and has a beautiful family with two young daughters, he still found the time to take each step in the dissertation and do the necessary work. He is an example to other students about how to commit to a dissertation and follow through."
Siddiqui said the skills he learned at the School of Public Health prepared him for his job at PwC. 
"The program helped me think about things in a very structured manner," he said. "For example, Dr. [James] Butler's course on program planning … I still use some of those frameworks today when I'm building out suggestions for our clients. Also the ability to quickly identify the advantages and disadvantages of certain theories."
Now that his time at UMD has come to an end, Siddiqui said he has some advice for incoming Ph.D. students. 
"Go after what interests you, and feel empowered to leverage all the amazing faculty we have on campus," he said. "And remember that even when you get a Ph.D. or graduate from a program, that doesn't mean you've learned everything there is to learn. You are always going to be a student of the field."
Categories
Students
Profiles
Departments
School of Public Health
Department of Behavioral and Community Health
Horowitz Center for Health Literacy