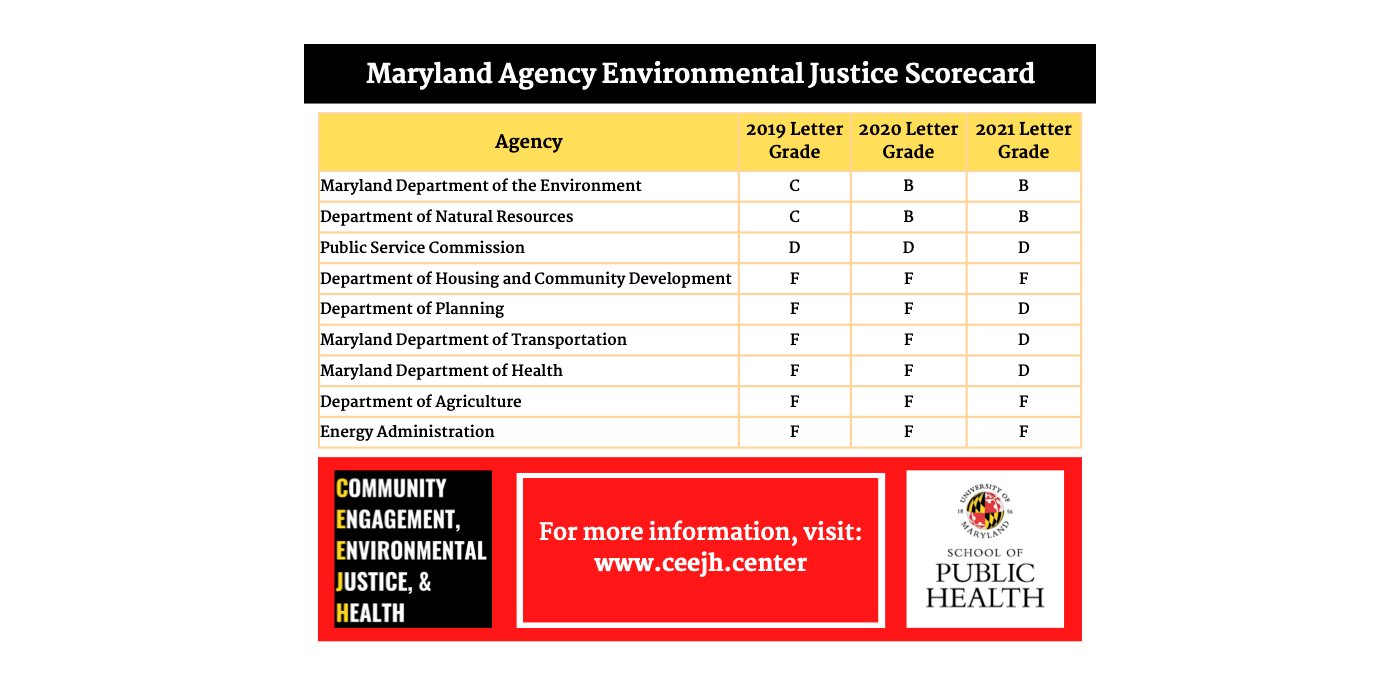 The Center for Community Engagement, Environmental Justice and Health (CEEJH) in the University of Maryland School of Public Health(UMD SPH) has developed a new Environmental Justice Agency Scorecard to assess how well Maryland agencies are integrating environmental justice into their plans and actions.
The scorecard assigns a letter grade to state agencies based on their actions in five key areas, including whether they have established an environmental justice (EJ) office or representative and how well they have prioritized communities most impacted by environmental injustice.
Maryland's legislative leaders have demonstrated a commitment to EJ, including through the establishment of the Maryland Advisory Council on Environmental Justice (MACEJ). Our state was also one of the first in the nation to codify the Justice40 Initiative where at least 40% of spending on climate change is distributed to disadvantaged communities. Still, implementation of EJ practices varies widely across the state's nine agencies.
Under the new CEEJH scorecard, the Maryland Department of the Environment and Maryland Department of Natural Resources earned a "C" grade in 2019 and then "B" grades in 2020 and 2021 (the highest of any state agency measured), demonstrating a firm commitment towards environmental justice. Notably, the Maryland Department of Agriculture, the Maryland Energy Administration and the Maryland Department of Housing and Community Development had the lowest scores ("F" grades), indicating room for improvement. Many agencies performed well in one category but received low overall scores. For example, some agencies were proactive in their EJ work, but their plans and progress were not transparent and available to the general public. Another commonly missing component was the lack of an EJ representative and/or office.
"Too many communities of color experience violence, oppression and toxic trauma due to environmental injustices in Maryland. While CEEJH previously released a Legislative Scorecard for the Maryland General Assembly, we also identified a need to track state agencies progress to address environmental injustices. Government transparency and public accessibility of EJ resources are major drivers of environmental justice. This scorecard can be deployed every year to track state agency progress and recommend steps each agency can take to improve," said CEEJH Director Sacoby Wilson, a professor of applied environmental health in the University of Maryland's School of Public Health.
Building off their pilot Legislative Scorecard released in August 2021, Dr. Wilson and the CEEJH team developed this scorecard to hold nine selected state agencies responsible for their actions towards environmental justice (EJ). The Agency Scorecard tracks agency actions to advance EJ by focusing attention on five key areas:
Establishment of an EJ office;
Protecting the environment through past policies and protections for the future;
Prioritization of those impacted by environmental racism;
Existing resources towards building environmental literacy; and
Proactive EJ work.
More details on CEEJH's Scorecard methodology can be found here. Scores were averaged by multiple reviewers to determine the final score for each agency, represented by a letter grade, based on previous scoring mechanisms by the California Environmental Justice Alliance (CEJA). The scorecard concludes with overall and agency-specific recommendations for best EJ practices.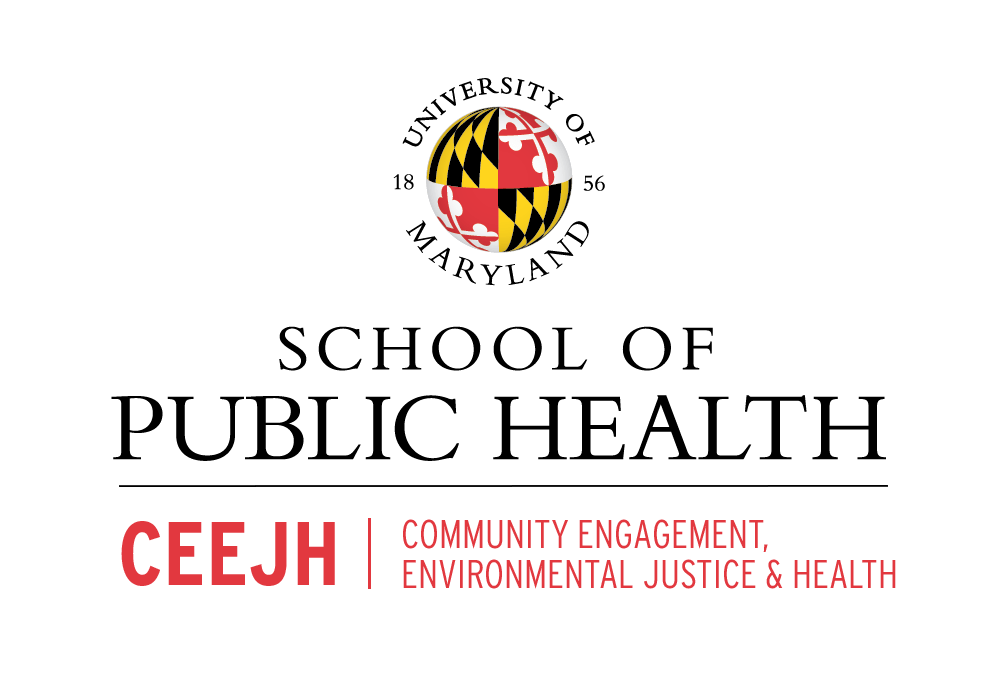 ABOUT CEEJH
The Community Engagement, Environmental Justice and Health group in the University of Maryland School of Public Health advances environmental justice by developing community-university partnerships, using the community-based participatory research (CBPR) approach, citizen science, community-owned and managed research (COMR) principles, the Science Inpowerment Model, and the Collaborative-Problem Solving Model (CPSM) with a focus on equitable planning, healthy zoning, and sustainable community development. We train residents impacted by local unwanted land uses (LULUs); air, water, and soil pollution; and other environmental hazards to become citizen scientists using these community-based frameworks.
Categories
Press Releases
Departments
Maryland Institute for Applied Environmental Health