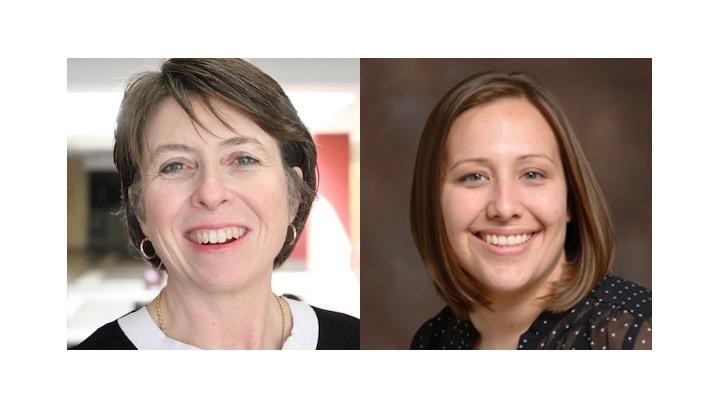 Despite recent progress in U.S. COVID-19 vaccination, some populations, including the LGBTQ+ community, are lagging in vaccination rates. Vaccine confidence and access, often decreased in these communities because of systemic marginalization, are both important to protecting health equity. As Dr. Fish, LGBTQ+ health expert at the UMD-PRC, explains, "LGBTQ+ people often experience unique barriers to medical care, which may impede their ability or willingness to get the COVID-19 vaccine." A new UMD-PRC project, supported by additional CDC funding, aims to address access and confidence to the COVID-19 vaccine within LGBTQ+ populations by partnering with health departments and LGBTQ+-serving organizations around the United States. Together, Drs. Cynthia Baur (she/her) and Jessica Fish (she/her), essential UMD-PRC members, are leading the PRC COVID-19 Vaccine Communications Project. The project will help implement behavioral nudges and remove barriers to getting the COVID-19 vaccine for LGBTQ+ people, including a focus on public communication.
Dr. Baur, the director for the Horowitz Center for Health Literacy, brings expertise in health communication, literacy and risk communication. Within the PRC, she designs communications strategies and products for a variety of audiences and shareholders. Dr. Fish, assistant professor of family science and the Deputy Director for Research and Evaluation of the UMD-PRC, brings expertise in LGBTQ+ population health disparities with a focus on the factors that shape mental health and substance use among LGBTQ+ youth and young adults.
Dr. Baur explains that the pandemic has highlighted the essential role of public communication: "public communication done well or poorly can make measurable differences in how the public learns about and responds to health issues and recommendations." Public communication can make a substantial difference in how the public understands, learns about and responds to both the health issues themselves, as well as the appropriate response to them. The PRC COVID-19 Vaccine Communications Project focuses on understanding vaccine confidence and vaccination rates using a behavioral nudge framework. Originating in behavioral economics, nudges are techniques utilized in order to alter behavior and decision making. Dr. Baur describes nudges within the context of their grant as "small and large changes [that] we can make to system, policies or procedures that reduce or eliminate reasons people don't or can't follow through on a recommendation or action." She explains that a nudge can be especially helpful when there is a general low awareness of both the choices that a person has and the benefits of those choices.
Drs. Baur and Fish use this same logic within the context of LGBTQ+ populations and COVID-19. They explain that many individuals are not aware that the vaccines are easily available in places they already frequent such as community clinics and pharmacies and are in fact free and safe. Their team is partnering with various Maryland Local Health Improvement Coalitions in order to focus on individuals who are either the least aware or least interested in receiving the vaccine. Additionally, they are collaborating with CenterLink, a national LGBTQ+ serving organization with almost 300 member centers, in order to build increased confidence with their client base. In all of these organizations, they are working to identify and assist in implementing these behavioral nudges, and empirically evaluate how well the nudges work.
Overall, this work is not only important for increasing COVID-19 vaccinations, but also for more general application when promoting health within LGBTQ+ populations. Dr. Baur hopes to "identify ways to connect local health departments and local LGBTQ+ organizations so that they can establish ongoing communication and collaborations post-pandemic," while also applying these skills generally for better local communication strategies for additional PRC projects.
Categories
Faculty
Research
COVID-19
Departments
Prevention Research Center
Department of Behavioral and Community Health
Horowitz Center for Health Literacy