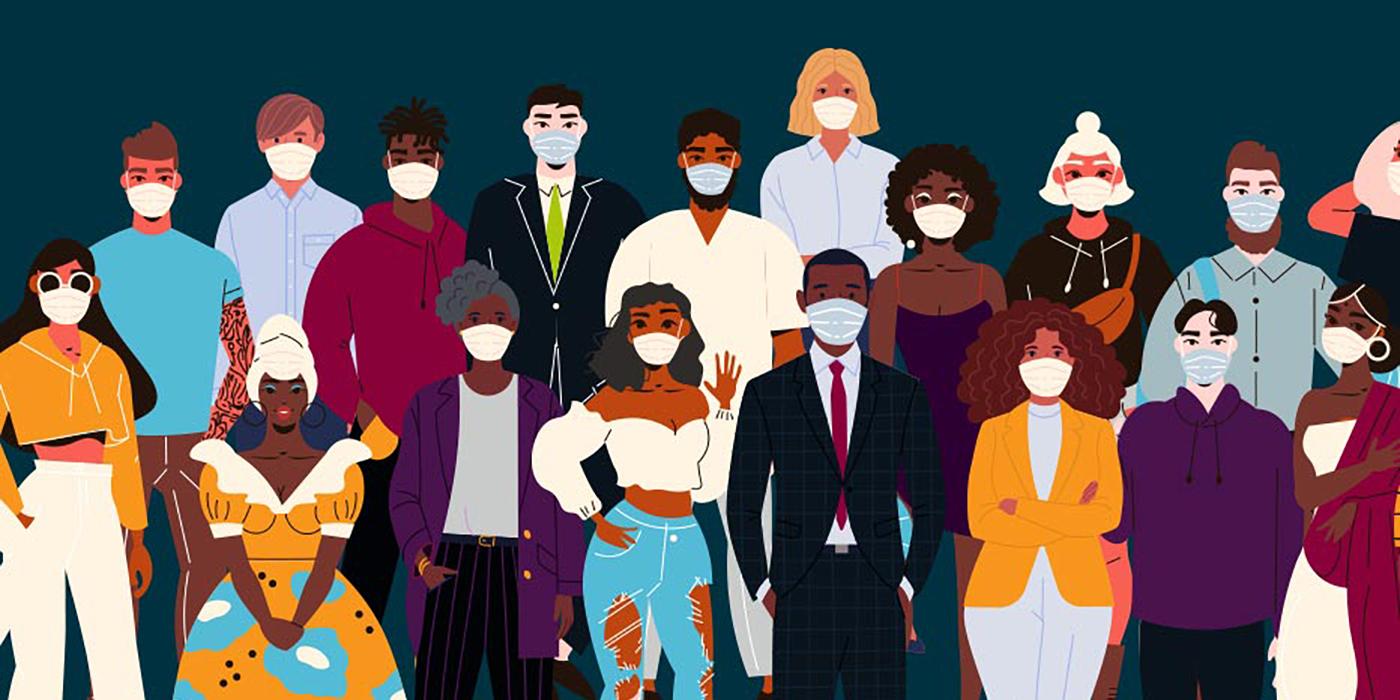 A year that exposed how our health intertwines with everything from racism to social media misinformation taught valuable lessons that shouldn't be lost amid the relief of increasing vaccinations against COVID-19.
That's why the eighth annual Public Health Research at Maryland conference, held virtually from April 13-16, focused on how what we learned about personal, mental and societal health can shape our approaches to pandemics, social injustice, climate change and other challenges.
Attended by more than 500 people, the event was co-organized by the University of Maryland School of Public Health (in College Park) and the University of Maryland School of Medicine's Department of Epidemiology and Public Health (in Baltimore), with support from MPowering the State, and co-sponsorship by the U.S. Public Health Service Commissioned Officers Foundation for the Advancement of Public Health, Delta Omega Honorary Society in Public Health and the Maryland Public Health Association.
The keynote address, delivered by David Michaels, an epidemiologist and professor at the George Washington University School of Public Health, focused on reimagining and rebuilding our public health infrastructure at a moment when it is needed more than ever. Dr. Michaels, who served as a member of the Biden-Harris Transition COVID-19 Advisory Board and was assistant secretary of labor for the Occupational Safety and Health Administration (OSHA) from 2009 through January 2017, discussed how COVID- 19 is the latest event to show how the country's regulatory framework is unable to properly respond to crises.
He argued for increased funding and stronger regulations to support public health that are grounded in the best and latest scientific knowledge. Pointing out the disparity of funding in the United States - less than 3% of our investment in health goes to public health and prevention - and the damage that the Trump administration caused by its failed COVID-19 response and by eroding the power of federal agencies (including the EPA and the CDC) to protect health, Michaels laid out a case for comprehensive and broad investment in public health infrastructure.
"We want stronger regulation, not because we don't care about freedom, but because we can't be free without the state's protection from harm," Michaels summed up. "We need to know that our air is safe to breathe, that our food is safe to eat, and that we can return from home at the end of our shifts no less healthy than when we walked out the door that morning."
This year's virtual conference drew a wide audience of scholars from diverse disciplines across the University of Maryland, College Park and Baltimore campuses, along with others from universities across Maryland, neighboring Washington, DC, and states as far away as California, Texas, New York, Michigan, Florida and Wisconsin. 
"As much as we talk about 'getting back to normal,' I think these sorts of public health crises regrettably are normal going forward." 
The event opened with a conversation among University System of Maryland leaders, including Chancellor Jay Perman, about leadership during this trying and unusual time and about investing in public health education and research. The conversation was moderated by Dr. Boris D. Lushniak, RADM retired, dean of the UMD School of Public Health, and Dr. Jay Magaziner, chair of the epidemiology and public health department in the UMB School of Medicine.
"You are needed now more than ever, and we want to know what you think and are discovering, and how we stop this pandemic and the next one and the one after that," Dr. Perman said to the scholars in attendance. "Because as much as we talk about 'getting back to normal,' in some ways, I think these sorts of public health crises regrettably are normal going forward." 
Sessions covered topics such as the intersection of COVID-19 with intractable issues such as diabetes, maternal and infant mortality and physical activity among youth. A research poster showcase and competition gave students the chance to present findings and discuss their relevance to public health. 
A panel on the impact of misinformation on hot-button issues and how to counteract it was especially compelling, given the proliferation of false information on social media that muddled every major step in containing the coronavirus pandemic, from the seriousness of the threat to the legitimacy of stay-at-home orders and now the safety and efficacy of vaccines. Panelists shared concerns and ideas for how to address misinformation and its threats to community health, to vulnerable communities and to democracy itself.
Categories
Research
Faculty
Students
Departments
School of Public Health