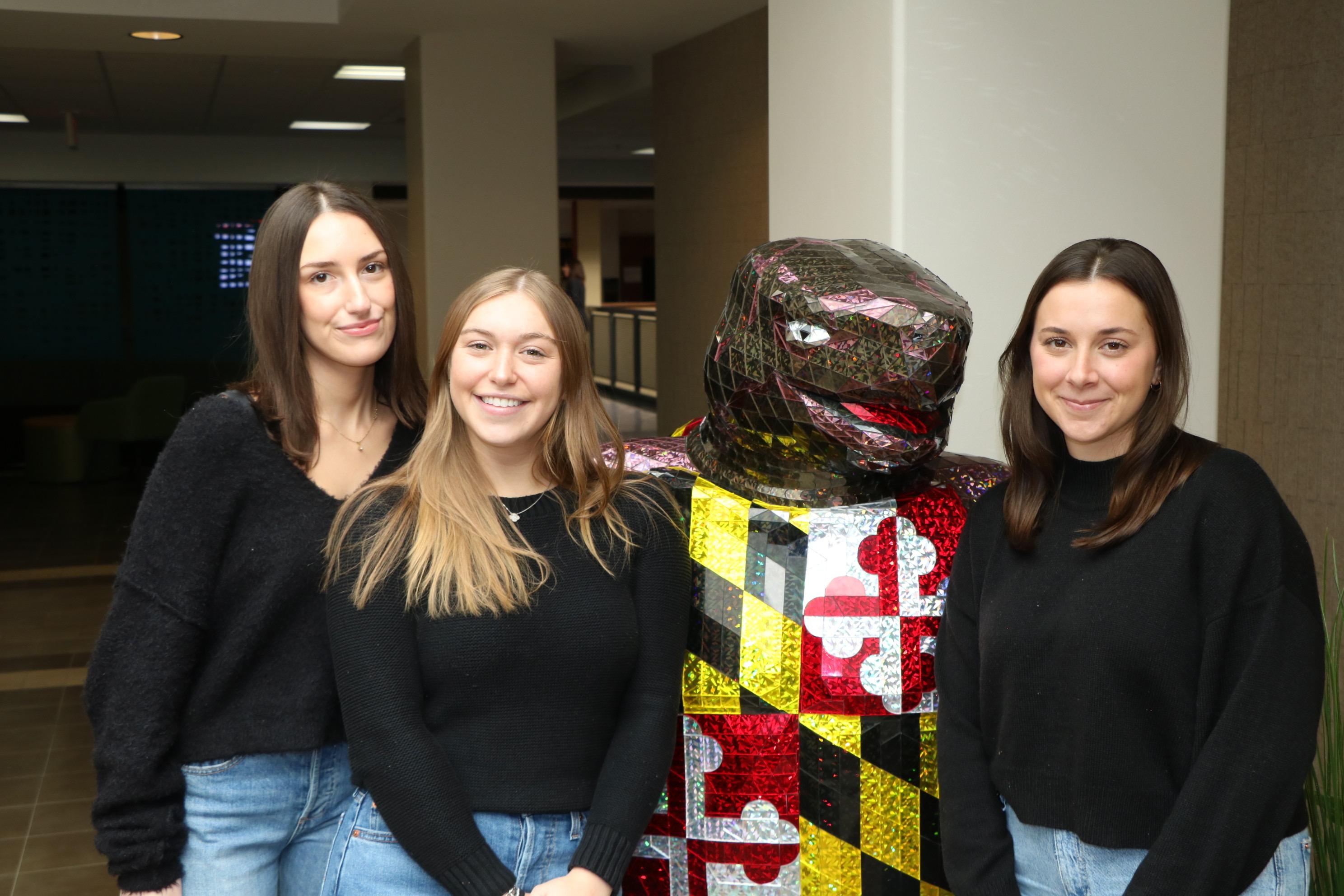 Like college students everywhere, Daniella Hanau, Olivia Horowitz, and Corinne Yelsits experienced dramatic changes and uncertainties when the COVID-19 pandemic hit. Having to  spend a large part of their freshman year and beyond entirely online, their college experience started out not at all as they hoped it would. Yet, Daniella, Olivia, and Corinne, who now serve as student interns for the School of Public Health's Happiness and Wellness Initiative, discovered their true passions during this difficult time.
Daniella:
After spending a gap year in Jerusalem between high school and college, Daniella Hanau was eager to begin her freshman year at UMD. Daniella made many friendships throughout her first semester. She was thriving socially and academically. However, in March 2020 when everything as we knew it changed due to the unprecedented global pandemic, Daniella, like the rest of the world, faced a new and unsettling reality. As the world moved to virtual environments, she struggled to keep up with her new friends and adapt to online school. All of the tactics and coping mechanisms Daniella previously relied upon to be a diligent college student no longer served her, and life became much more challenging. 
As quarantine continued, Daniella knew she needed to make changes to her daily lifestyle. She began to incorporate new wellness routines, including yoga and breathing exercises, to maintain her mental health. She made it her mission to practice daily. Time on her yoga mat became an outlet to reset her day and provided much-needed structure. Daniella also gained a new work ethic that helped her succeed in online school, and she made time each day to Facetime or Zoom her friends. As a result, her mental well-being improved. 
After living through the pandemic, Daniella realized the importance of making wellness a priority in her life. She gained a new passion for self care and promoting wellness for others. As a community health major, Daniella decided to join the Happiness and Wellness Initiative for her capstone internship. Through this internship, she promotes wellness to her fellow students at UMD and other communities. Daniella is eager to continue her passion of promoting health and well being within her future endeavors and career path in public health.
Olivia:
Olivia Horowitz entered her freshman year with debilitating insomnia, and the condition was exacerbated after moving into her dorm in August 2019. Lack of sleep left Olivia exhausted and feeling like she was in a constant fight or flight mode. A couple of months into college, she realized it was not sustainable and began to research ways to improve her quality of life. Olivia started experimenting with different wellness techniques to improve her sleep quality and overall mental health. Although the transformation was not immediate, she noticed gradual differences in the way she felt, both physically and mentally, after regularly incorporating daily journaling to relieve stress and a nightly ritual setting the tone for bedtime. 
After weeks of these habits, she noticed her mood and sleep patterns dramatically improved. These two practices eventually led to other wellness techniques such as yoga, daily gratitude, positive affirmations, meditation and more. Olivia's commitment to wellness continued to grow after being sent home for the COVID-19 pandemic during her second semester. 
"Focusing on my mental health and overall wellness was essential to getting through the uncertainty of the virus," she said. Olivia is now a second semester senior and still practices these techniques, noting that self care and wellness are what keep her grounded. 
Focusing on my mental health and overall wellness was essential to getting through the uncertainty of the virus.
Corinne:
Corinne Yelsits started college optimistic and excited to embark on a new journey. However, Corinne found herself struggling with mental health more than ever before when the pandemic hit. "The isolating feeling of being forced to stay inside all day was extremely difficult and something that impacted me in many ways," she recalled. Returning to campus but still being in a virtual environment only continued that challenge. Concerned that many students were likely feeling the same way, Corinne began to research mental health and well-being to learn more.
The isolating feeling of being forced to stay inside all day was extremely difficult and something that impacted me in many ways.
As a community health major, Corinne learned how much health and wellness habits could impact her life. Her courses provided opportunities to also analyze health issues within the community. Corinne began implementing new habits and healthy routines that increased her joy. She found peace in techniques such as gratitude journaling, mindful exercise and reading. To share these tips and tricks with other students going through similar obstacles, she created her own wellness account on Instagram to promote the importance of wellness. 
As a full-time intern with the Happiness and Wellness Initiative, Corinne is eager to share what she has learned and to promote health and wellbeing on a broader scale. After graduating from UMD, Corinne is excited to work in the public health field to strengthen the health of her community. 
Categories
Students
Some Good News
Departments
School of Public Health