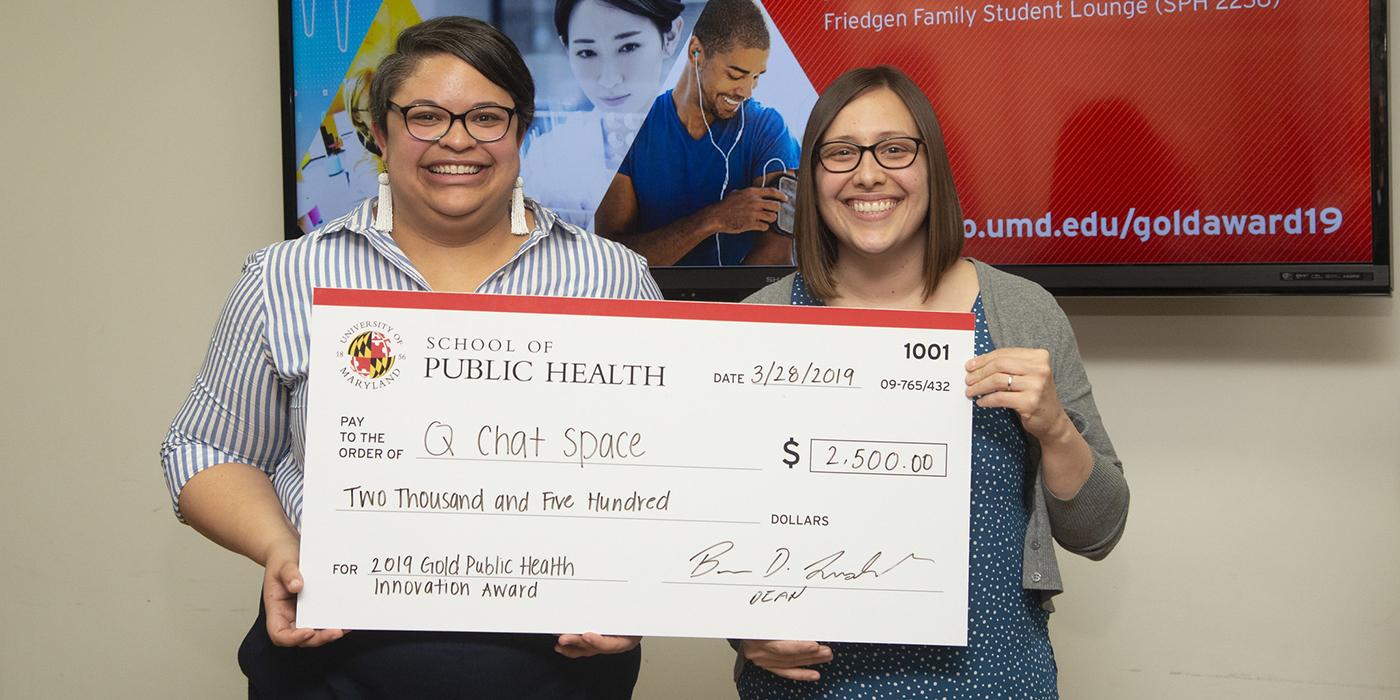 An online platform to support LGBTQ youth and a chatbot app addressing vaccine misinformation both won yesterday's 2019 (second annual) Gold Public Health Innovation Award competition hosted by the School of Public Health.
The teams behind Q Chat Space and ChatHealth each took home half of the $5,000 in prize money at the event, established with a gift from SPH founding Dean Robert Gold and his wife, Barbara, to spark public health innovation, design thinking and solutions to the world's most complex public health issues.
"It was so much fun to see the high quality of all the projects that were presented today," SPH Dean Boris D. Lushniak said. "I didn't envy the judges because all these projects were great and focused on helping people in new and innovative ways."
The judging panel featured Andre Blackman '05, founder and CEO of health innovation workforce development startup Onboard Health; Dr. Alyssa Todaro Brooks Ph.D. '15, scientific program specialist at the National Institutes of Health Clinical Center; Thomas Garson, an adviser to the SPH's Center on Aging; and Ed Woods, president of TerpSys, an information and technology services company.
One of their winning choices, Q Chat Space, was developed by family science doctoral student Natasha Williams to provide LGBTQ youth with access to an affirming online community moderated by trained facilitators. The facilitators, like Williams, have a background in counseling therapy and will provide mental health support and resources to rural youth, youth of color and others who may be socially isolated from their peers and are at higher risk for being victims of violence and bullying, depression and suicide.
Williams, who is advised by Assistant Professor Jessica Fish, partnered with CenterLink, a community of LGBTQ centers, Planned Parenthood and PFLAG on the project. She has already piloted QChat Space and plans to roll it out nationwide.
"To have the chance to continue to impact the lives and well-being of queer youth around the country who face so many challenges, it is super meaningful," Williams said.
Biological sciences and public health science major Veeraj Shah and computer science major Neil Johnson developed the other winning entry, ChatHealth, which can answer student questions about vaccines using AI and machine learning. Their goal is to address vaccine misinformation and increase the numbers of college students taking vaccines for preventable diseases like HPV, which is responsible for 99% of cervical cancers, and influenza, for which fewer than half of college students regularly get vaccinated.
Johnson and Shah, sophomores who both received the HPV vaccine as children, expressed surprise at how many of their peers haven't gotten vaccinated and still don't due to a lack of understanding about the effectiveness of vaccines. Working with the University Health Center, the Student Health Advisory Committee and the UMD Help Center, they hope to roll out ChatHealth on campus by Spring 2020 and envision deploying it at other universities.
Other competing teams included Padres Preparados, Jóvenes Saludables (Prepared Parents, Healthy Youth), a parent and youth mobile nutrition app pitched by doctoral students Amara Channell Doig (behavioral and community health) and Matt Rodriguez (family science) that enables Latino fathers to more easily participate in a family-skills program to improve their children's diet and physical activity, and DiSyringe, a handheld diagnostic tool pitched by math major Zakariya Kmir that seeks to revolutionize infectious disease detection. Both projects are already in use or have funding support from other sources.
"Our first year was focused very inwardly in the SPH, but we've now grown beyond the borders of our school in the second year," said Assistant Professor Neil Sehgal, faculty mentor for the Gold Award. "I am thrilled to see how the Gold Award is contributing to the innovations environment across campus and that students are seeing us as the home for health innovation at UMD."
View the Flickr album from the 2019 Gold Public Health Innovation Award competition.
Departments
Department of Family Science
Prevention Research Center
Public Health Science