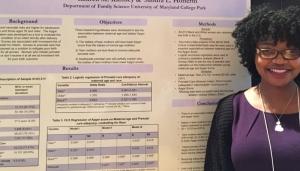 On April 6, 2016, the University of Maryland's Graduate School Government hosted Graduate Research Appreciation Day (GRAD). The event gave Master's and doctoral student investigators from all academic backgrounds an opportunity to share research, obtain feedback from faculty and peers, and hone conference presentation skills in a welcoming, on-campus setting. Many representatives from across the campus community participated in the event. The School of Public Health had a strong showing, including original research presentations from graduate students in each department.
In her poster, Rianna Murray, a doctoral student in the Maryland Institute for Applied Environmental Health (MIAEH), described findings from a pilot study investigating toxic exposures in urban child care facilities. Specifically, the research team measured the indoor concentrations of seven volatile organic compounds (VOCs) and particulate matter (PM) in 14 child care centers. Significant concentrations of six VOCs, including chloroform and toluene, PM2.5, and PM10 were detected in most of the facilities. In addition, a general health survey of the children attending these facilities revealed that at least one child per facility had been diagnosed with asthma. Ms. Murray and her research team concluded that these findings indicate the need for more research on this potential environmental health risk for children in key stages of development and susceptibility.
Amelia Jamison and Agnieszka Roman, MPH students in epidemiology, displayed a poster on their research investigating vulnerability and perceived risk of racial/ethnic groups during the 2009-10 Influenza A (H1N1) pandemic. The researchers explored the "Social Inequality Effect" phenomenon, which suggests that people who are more vulnerable to a disease may also perceive greater disease risk. During the H1N1 pandemic, non-Hispanic Blacks and Hispanics were more likely to acquire the flu. This increased vulnerability, along with being female and non-White, contributed to greater perceived H1N1 risk. However, perceived H1N1 risk was found to be a significant predictor for vaccine uptake, a protective behavior.
The School of Public Health was represented by the following student researchers:
Behavioral and Community Health: Hannah Allen, Abigail Bickford, Brit Bugbee, Julia Chen, Esther Choi, Dominick Hosack, Daisy Le, Elizabeth Seaman, Junaed Siddiqui, Amanda Strausser, Neha Trivedi
Epidemiology and Biostatistics: Mary Jung, Agnieszka Roman, and Amelia Jamison
Family Science: Kecia Ellick, Anthony Kondracki, Deirdre Quinn, Lauren Ramsey, Towanda Street, Yassaman Vafai, Jennifer Young
Health Services Administration: Robin Bloodworth
Kinesiology: Kelsey Christenson, Theresa Smith
MIAEH: Hillary Craddock, Rianna Murray, Crystal Romeo Upperman
Categories
Students
Research
Departments
Department of Behavioral and Community Health
Maryland Institute for Applied Environmental Health
Department of Family Science
Department of Health Policy and Management
Department of Kinesiology