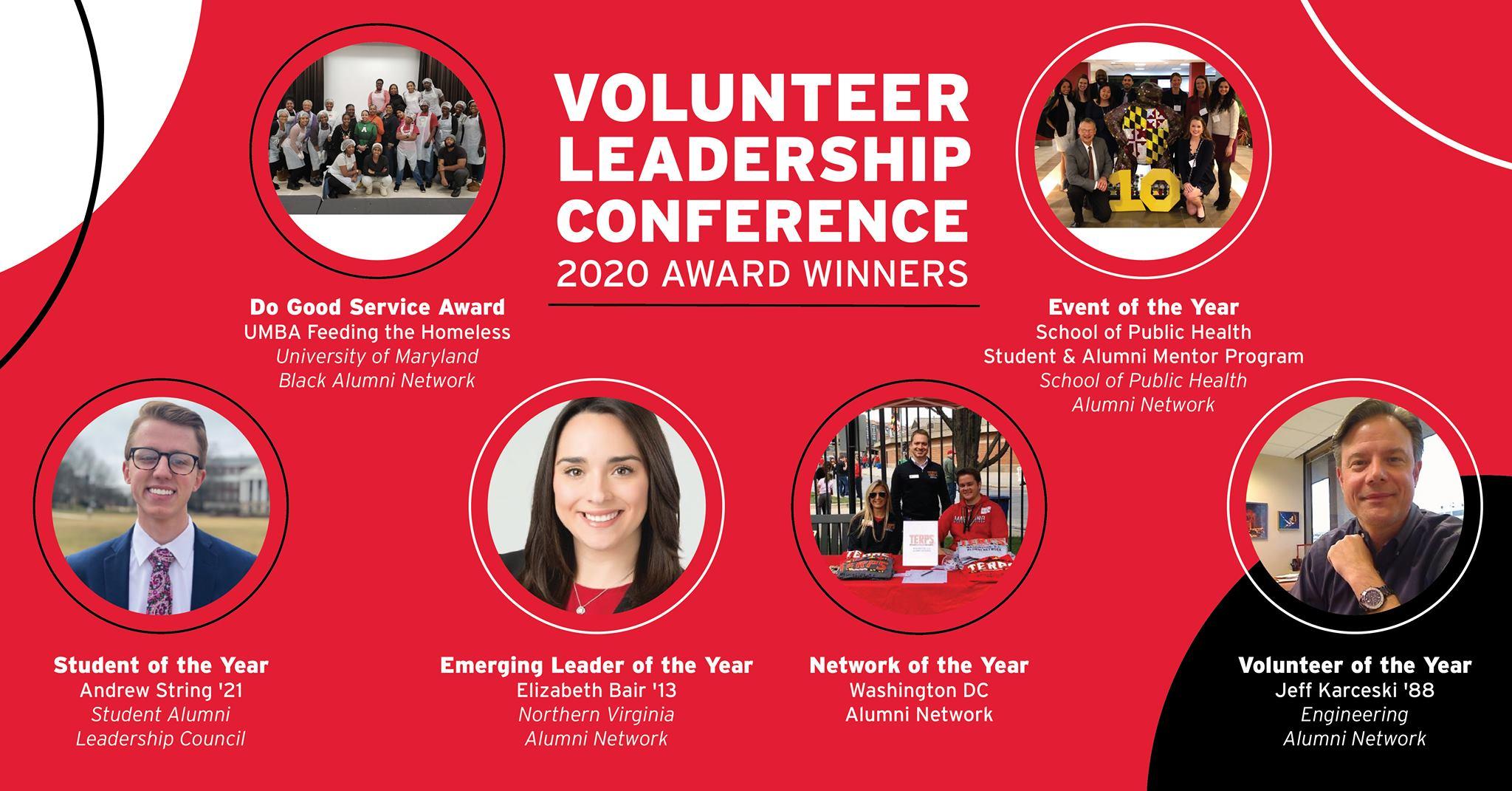 The School of Public Health Alumni Network received the Event of the Year Award at the University of Maryland Alumni Association's 2020 Volunteer Leadership Conference. The association recognized the SPH for its 2020-2021 SPH Alumni Mentor Program Kickoff Event and efforts to develop and grow the School of Public Health Alumni Mentor Program.
The award recognizes events with outstanding creativity and breadth in engaging the UMD community. The selection criteria considered the event's attendance, collaboration with other groups/organizations, and innovative use of social media communications and marketing.
The SPH Alumni Mentor Program Kick-off Event marks the beginning of each mentorship cycle for the SPH Alumni Mentor Program. 
During the Kick-off event, student-alumni pairs are introduced and participate in guided discussions and goal-setting exercises. Dean Boris Lushniak and other guests offer thanks to the alumni and words of inspiration for students as the program officially begins. 
Originally held as a dinner, the event morphed into an "ice cream social" in 2018 and in 2020, the event transitioned to a virtual format. 
Starting with just 20 student-alumni pairs in 2017, the program has grown to support 48 student-alumni pairs in 2020 (96 individuals), partly thanks to the virtual format which allowed students and alumni pairs to connect regardless of geography.
But the kick-off event only marks the beginning. 
"The School of Public Health Alumni Mentor Program is not limited to just one event—it is a series of events and programming designed to foster meaningful connections between students and alumni of the School of Public Health," said Alyssa Todaro Brooks, PhD '15, the SPH Alumni Network president who started the program in 2017. 
Matched based on academic major, career goals and professional/personal interests, the program supports the student-alumni pairs throughout the year. They receive helpful tips and conversation starters from program staff, are encouraged to attend both school and network-led events together and are given evaluations to gauge each pair's needs and success. When the program is over, students and alumni have the opportunity to return and share their stories as ambassadors.
"Many alumni mentors continue working with their assigned student(s) beyond the initial one-year commitment and they prove to be individuals who are committed to giving back to SPH, often going on to become board members, guest speakers, and donors," added Brooks. 
Former SPH Alumni Network Vice President of Professional Development, Amanda Hemmer-Shute; SPH Program Officer, Tia Cunningham; Former SPH Alumni Network Vice President of Social Programming, Dee Strum, Dean Boris Lushniak; SPH Assistant Dean of Development, Jennifer Schwartz and SPH Development Officer, Fabian Donate continue to be key players in this initiative.