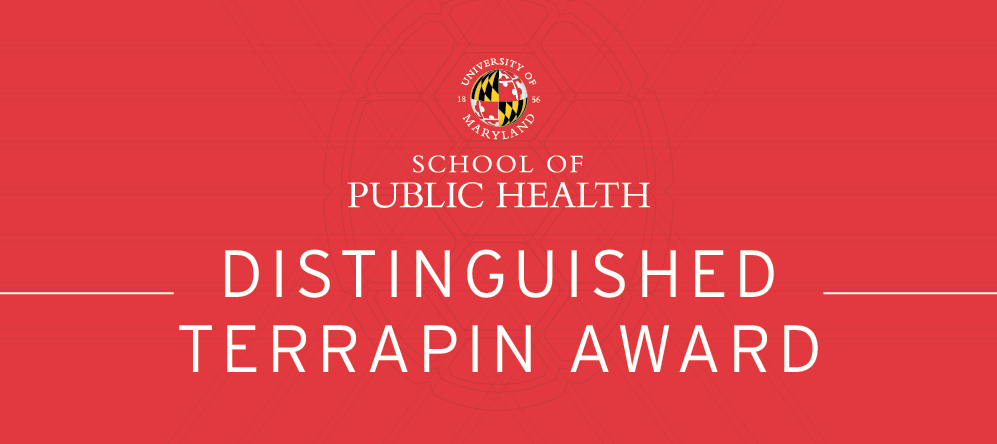 The University of Maryland School of Public Health is proud to award its highest honor, the Distinguished Terrapin Award, to four outstanding members of the SPH community. Each honoree was selected for their professional and philanthropic contributions as well as for their service to the school and/or advancement of one of the dean's strategic priorities.
The 2020 Distinguished Terrapin Award honorees include Dr. Bonnie Braun, Dr. Pamela Clark, Dr. Deborah Gebhardt, Ph.D. '79 and CAPT Paul "PJ"Jung '91. 
Professor Emerita Bonnie Braun 
Professor Elaine Anderson (Family Science) and Research Associate Professor Alice Horowitz (Behavioral and Community Health), nominated distinguished honoree and Professor Emerita, Bonnie Braun.
Dr. Braun bridges the areas of instruction, research, public policy and intervention through her enduring service. She richly deserves this honor! - Dr. Elaine Anderson
Dr. Braun is an outstanding candidate for this award; I nominate her unequivocally. She is a friend, mentor and an outstanding example of a Distinguished Terrapin. In short, Bonnie is a Terrapin treasure. - Dr. Alice M. Horowitz '92
Dr. Braun is a professor emerita of family science at the School of Public Health. She has championed health literacy throughout her 14-year career with the school and beyond. 
As the Herschel S. Horowitz Center for Health Literacy's first endowed chair and director, Dr. Braun played an essential role in establishing the Center's first strategic plan and pioneered the school's first health literacy course. She also created the statewide coalition, Health Literacy Maryland, to help community leaders promote health literacy. Now retired, she serves on the center's Health Literacy Advisory Board. 
Dr. Braun continues to make exceptional contributions to health literacy in her retirement. Her analysis of the impact of the Patient Protection and Affordable Care Act (Obamacare) on families has proven the need for health insurance literacy. Through a partnership with Consumers Union, the American Institutes of Research, and the University of Maryland, Dr. Braun has helped establish a definition of health insurance literacy and created the Smart Choice Health Insurance© consumer education program.
The Smart Choice Health Insurance© program, run by University of Maryland Extension, has received numerous accolades including the Family Economics and Resource Management Community Education Award from the American Association of Family and Consumer Sciences, the Jeannie M. Preister Outstanding Health Program Award from the University of Maryland College of Agriculture and Natural Resources and the Outstanding Education Program Award from the Association of Financial Counseling and Planning Education. 
Research Professor Emerita Pamela Clark 
Research Professor Dina Borzekowski, interim director of the School of Public Health's Global Health Initiative, nominated distinguished honoree Dr. Pamela Clark. 
[Dr. Pamela Clark] represents the best of public health scholarship, collegiality, and beneficence. She represents exactly the type of person who should be recognized and honored. -  Dr. Dina Borzekowski 
Dr. Pamela Clark is a research professor emerita in the School of Public Health Department of Behavioral and Community Health and the director of the University of Maryland-Battelle Tobacco Center of Regulatory Science. Throughout her career, Dr. Clark has served as an internationally recognized champion of tobacco control research and a supporter of the school's student engagement in global health. 
For several decades, Dr. Clark has researched a range of tobacco control topics, including youth access and adoption, community interventions, smoke chemistry, point-of-purchase advertising and product characteristics. She was one of the first researchers to study e-cigarettes and hookah pipes and has contributed to policy discussions around unregulated alternative smoking products. In 2013, she received national attention when her lab received a $19 million grant from the National Institutes of Health and the Food and Drug Administration's Tobacco Center of Regulatory Science to test new smokeless tobacco products.  
In addition to her research excellence, Dr. Clark is a brilliant mentor, offering guidance to pre-docs, post-docs and junior faculty members. 
Beyond her professional contributions, Dr. Clark is a strong supporter of student engagement in global public health. In 2019, she established the Pamela I. Clark Global Health Student Experience Endowment and Current Use Fund with a $1.15 million gift and has continued to support the students of Public Health Without Borders, the UMD Student Crisis Fund, the Campus Pantry and the School of Public Health Student Emergency Scholarship Fund. 
Dr. Deborah Gebhardt, Ph.D. '79
Professor Bradley Hatfield, associate dean for faculty affairs and chair of the Department of Kinesiology nominated distinguished honoree Dr. Deborah Gebhardt.
Dr. Deborah Gebhardt's career embodies passion, motivation, aspiration, creativity, competency and a willingness to practice what she preaches. However, most of all, it embodies kindness and compassion for the next generation of scholars. This is the core of what our university is all about and Dr. Gephardt demonstrates every sign of a distinguished alumna helping the students of our department, the school, and the university to achieve its mission and prepare our students for the future. - Dr. Bradley Hatfield
Dr. Deborah L. Gebhardt was an early leader in women's sports and is a champion of physical education, research, athletics and the promotion of workforce readiness. 
When she started Human Performance Systems, in 1988, Dr. Gebhardt pioneered a new field of study and profession—physical assessment developmental programs for individuals in the workforce who are highly dependent on their physical capacity. At Human Performance Systems, Dr. Gebhardt developed physical performance standards and medical guidelines for jobs ranging from police, firefighters and homeland security/military staffers and her business grew substantially after the 1990 Americans with Disabilities Act (ADA). In 2015, she sold Human Performance Systems to the nonprofit Human Resources Research Organization (HumRRO) but continues to work for the group as a principal scientist.
Dr. Gebhardt has received accolades for her work in the field from organizations such as the Society of Industrial and Organizational Psychology, the American College of Sports Medicine and the American Alliance of Health, Physical Education, Recreation and Dance Research consortium. She has testified as an expert witness in a class action (Title VII) and ADA litigation, along with arbitrations regarding the physical performance tests, ADA issues, and medical guidelines used for selection and retention for public and private sector personnel. 
Additionally, Dr. Gebhardt is a powerful role model and supporter for students, particularly for young women majoring in kinesiology. Along with Dr. Sally Phillips, a former faculty member who served in many roles in the Department of Kinesiology, Dr. Gebhardt has established the Gephardt-Phillips graduate student award. This fellowship provides resources for student researchers in the school's masters and doctoral programs and is helping to cultivate the next generation of Terp researchers in kinesiology and public health. 
CAPT Paul "PJ" Jung '91
Ayne Furman '77, a former member of the School of Public Health Dean's Council and a retired podiatrist nominated distinguished honoree CAPT Paul "PJ" Jung, a past Dean's Council Chairperson. 
From his professional excellence to his service to the SPH to his philanthropy to support students, CAPT Jung fully embodies the qualities and spirit of the Distinguished Terrapin Award. - Dr. Ayne Furman
CAPT Paul Jung is the director of the Division of Medicine and Dentistry in the Health Resources and Services Administration (HRSA) Bureau of Health Workforce.  
Previously, CAPT Jung has held assignments at the Indian Health Service, Office of the Surgeon General, Centers for Disease Control, National Institutes of Health and Food and Drug Administration. He served as an investigative staffer for the House Energy and Commerce Committee and as the associate director for health for the Peace Corps, There, he implemented the Healthy Volunteer project, an evidence-based series of objectives to maintain and improve the health of Peace Corps Volunteers around the globe. 
With writing featured in publications such as the Baltimore Sun, Health Matrix, the New Physician, Medical Economics, Health Affairs and numerous peer-reviewed journals, CAPT Jung is the most widely published author on Peace Corps volunteer health. In 2008, he co-authored a study on Peace Corp volunteer fatalities in the Journal of Travel Medicine and received the Best Original Article Award from the International Society for Travel Medicine. 
In addition to his professional accomplishments, CAPT Jung has taught health policy at the undergraduate and graduate levels since 2002 and developed educational initiatives to train health policy organizers. He supports School of Public Health students as an adjunct professor in the Department of Health Policy and Management and through his philanthropic gifts to the Jeffrey & Michelle Rivest-Dean's Council Maryland Promise Scholarship.
We are proud to recognize the 2020 cohort of Distinguished Terrapins and look forward to their continued contributions as they connect with our community through speaking engagements and mentoring opportunities.