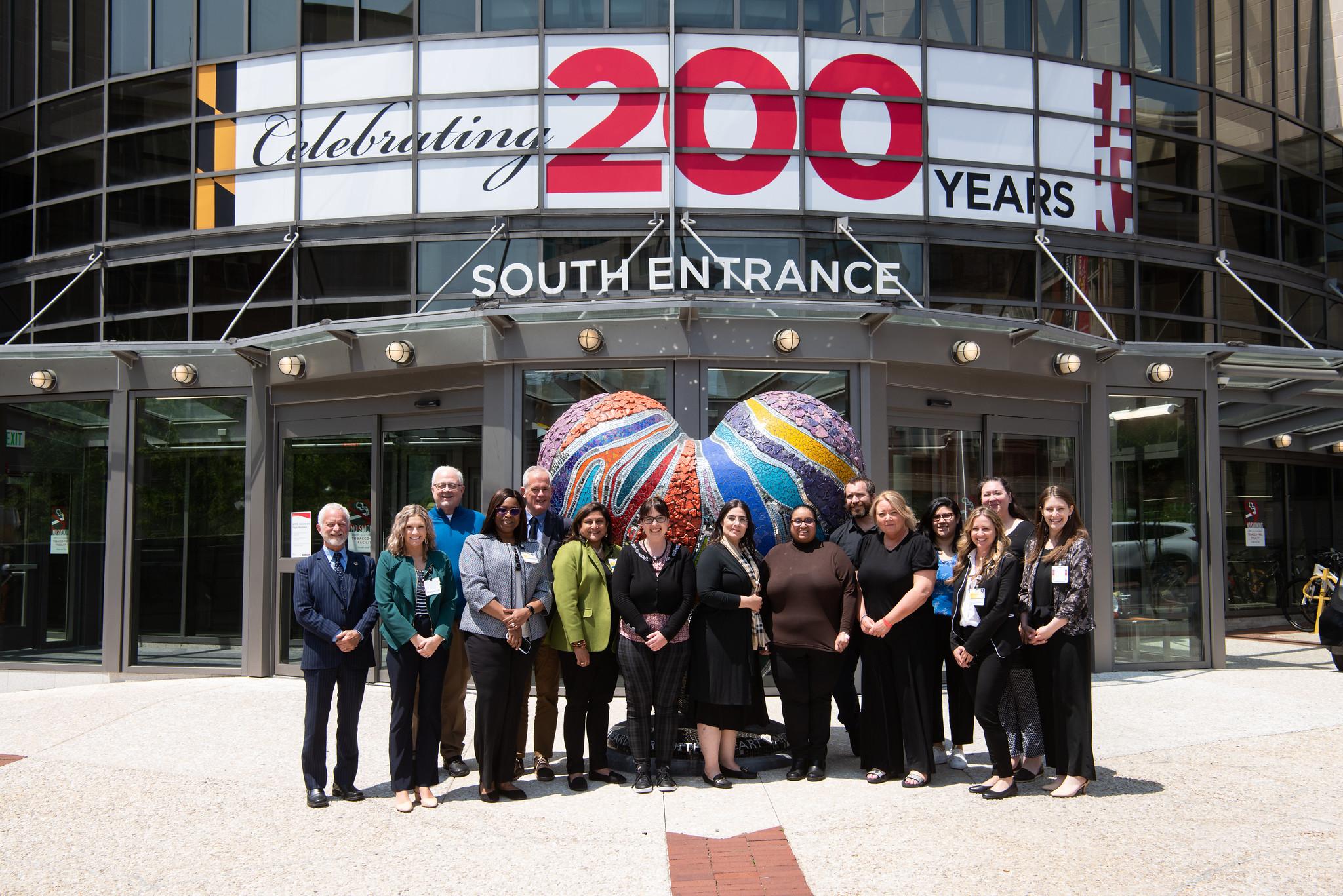 Residents of the United States and England have their share of differences: football vs. soccer, coffee break vs. tea time and private and government subsidized health insurance vs. a national, publicly-funded healthcare system.
But when it comes to the challenges of surviving graduate school, making job connections and securing research funding, public health doctoral students and early career researchers from both nations said they have plenty in common - especially since the COVID-19 pandemic hit.
More than 30 faculty members and students from the University of Maryland School of Public Health, University of Birmingham in England and University College Dublin in Ireland spent three days in mid May swapping experiences, sharing research and touring the University of Maryland as part of the first Universitas 21 Health Research Exchange (U21HREx) research symposium held at the University of Maryland School of Public Health in College Park and the University of Maryland Medical Center in Baltimore. 
"The pandemic drastically changed the research environment, making it more difficult for doctoral students and those beginning a career in research to network," said Negin Fouladi, associate professor in the Department of Health Policy and Management and U21HREx community of practice chair. "It also exacerbated the research divide for underrepresented students and professionals."
Fouladi developed the U21HREx in 2020 in partnership with the University of Birmingham. It launched in 2021 with the addition of University College Dublin and University of New South Wales to ameliorate these challenges through diverse and inclusive research mentorship and professional development. The exchange is funded by Universitas 21, a global network of 28 research-intensive universities. University of Maryland is one of three members from the United States.
"It's more important than ever to strengthen connections and train the next generation of researchers to be healthcare leaders," Fouladi said.
During the symposium, speakers discussed a range of public health topics, including health equity, use of digital technology in healthcare, how the COVID-19 pandemic impacted the United Kingdom's National Health System (NHS) and the pandemic's strain on the healthcare workforce in England, Ireland and the United States. 
"One of our finance ministers said that the NHS was the closest thing the British had to a religion," said Mark Exworthy, professor of health policy and management at University of Birmingham. "It is very strongly embedded within the culture of the country. So during COVID, children were chalking on the street, saying 'Save the NHS' … People would come outside their houses on Thursdays at 8 p.m. and clap for carers. There was love for the NHS. We'll see whether that lasts."
Panelists also shared tips on how to navigate the doctoral landscape and establish work-life boundaries. 
"Being a sponge really helped me," said Portia Buchongo, Ph.D. '23, a health services research graduate. "And meeting people and asking other doctoral students about their experiences."
"Saturdays are my day off with my husband," said Jennifer Knights, a Ph.D. student at the University of Birmingham and a specialist research lead for NHS Education for Scotland. "We put on our hiking boots, whether it's raining - and it's often raining - and we get out there."
School of Public Health graduate students in attendance said they appreciated hearing an international perspective on research and public health.
"You've got the opportunity to listen to all these different perspectives, and it helps you build ideas, especially now as I'm trying to think of topics for my own dissertation," said Alice Yan, a first year health services research doctoral student.
"International conferences and platforms are really helpful for students like us to broaden our knowledge," added Sewika Sulpe, MPH '24. "They open up your mind."
Public health science student Duncan Coltharp '23 said panelists' experiences gave him new inspiration to pursue a graduate degree in public health. He said he'd also like the symposium to grow in the future to include researchers from African and Asian countries.
"Public health, inherently, has to be collaborative and intersectional," he said. "It has to take some cues from other systems. So I think for a really effective public health system, you need to have a lot of cross-communication."
During the symposium, leaders also laid the groundwork for joint academic initiatives between the University of Maryland and University of Birmingham and comparative health systems projects to improve the performance and quality of healthcare care in Maryland, the United Kingdom and Ireland.
Panelist Jennifer Knights, Ph.D. student and specialist research lead at NHS Education for Scotland, documented her experience at the symposium on the University of Birmingham website.
May 16 - Panel Session  
University of Maryland
Negin Fouladi, associate professor in the Department of Health Policy and Management and U21HREx community of practice chair, event moderator
University of Birmingham (UK)
Mark Exworthy, professor of health policy and management, Health Services Management Centre; co-director, MBA Clinical Leadership
Dr. Amarpreet Kaur, lecturer, Health Services Management Centre
Jennifer Knights, Ph.D. student, specialist research lead at NHS Education for Scotland
University College Dublin (Ireland)
Kate Frazer, associate professor, School of Nursing, Midwifery and Health Systems
Thilo Kroll, professor of health systems management, School of Nursing, Midwifery and Health Systems
Matthew Douma, Ph.D. candidate, RN, emergency nurse educator, Alberta Health Services Canada
Agencies and Medical Systems (US)
Dr. Arlene Bierman, director, Center for Evidence and Practice Improvement, Agency for Healthcare Research and Quality
Dr. Kristin Carman, director, Public and Patient Engagement, Patient-Centered Outcomes Research Institute (PCORI)
Joseph Flannery, healthcare educator, safety and quality risk advisor
Dr. Mangla Gulati, chief quality officer, associate chief medical officer and vice president, patient safety and clinical effectiveness, University of Maryland Medical Center
May 17 - Student/ECR Seminar
University of Birmingham (UK)
Dr. Amarpreet Kaur, lecturer, Health Services Management Centre
Jennifer Knights, Ph.D. student, specialist research lead at NHS Education for Scotland
Anthony Stem, Ph.D. candidate
University College Dublin (Ireland)
Matthew Douma, Ph.D. candidate, RN, emergency nurse educator, Alberta Health Services Canada
University of Maryland (US)
Portia Buchongo, Ph.D. '23, applied research scientist, Health Equity National Committee for Quality Assurance (NCQA)
May 17 - Special Topic Seminar
University of Birmingham (UK)
Mark Exworthy, professor of health policy and management, Health Services Management Centre; co-director, MBA Clinical Leadership
Categories
Policy Relevant
Research
Faculty
Students
Departments
School of Public Health
Department of Health Policy and Management