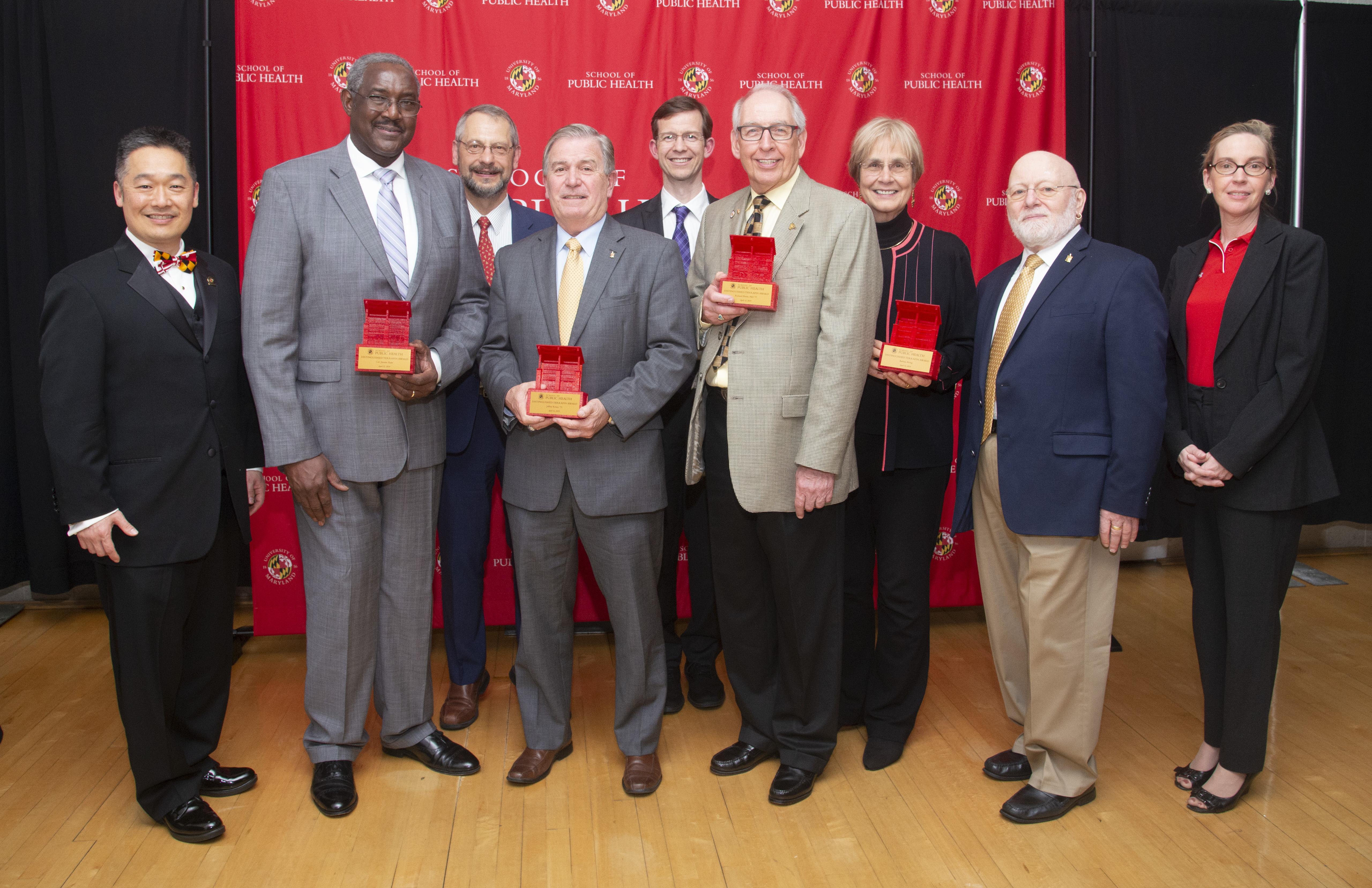 The University of Maryland School of Public Health awarded its highest honor, the Distinguished Terrapin Award, to four outstanding members of the SPH community on April 12, 2019. Each honoree was selected for their outstanding professional achievements and their unique relationship to the School of Public Health.
Honorees included Dr. Barbara Alving; Dr. Richard Eberst, PhD '77; Mr. Jeffrey Rivest '75; and Col. Jimmie L. Slade.
The school established the new Distinguished Terrapin Award, which will be given annually, to recognize members of the extended SPH community for outstanding professional achievement, service to the school, their role in cultivating a culture of philanthropy, and/or advancement of one of the dean's strategic priorities.
The honorees were recognized at the inaugural Dean's Dinner, attended by many members of the Dean's Council, along with other donors, faculty, staff students and friends. Paul "PJ" Jung '91, the chair of the Dean's Council, emceed the awards ceremony, before which UMD Provost Mary Ann Rankin provided timely updates on university initiatives and successes and Dean Boris Lushniak shared a "state of the School of Public Health" address.
Associate Dean and Professor Stephen Roth introduced distinguished terrapin honoree Dr. Barbara Alving, who was the founding director of the Public Health Science undergraduate program on the College Park campus from 2014 to 2016. 
"She really built our Public Health Science program and was very committed to students and their success from the beginning," said Dr. Roth, the current director of the program. "She still attends student events, asks about how students are doing and is now supporting them through a scholarship and endowed award."
Due in part to Dr. Alving's leadership, the Public Health Science bachelor's program has grown to be one of the top ten most popular undergraduate majors at UMD, with over 900 students. Some of these diverse and academically talented undergraduates are now supported by a TerpStart endowed scholarship for undergraduate students with financial need and an endowed research award established by Barbara Alving and her husband Carl.
Dr. Alving's distinguished career before coming to UMD includes cardiovascular research at Walter Reed National Military Medical Center and multiple directorships at the National Institutes of Health.
Professor Robert S. Gold, founding dean of the School of Public Health, introduced distinguished terrapin honoree and alumnus Dr. Richard Eberst, PhD '77 who made substantial contributions to the field of community and public health education.  
"Rick was, and still is a phenomenal mentor, not only to students, but to colleagues and health education leaders, as well as hundreds of members of community coalitions," said Dr. Gold, who also recalled early career collaborations with Dr. Eberst in which Dr. Gold developed courses in microcomputer applications in health by "experimenting" with Dr. Eberst's students.
Among his accomplishments, Dr. Eberst developed the "Eberst Health Cube Model," a multidimensional model of health that was named one of the five most important contributions to the field by the International Association of Disease Prevention and Health Promotion.
Dr. Eberst's generous support to the University of Maryland is reflected in his membership in the UMD Founders Legacy Circle and in being a lifetime member of the UMD Alumni Association.
Professor Luisa Franzini, chair of the Department of Health Services Administration, introduced Mr. Jeff Rivest '75, a nationally recognized leader in the field of health care administration.
Rivest, who is the campaign cabinet chair of the SPH Dean's Council and a member of the University of Maryland Alumni Association Board of Governors, is a great friend to the School of Public Health.
"I cannot think of a most deserving recipient of the SPH Distinguished Terrapin Award than Jeff Rivest," said Dr. Franzini, who commented on Mr. Rivest's genuine interest in the careers of students and his contributions to shaping new programs in the department.
Rivest has played a key role in the growth and success of several leading academic medical centers for more than 40 years—most recently serving as the president and CEO of the University of Maryland Medical Center from 2004 to 2015.
Along with his wife Michelle, Jeff recently established the Jeffery and Michelle Rivest-Dean's Council Maryland Promise Scholarship which provides both financial and programmatic support to SPH undergraduate students with financial need.
Dr. Cheryl Knott, professor of behavioral and community health, introduced distinguished terrapin honoree, Col. Jimmie L. Slade, the executive director of the Community Ministry of Prince George's County and a long time partner in community-engaged research with the School of Public Health.
A retired Army Colonel, Mr. Slade has led the Community Ministry—a faith-based, non-profit organization that provides supportive services to local underserved communities—for nearly 40 years.
Mr. Slade has contributed greatly to cancer research initiatives of Dr. Knott's CHAMP Health project, which engages African American faith-based communities in education and prevention activities.
"Mr. Slade has an exceptional record of involving School of Public Health students in community service, particularly undergraduate students," said Dr. Cheryl Knott, professor and director of the Community Health Awareness, Messages, and Prevention Lab. "School of Public Health students have completed internships under his tutelage and have gained valuable experience serving our local community."
Mr. Slade is also a founding member of the Maryland Community Research Advisory Board of the Maryland Center for Health Equity and chairs the Johns Hopkins Center to Reduce Cancer Disparities-sponsored Prince George's County Community Advisory Group (Health & Cancer Reduction).
Notable attendees of the Dean's Dinner and Distinguished Terrapin Award ceremony included additional members of the School of Public Health Dean's Council: Mr. Andre Blackman '05; Ms. Maureen Bryant '01; Mr. Kevin Clair '82; Dr. Robin Mockenhaupt, PhD '99 and Mr. Ed Woods '93. Other notable guests were Mr. Samuel Pizzigati; Dr. Elaine Anderson; Dr. Pamela Clark; Dr. Barbara Curbow; Dr. Barbara Friedman, '77; Dr. Deborah Gebhardt, PhD '79; RADM Joyce Johnson and Jim Calderwood '64; Ms. Dee Strum '74; and Mr. Douglas Taylor '75, MBA '84, and Ms. Lynn Schmitt.
We are proud to recognize the first cohort of Distinguished Terrapins and look forward to their continued contributions as they connect with our community through speaking engagements and mentoring opportunities.