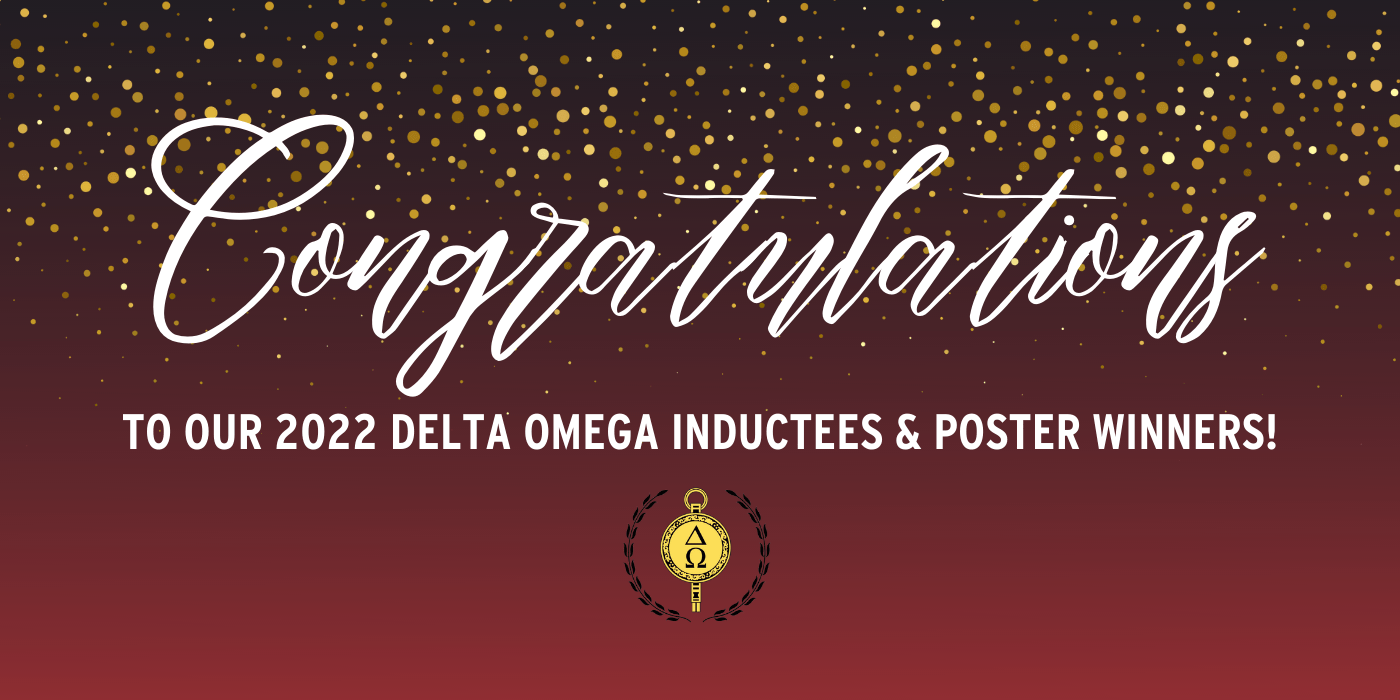 The Gamma Zeta chapter of the Delta Omega Honorary Society in Public Health at the University of Maryland School of Public Health is pleased to announce its 2022 inductees. At the virtual induction ceremony and poster awards reception on May 6, 2022, Dean Boris Lushniak, Principal Associate Dean Dushanka Kleinman, inducted 17 students, four faculty members, two alumni and one honorary member, Dr. Dianna Abney.
This year our chapter also awarded our inaugural Community Partner Award to La Clínica Del Pueblo (LCDP). In addition, the Gamma Zeta chapter recognized the outstanding student research poster winners from each department of the school.
Election to Delta Omega is based on high academic standards and outstanding performance in scholarship, teaching, research and community service. Election of membership in Delta Omega is intended to not only recognize merit but also to encourage and further excellence in and devotion to public health work.
For more information about Delta Omega, please visit the National Chapter's website at www.deltaomega.org.
Student Inductees
Suhana Chattopadhyay, PhD '22 (MIAEH)
Kathryn Costello, MPH '22 (KNES)
Amara Channel Doig, PhD '22 (BCH)
Allison Gamblin '22 (FMSC)
Melissa Garcia, MPH '22 (EPIB)
Lindsay Mallick, PhD '24 (FMSC)
Heidi Mattick, MPH '22 (KNES)
Kayley Milor '22 (KNES)
Bethany Ogbenna, PhD '24 (EPIB)
Clarie Percil, MPH '22 (HPM)
Venchele Saint Dic, MPH '22 (HPM)
John Salerno, PhD '22 (BCH)
Deborah Shelef, PhD '23 (FMSC)
Izidora Skračić, PhD '22 (FMSC)
Darya Soltani, MPH '22 (BCH)
Merianne Spencer, PhD '24 (HPM)
Lakeshia Watson, PhD '22 (EPIB)
Faculty Inductees 
Jessica Fish, PhD (FMSC)
Ali Hurtado, PhD (FMSC)
Roderick King, MD, MPH (HPM)
Evelyn King-Marshall, PhD (BCH)
Alumni Inductees
Laura Koo, PhD '21 (BCH)
Dyllis Minang, PhD '20 (HPM)
Honorary Inductee
The honorary member inducted for 2022 was Dr. Dianna Abney.
Dr. Dianna E. Abney has recently returned as the health officer for the Charles County Department of Health. Prior to her role as the health officer, she was the medical director of the county's Child Abuse and Neglect program.
From 2018 to 2021, Dr. Abney served on the Horowitz Center for Health Literacy Advisory Board and was instrumental in shaping the Center's approach to working with Maryland local health departments. She has been an active partner with the center to co-develop COVID-19 communication materials for Charles County and other local communities and was a featured speaker at the 2019 Health Literacy in Action conference. Dr. Abney has been a pediatrician for over 30 years and received her undergraduate degree from the Massachusetts Institute of Technology and her medical degree from the Tulane University School of Medicine.
Delta Omega Gamma Zeta Chapter 2022 Community Partner Award
New in 2022, the Gamma Zeta chapter also presented the Community Partner Award to La Clínica Del Pueblo (LCDP). The award honors community partners who demonstrate outstanding commitment and dedication and meritorious distinction to the field of public health.
LCDP has been committed to improving the health of Latinx immigrants and low-income families for more than three decades. As a non-profit, LCDP addresses the distinct health needs of the Latinx immigrant community in the Washington metropolitan area through comprehensive primary medical care with wrap-around services across the life spectrum, including mental health and substance use treatment, medical interpretation and language access advocacy, community health including health education and safe spaces and advocacy strategies to increase inclusion and health equity for Latinx immigrants. Created and inspired by social justice movements, LCDP is committed to reducing health inequities based on immigration status, language, gender identity, sexual orientation and race.
SPH Student Poster Awardees
Suhana Chattopadhyay (PhD '22, Maryland Institute for Environmental Health)
Distinct Oral Bacterial Communities Observed Between Tobacco Users and Nonusers: A Longitudinal Oral Microbiome Study
Faculty Mentor: Dr. Amy R. Sapkota
Caitlin Flouton (PhD '25, Epidemiology and Biostatistics)
The Associations of Vaccination Speed with Incidence of COVID-19 and Social
Vulnerability: An Ecologic Study in Maryland
Faculty Mentor: Dr. Hongjie Liu
Zofia Cieslak '22 (Kinesiology)
Loneliness and Social Isolation During the COVID-19 Initial Lockdown Are
Associated With Greater Symptoms of Anxiety
Faculty Mentor: Dr. J. Carson Smith
MASTER'S STUDENT WINNER

Darya Soltani, MPH '22
Strengthening Mental Health Knowledge and Skills in Rural Honduras
Faculty Mentor: Dr. Dina Borzekowski

DOCTORAL STUDENT WINNER

David Hawthorne, PhD '23
Sexual Risk Behavior and Lifetime HIV Testing: The Role of Adverse Childhood Experiences
Faculty Mentors: Drs. Mona Mittal, Typhanye Dyer and Rodman Turpin
MASTER'S STUDENT WINNER
Anne Mamish, MPH '22
COVID-19 Vaccination Education Through Social Media
Faculty Mentor: Dr. Jinhee Kim

DOCTORAL STUDENT WINNERS

Jianyu Lai, PhD '23
Comparison of Saliva and Midturbinate Swabs for Detection of SARS-CoV-2
Faculty Mentor: Dr. Donald Milton

Caitlin Flouton, PhD '25
The Associations of Vaccination Speed with Incidence of COVID-19 and Social Vulnerability: An Ecologic Study in Maryland
Faculty Mentor: Dr. Hongjie Liu
DOCTORAL STUDENT WINNERS
Izidora Skračić, PhD '22
Changes in Contraceptive Intent After a Title X Provider Visit
Faculty Mentor: Dr. Julia R. Steinberg

Sahra Ibrahim, PhD '23
Spousal Violence and Contraceptive Use Among Married Afghan Women in a Nationally Representative Sample
Faculty Mentor: Dr. Julia R. Steinberg

Krystle McConnell, PhD '20
Early Outcomes from an Evaluation of a School-based Teen Pregnancy Prevention Program for Latino Youth
Faculty Mentor: Dr. Amy Lewin
DOCTORAL STUDENT WINNERS
Elsie A. Essien, PhD '24
Health Equity as a New Normal: Centering Community Voices in Pandemic Recovery Efforts in Prince George's County, Maryland
Faculty Mentor: Dr. Stephen Thomas

Jun Chu, PhD '22
Effects of the Children's Health Insurance Program Reauthorization Act - New Evidence from National Health Interview Survey
Faculty Mentor: Dr. Michel Boudreaux
UNDERGRADUATE STUDENT WINNER
Zofia Cieslak '22
Loneliness and Social Isolation During the COVID-19 Initial Lockdown Are Associated With Greater Symptoms of Anxiety
Faculty Mentor: Dr. J. Carson Smith
DOCTORAL STUDENT WINNERS
Gabriel Pena, PhD '23
Monocyte Polarization as a Biomarker of Cardiorespiratory and Cognitive Health in Active Older Adults: A Pilot Study
Faculty Mentor: Dr. J. Carson Smith

James Heilman, PhD '23
Effects of Oxidative Stress Versus Cytokine-dependent Inflammation on the Release of Endothelial Microparticles
Faculty Mentor: Dr. Steven J. Prior

Yash Kommula, PhD '25
Acute Aerobic Exercise and Emotional Processing in Active Older Adults
Faculty Mentor: Dr. J. Carson Smith
MASTER'S STUDENT WINNER
Cameron Smith, MPH '23
Baltimore City Irrigation Water Quality: Current Use and Needs From Baltimore City Farmers and Gardeners
Faculty Mentor: Dr. Rachel Rosenberg Goldstein
DOCTORAL STUDENT WINNER
Suhana Chattopadhyay, PhD '22
Distinct Oral Bacterial Communities Observed Between Tobacco Users and Non-Users: A Longitudinal Oral Microbiome Study
Faculty Mentor: Dr. Amy R. Sapkota
FIRST PLACE
Lisa Anoruo '22 (Public Health Science)
Integrating Culturally-based Approaches into Sexual and Reproductive Health Programs for Youth Experiencing Homelessness
Faculty Mentors: Charlene Kuo and Dr. Liz Aparicio
SECOND PLACE
Kimberly Tan '22 (Public Health Science)
Accelerated BS/MPH Student, MPH '23 Mitigating Substance Use Disorder (SUD) in UMD Students through Education, Awareness, and Harm Reduction Approaches
Faculty Mentor: Courtney Butler
THIRD PLACE
Nikki Emamian '23 (Biology and Public Health Science)
Mindfulness for Families Managing Chronic Disease
Faculty Mentor: Dr. Robin Puett
FIRST PLACE
Maya Hatoum '22 (Public Health Science)
iRAM, an AI-based Screening Tool That Redefines the BMI Scale to Include Black and Latino Patients in Disease Risk Assessments
SECOND PLACE
Weijun Yu (PhD '23, Epidemiology and Biostatistics)
Leveraging Social Networks and Spatial Analysis to Uncover Asymptomatic COVID-19 Cases
Faculty Mentor: Dr. Quynh Nguyen
THIRD PLACE
Emily Healey (PhD '25, Maryland Institute for Environmental Health)
Evaluating Indicator Bacteria and Heavy Metal Presence and Concentration in Irrigation Water on Urban Farms in Baltimore City, MD
Faculty Mentor: Dr. Rachel Rosenberg Goldstein
HONORABLE MENTIONS
Jianyu Lai (PhD '23, Epidemiology and Biostatistics)
Comparison of Saliva and Midturbinate Swabs for Detection of SARS-CoV-2
Faculty Mentor: Dr. Donald Milton
Yiming Chen (PhD '22, Epidemiology and Biostatistics)
Group Sequential Design Without Proportional Hazards Assumption
Faculty Mentor: Dr. Mei-Ling Ting Lee
FIRST PLACE
Katelyn Reynolds '23 (Biology)
Multilevel Factors Influencing the Sexual and Reproductive Health of Female Youth Experiencing Homelessness
Faculty Mentor: Elizabeth Aparicio
SECOND PLACE
Isha Chawla (PhD '24 Family Science)
Race-based Traumatic Stress Symptoms and Self-rated Health/Life Satisfaction Among the People of Color: The Role of Financial Difficulties During COVID -19
Faculty Mentor: Dr. Jinhee Kim
THIRD PLACE
Kimberly Tan '22 (Public Health Science)
Accelerated BS/MPH Student, MPH '23 Mitigating Substance Use Disorder (SUD) in UMD Students through Education, Awareness, and Harm Reduction Approaches
Faculty Mentor: Courtney Butler
Categories
Students
Faculty
Alumni
Departments
Department of Behavioral and Community Health
Maryland Institute for Applied Environmental Health
Department of Epidemiology and Biostatistics
Department of Family Science
Department of Health Policy and Management
Department of Kinesiology
School of Public Health