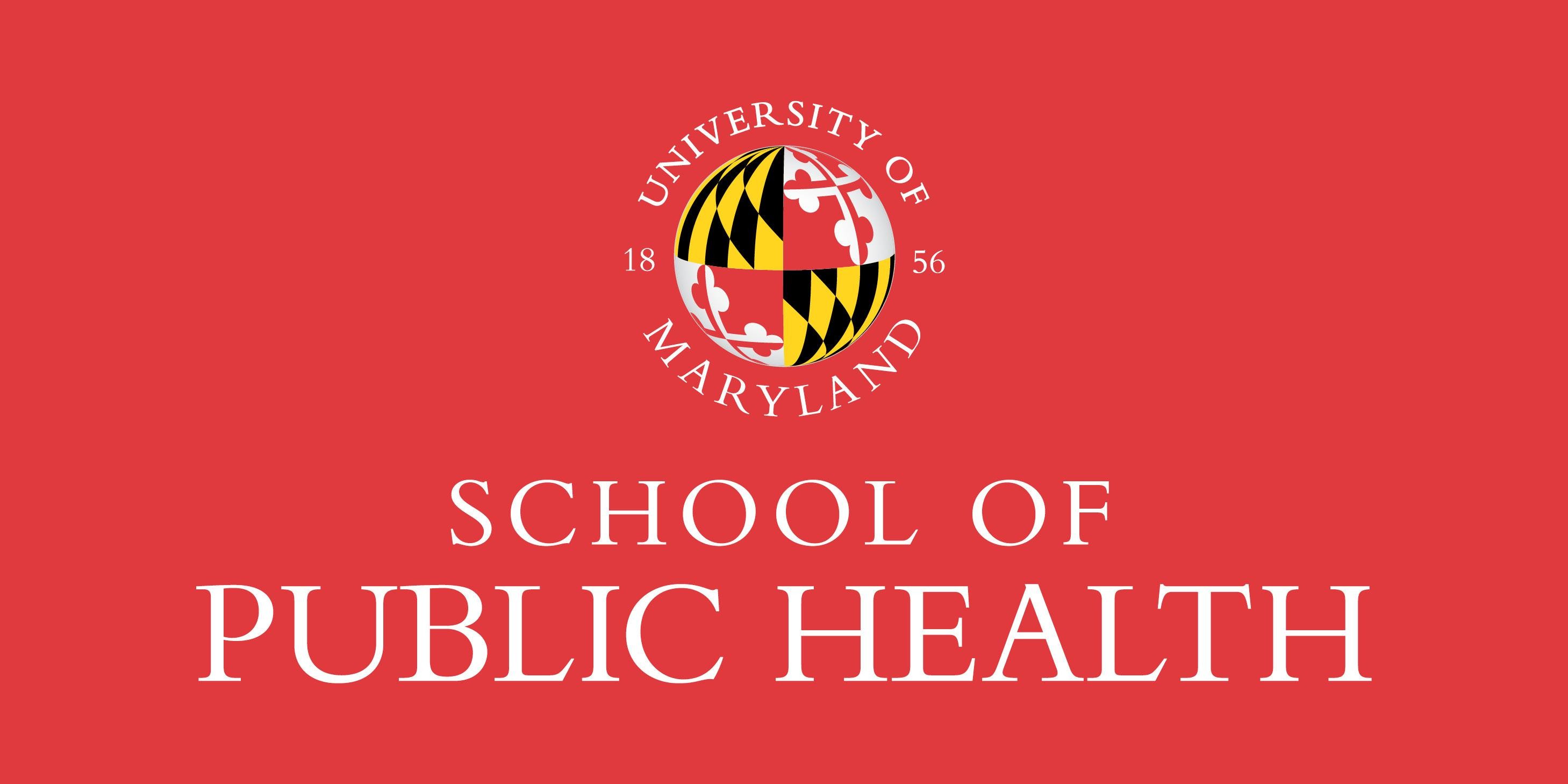 "Why are cookies unhealthy?" A common question asked by kindergartners wondering why their favorite snack is bad for them. On a recent trip to Edward M. Felegy Elementary School in Hyattsville, MD, members from Schools for Smiles educated children in pre-K and kindergarten on oral hygiene through fun activities and demonstrations.
Implementing a new activity, School of Public Health students Eric Lai, Negar Manafpour, Sydni Thomas, and Tim Liu brought along an egg that had been soaking in soda for 24 hours. They then allowed the enthusiastic kindergartners to take turns brushing the soda-stained egg with a toothbrush and toothpaste. The result of that demonstration was one stainless egg and a classroom of children with a newfound appreciation for brushing their teeth twice a day.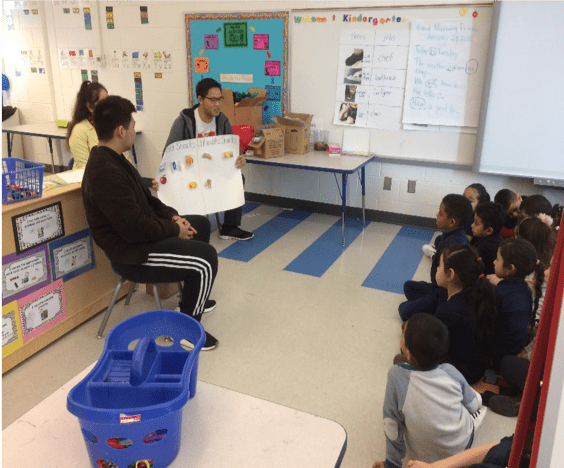 Schools for Smiles, a non-profit organization, started in 2014 in the School of Public Health at the University of Maryland and is recognized by the university's student governing body. Its mission is to reach out to Title 1 elementary schools and provide free and regular oral hygiene lessons to children from low-income families; a demographic where oral diseases are prevalent. Since then, the program has grown in both size and effort. The organization, currently under the guidance of Dr. Alice Horowitz and Dr. Sylvette Antonia La Touche-Howard, has reached out to multiple elementary schools to deliver lesson plans on oral health for pre-K, kindergarten, and first grade classes. Print materials have been recently translated to Spanish to effectively communicate the material with the large Spanish-speaking demographic. As the organization grows, members work together to think of innovative methods to improve the organization's impact.
Schools for Smiles have also expanded its events by collaborating with other organizations on campus. Schools for Smiles participated in a 5k with Miles for Smiles in 2017, and is looking to work with Student Dental Advisory Board in an upcoming health and wellness fair.
"It's a rewarding experience working with oral health professionals to improve the community," states Tim Liu, president of Schools for Smiles.
Sydni Thomas, a sophomore, provided thoughts on her experience after her first school visit: 
"I was recently given the opportunity to visit Edward G. Felegy Elementary School where I taught preschoolers and kindergarteners about the importance of taking care of their teeth. After attending a few meetings where we discussed school visits, created lesson plans, and packed toothbrush kits, we were ready to begin our work in the school. We started by asking simple questions, such as 'How many times do you brush your teeth every day?' and 'How long are you supposed to brush your teeth for?'. Then, we went on to explain how to properly brush teeth and gave demonstrations on how to do so, along with explaining the importance of fluoride. Afterwards, we discussed the varying amou
nts of sugar in popular drinks, like apple juice, chocolate milk, and Sunny D, by using sugar cubes to quantify the amount of sugar per drink. We then went ahead and had them distinguish between healthy and unhealthy snacks, such carrots, chips, candy, and yogurt.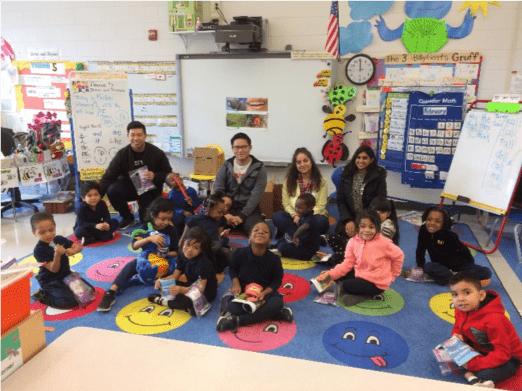 We also implemented the teach-back method, where we asked them about the lesson plan and what to do when they get home. It was incredible to see the children actively listen and participate in the lesson. I was shocked by their genuine enthusiasm and their eagerness to learn about oral health. By educating these kids at a young age, Schools for Smiles is able to make a positive difference in their daily routines and lives. I believe that this is a rewarding experience for every pre-dent and/or pre-health student, as it gives a glimpse of what the life of a doctor or health professional is like. Looking ahead, I am excited for what else is in store for Schools for Smiles and hopeful that we will grow into a larger organization where we will be able to reach a wider audience."
Another member of Schools for Smiles, Negar Manafpour, described something similar: "It's been an incredible experience teaching elementary students about oral health with School for Smiles." Negar shared that "Personally, with an ambition to become a pediatric dentist in the future, it's always great working with young students. School for Smiles has created an opportunity for aspiring dentists like me, to gain an insight into the communication/relationship/bonding aspect when working with kids which has taught us what pediatric dentistry is about. We educated the students about how to correctly brush their teeth, how unhealthy food can create cavity, and oral health, in general, using unique, interesting methods. This particular experience helped us to gain a better perspective and understanding of what the profession is about when It comes to young kids. I was inspired by the teamwork and engagement between us and the children and it is definitely something I would want to choose as a profession in the future."
One of the main points that Schools for Smiles reinforces is the importance of fluoride, and how simply drinking fluoridated water through the tap or water fountains at public schools can strengthen tooth enamel and prevent cavities.  Appropriate use of fluoride during childhood can lead to a healthy smile in the future.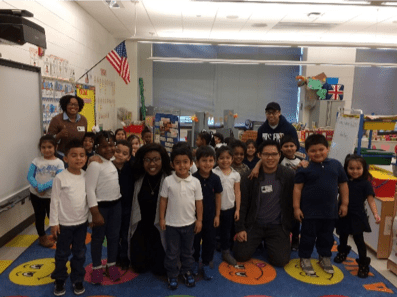 As Schools for Smiles continues establishing its presence on the University of Maryland College Park campus, students become drawn into what this organization is all about. After receiving recognition from the Student Government Association and Do Good Mini Grant Award, School for Smiles has been put onto multiple student list serves including pre-health office, Honors College, and School of Public Health. Schools for Smiles is expanding quickly with 
students expressing their interest in joining, alongside new classrooms requesting to be taught. With new resources, members, and structures shaping this organization, Schools for Smiles is one step closer to its mission: spreading oral hygiene awareness, one child at a time.
For students who are interested in joining or learning more about Schools for Smiles, contact us at schoolsforsmilesumd@gmail.com!
Departments
Department of Behavioral and Community Health