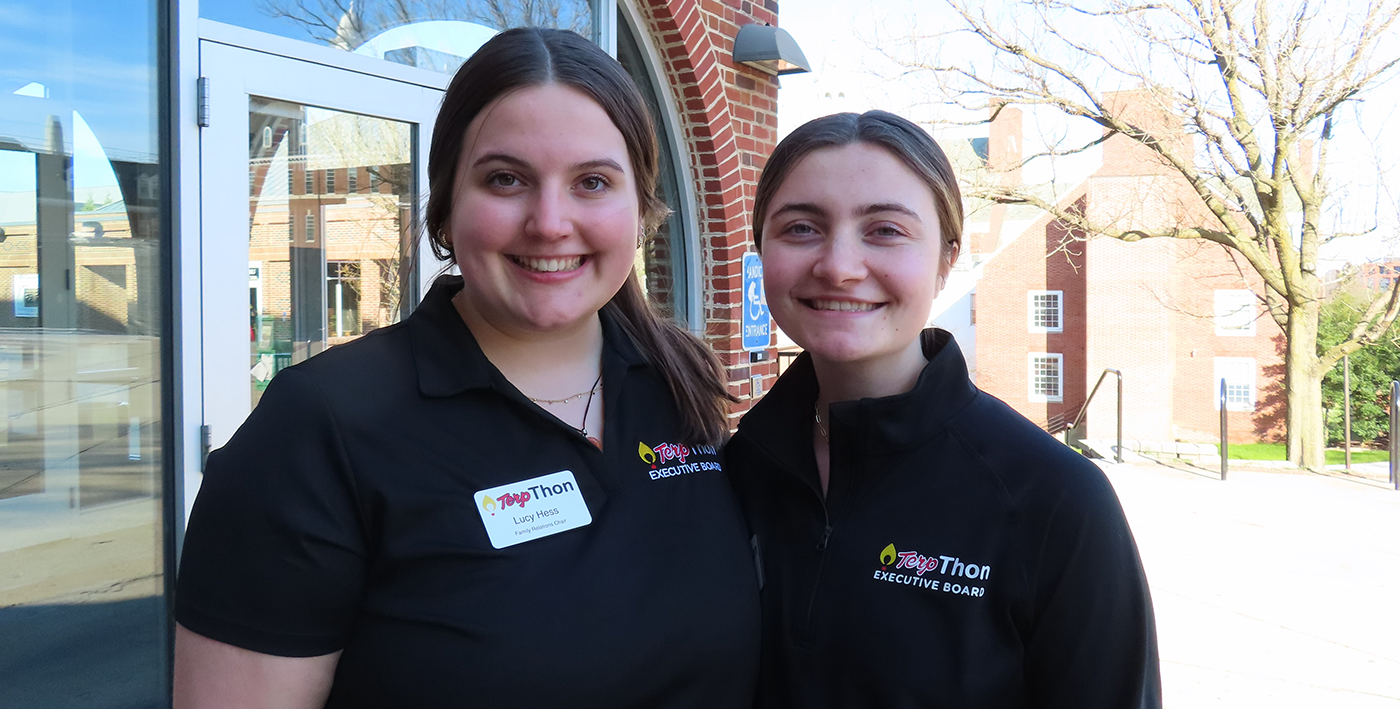 Meet Lucy Hess '24 and Sophia Lama '25, kinesiology students and two of the executive board members for Terp Thon - a student-run organization that supports patients and families fighting pediatric illness and injury at Children's National Hospital, a Children's Miracle Network Hospital in Washington D.C.
On March 11, Terp Thon will host its annual 12-hour dance marathon at the Reckord Armory to raise money and awareness for the hospital and bring joy to the families at the root of their cause.
SPH recently caught up with Hess and Lama to learn more about their interest in kinesiology, the dance marathon and how their Terp Thon experiences will prepare them for future jobs in public health.
Why did you choose kinesiology as your major?
Hess: "I chose kinesiology because I want to go into occupational therapy with children. I've always liked being able to help others and amplify my impact with the people around me. Kinesiology is a great way to learn about the human body and help me be the best health professional possible."
Lama: "I grew up playing sports, so sports science interested me. I also grew up teaching kids with special needs how to play soccer. Physical therapy or occupational therapy looked like a great way to combine two things I loved."
How did you become involved with Terp Thon?
Hess: "I joined in the fall of 2020 during the complete virtual year when I was a freshman. I've always loved working with kids. I nannied for a family for four or five years, and working with kids is my ultimate goal, so I thought, 'Why not help them out while I'm here at Maryland?'"
Lama: "My older sister went to UMD and was part of Terp Thon for four years. It just seemed like such an amazing community. She met so many people, and she still has great relationships with them. She was also able to make an impact on the hospital and the community as well."
Tell us about your leadership roles with Terp Thon.
Hess: "I'm the family relations chair for Terp Thon, so I engage with our Miracle Families and our hospital advisor, and I use that information to spread what we call 'cause connection' around campus. We share the kids' stories and hold inspiration stations around campus, where you can write a letter to a current patient or Miracle Kid (a child who received treatment at Children's National Hospital). This makes sure everyone knows about Terp Thon and why we're doing it. We have nine Miracle Kids coming to Terp Thon on March 11, which is super exciting because they haven't been to our event since spring 2020."
Lama: "I'm the university relations chair, which is a little more behind the scenes. I communicate with faculty, staff, athletics, and I help organize where our events are being held. I also work on getting student athletes and other important campus figures to come to our events."
How has this experience prepared you for a career after college?
Hess: "I definitely think learning how to work on a team of 22 executives. Part of our responsibility is to run a committee that helps with our TerpThon role, so I've also learned how to lead a team of my own. And my job is so closely connected to the hospital and the patients, so it will enhance my ability to be a health care professional in the future because I understand so much more than I would have if I was in a different role or not involved at all. It's taught me a lot of empathy, for sure." 
Lama: "It's taught me about accountability at a young age … Also independence, time management and basic life skills that you only get from a position with this much commitment."
As for the 12-hour dance marathon, what would people be surprised to know?
Lama: "That we do a six-minute, choreographed morale dance. We teach it to everyone who attends."
Hess: "And that the event isn't all dancing. We have lots of different activities planned. For example, we've partnered with Olive Garden before to do a breadstick eating contest. We've also done a fundraising challenge called 'Dare to Cut Your Hair,' where if people raise a certain amount of money, they'll go up on stage and cut their hair. Also the event is completely free. You don't have to fundraise to participate."
Departments
Department of Kinesiology
School of Public Health