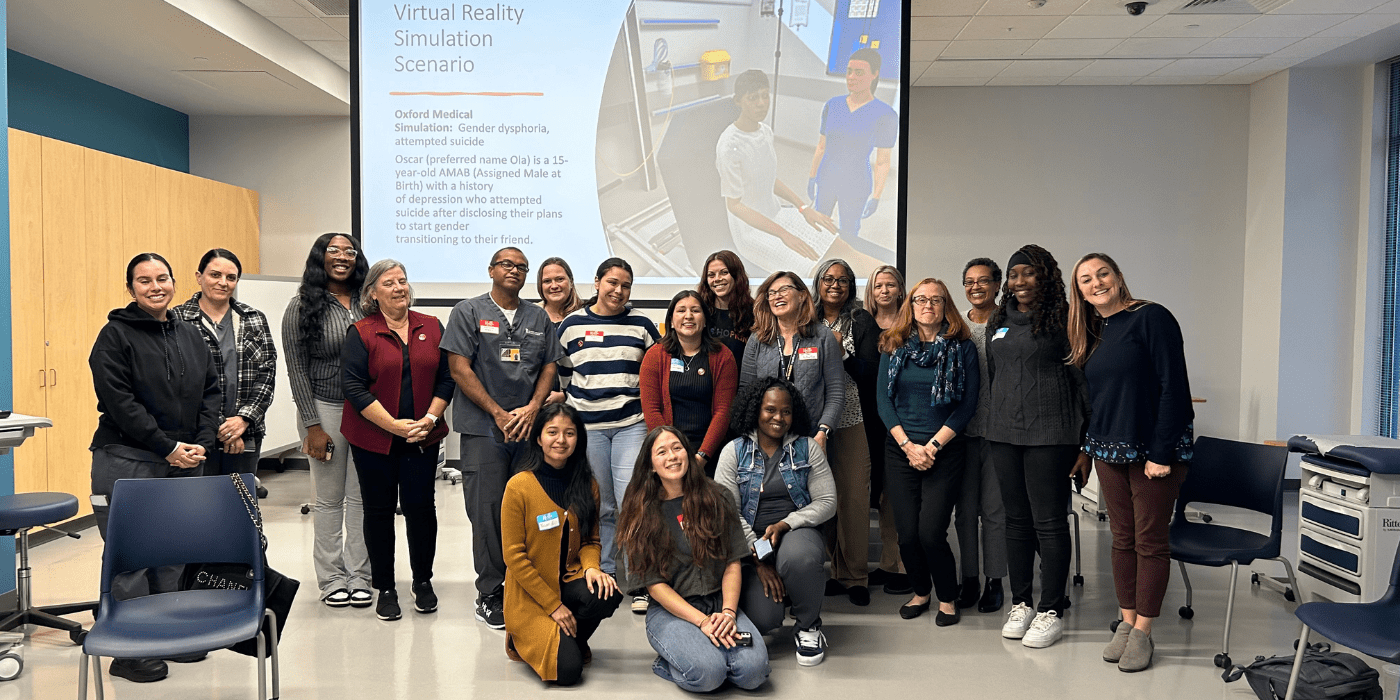 On a recent afternoon, a group of nursing, social work and public health students walked past  hospital beds, IV drip bags and patient monitors at the Universities at Shady Grove to meet their newest patient: Oscar, a 15-year-old who just attempted suicide.
The hospital equipment is real, but Oscar, whose preferred name is Ola, is a virtual reality  patient and the center of a new training program on gender affirming care, medical care that many transgender and nonbinary people need as part of their gender transition.
Students from the University of Maryland School of Public Health, the University of Maryland Baltimore County School of Social Work and the University of Maryland Baltimore School of Nursing participated in the intercampus training, which leaders said fostered discussions and collaboration around an often misunderstood topic.
"Although each of our three programs has a different focus, we are unified in our commitment to teaching future professionals the importance of quality, compassionate, age-appropriate, gender-affirming healthcare for all," said Associate Clinical Professor Jennifer Hodgson, director of the Public Health Science program at the Universities at Shady Grove. "Our respective disciplines may not have all of the answers to complex situations in the health field, but collaboration across our areas of expertise can ensure even greater health outcomes for those we serve."    
Working in small groups, students created questions for Ola about her state of mind, medical care and need for additional services. Moderators then entered their questions into a computer program, and Ola's avatar–projected on a large screen–provided answers.
"What pronouns shall I use to address you?" a nursing student asked.
"I would like you to use she/her when you're talking with me," Ola responded. 
The student turned to her group and said, "I think we need to continue providing reassurance and then ask about her pain." 
"After that, I think we should do a mental health assessment," added a social work student.
For 30 minutes, students discussed everything from Ola's medical history, episodes of anxiety, family support and circumstances surrounding Ola's attempted suicide.
Afterward, they reviewed the experience with training organizers. Associate Professor Liz Aparicio, deputy director for clinical training and intervention at the Prevention Research Center, said four themes emerged:
Students caught themselves and gently corrected one another when they mistakenly misgendered their patient.
Students provided reassurance at several points during the exam with Ola, which is meaningful for a patient who has felt misunderstood by family and friends due to their gender identity. 
Students described feeling overwhelmed on behalf of the patient yet maintained a steady, compassionate presence, managing their own emotions so they could stay present for their patient who needed them. 
Students recognized the social context in Ola's experience. For example, her gender transition didn't cause distress but her family and friends' reactions did.
"Ultimately, it can take just one person who truly sees and affirms a young transgender or nonbinary person to help them know that they are deserving of being embraced for all of who they are and they will become," Aparicio said. "As a public health professional, nurse or social worker, each student in that room could be that one person to a patient or client in their lives."
Students said they appreciated the opportunity to learn from each other and will use that knowledge as they move forward in their respective careers.
"The interaction between the different majors was interesting, especially listening to their various perspectives," said Yasmeen Annan-Ahmed '23, a public health science student. "This experience will help me improve on my interactions with people across different disciplines and how to address gender issues". 
Departments
School of Public Health
Public Health Science
Department of Behavioral and Community Health