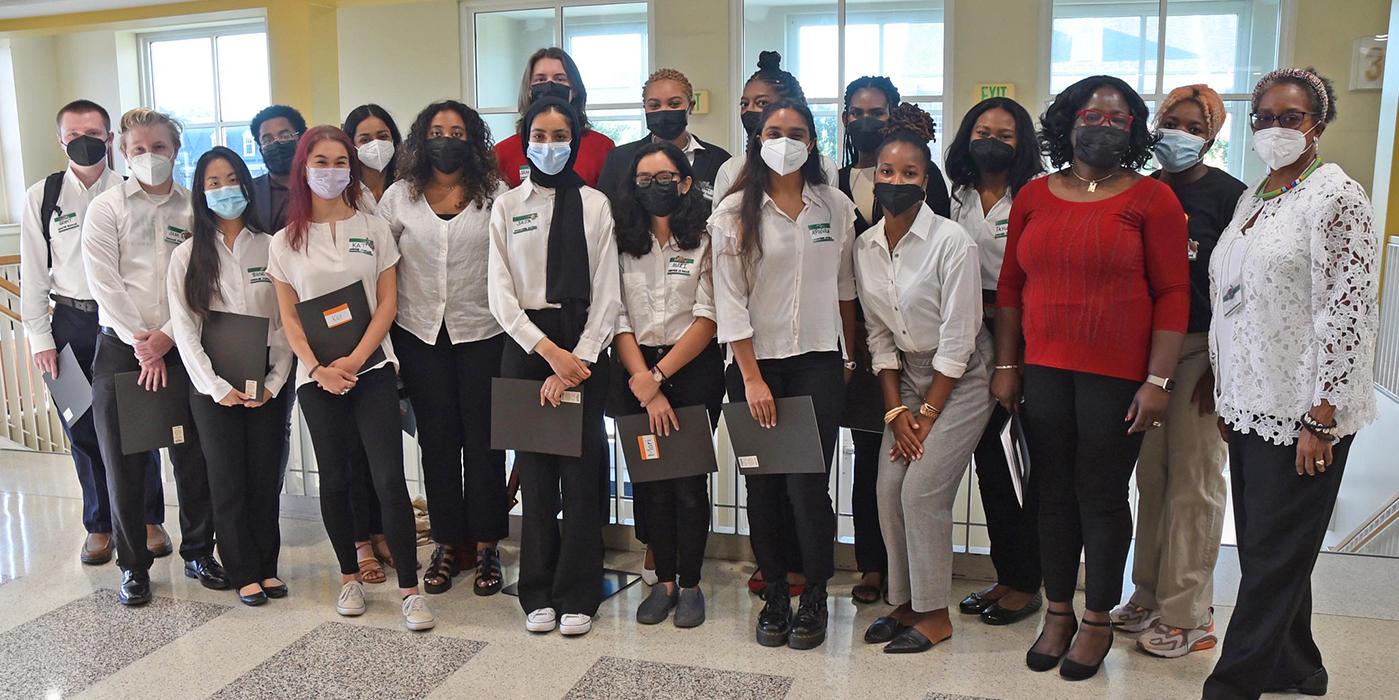 By Sala Levin '10
Growing up in quiet Ellicott City, Md., Sophia D'Alonzo '24 didn't give much thought to the possibility of an environmental catastrophe in her hometown. But in 2016 and 2018, Ellicott City's historic main street was ravaged by tremendous flooding–meteorologists termed both incidents "1,000-year floods," and they killed three people.
The floods, which happened when D'Alonzo was in high school, "got me interested in environmental work and climate change advocacy, and through that just becoming more politically aware and learning about environmental racism and the injustice behind these environmental policies," she said.
Now, D'Alonzo is one of 19 students taking part in the School of Public Health's EJ (Environmental Justice) Summer Scholars Program, an initiative of the Community Engagement, Environmental Justice, and Health (CEEJH) group, launched this year with support from Meta. Led by Associate Professor Sacoby Wilson, the center works with members of underserved communities who are disproportionately affected by environmental harm.
Each summer, CEEJH will recruit undergraduate students from across the mid-Atlantic region to study with Wilson and graduate students, gaining skills in research and community engagement while also developing mentor-mentee relationships and building their professional networks.
The 10-week program, which was virtual this year, began in June and wrapped up with the annual UMD Symposium on Environmental Justice and Health Disparities, where students presented posters on their summer projects.
Students have the opportunity to focus on air quality, water safety and other environmental health concerns. Led in groups of four or five by graduate students, the participants each work on capstone projects, write a manuscript  and ultimately present their research during the symposium. They also attend weekly skill-building workshops on topics like geographic information system mapping or statistical analysis.
The summer scholars working with Ph.D. student Vivek Ravichandran concentrate on air quality. Together with residents of Cheverly, Md., where scrap metal recycling and concrete block and batch facilities are major polluters, the CEEJH team monitors fine particulate matter, a common contributing factor for conditions like chronic bronchitis.  
The group uses low-cost PurpleAir monitors to get a read on what's in Cheverly's air. To place these monitors in a high school, the town hall, a local park, homes and offices, the CEEJH team must develop relationships with community members and encourage them to become environmental health advocates.
Setting up sensors in houses and other neighborhood sites "creates a hyperlocal network of air quality that we wouldn't have measured otherwise, because the federal sensors are 15 to 20 miles away," said D'Alonzo, who is double majoring in political communication and environmental science and policy. "It gets a more accurate reading of what's going on."
For D'Alonzo, the summer scholars program has been a chance not just to strengthen her academic career, but also to bolster her own community of like-minded peers. "It's been super cool to meet so many people passionate about environmental justice," she said. "I've met the coolest people this summer."
Departments
Maryland Institute for Applied Environmental Health