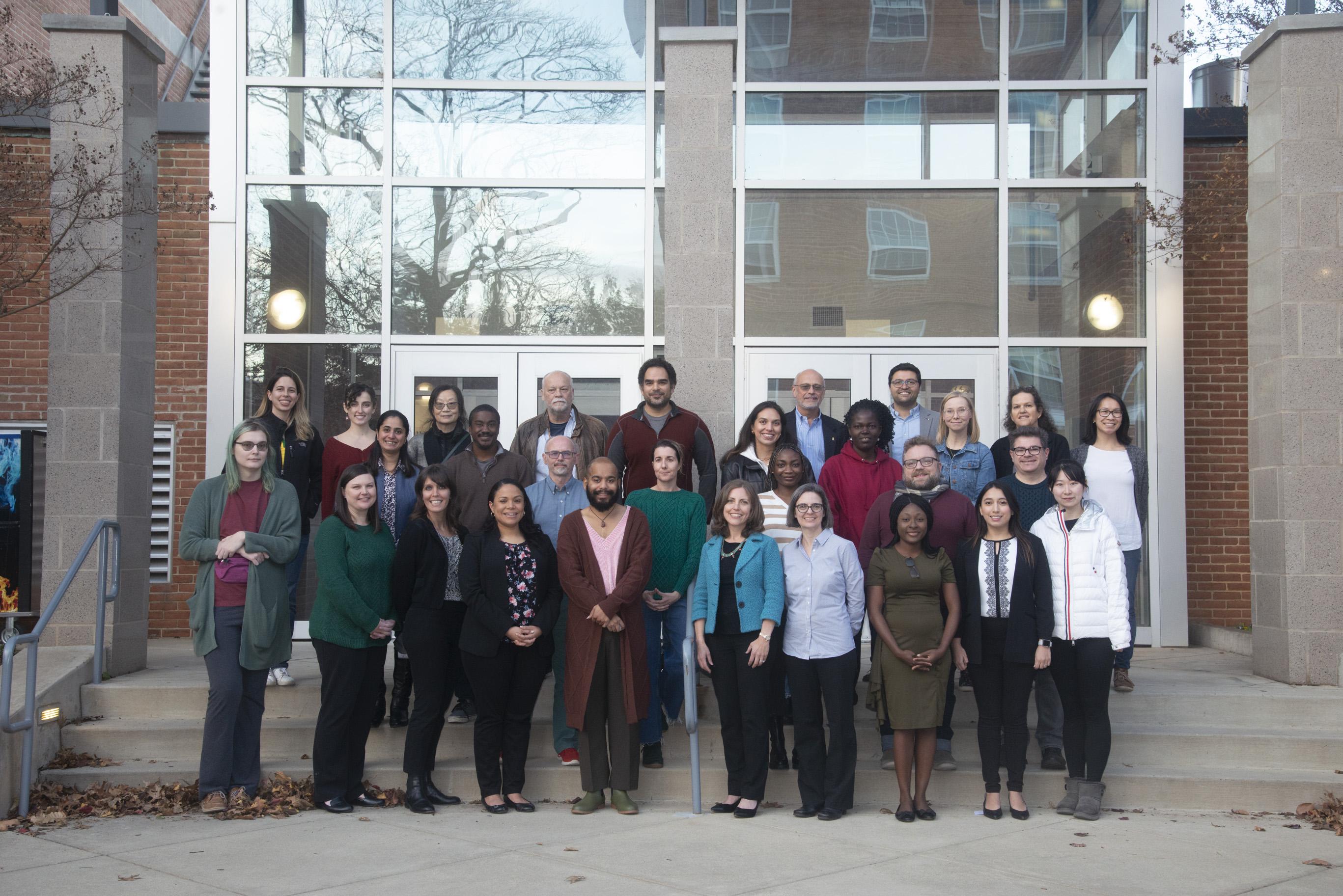 The UMD Global STEWARDS Graduate Training Program, funded by the National Science Foundation (NSF) National Research Traineeship (NRT) program, welcomed its fifth and final cohort of doctoral students at a kickoff event on Friday, December 2, 2022. Eleven new Global STEWARDS Fellows from six UMD schools and colleges (SPH, AGNR, ARCH, BSOS, CMNS and ENG) will come together over the next calendar year and engage in interdisciplinary training and research opportunities aimed at creating innovative and sustainable solutions that ensure food, energy and water (FEW) security for future generations. 
Throughout the program, UMD Global STEWARDS are exposed to a wide range of topics in integrated FEW systems research areas including:
Agricultural resilience through energy-efficient water reuse
Food safety and security in variable climate scenarios
Decision support systems to advance food-energy-water adaptation strategies
Human and social aspects of the FEW nexus
Systems thinking approaches, interdisciplinary collaboration and communicating science to diverse audiences are core tenets of the program, which focuses on training future changemakers.
Led by Principal Investigator Amy R. Sapkota, Mpower Professor in the School of Public Health, the UMD Global STEWARDS NSF NRT program consists of five interdisciplinary elements: experiential coursework; an intensive, annual, week-long professional development workshop series during the summer; an optional local internship based in a non-academic setting; a short term study abroad trip to work with partner organizations in Israel, Ethiopia or Nepal; and involvement in food, energy and water-related outreach, service, and mentoring. Fellows also lead committees aimed at strengthening and enhancing essential aspects of the program.
The new cohort of UMD Global STEWARDS Fellows and their advisors:  
Taiwo Alowode (SPH) | Advisor: Dr. Amy Sapkota
Eric Burnstein (ARCH) | Advisor: Dr. Gerrit Knaap
Cate Corey (SPH) | Advisor: Dr. Paul Turner
Maeghen Goode (ARCH) | Advisor: Dr. Dawn Jourdan
Christina Ippoliti (CMNS) | Advisor: Dr. Zhongchi Liu
Tavis Mansfield (BSOS) | Advisor: Dr. Julie Silva 
Maureen Nabulime (AGNR) | Advisor: Dr. Stephanie Lansing 
Becky Patterson (SPH) | Advisor: Dr. Robin Puett
Camila Proano (ENG) | Advisor: Dr. Guangbin Li
Amir Rihayi (ENG) | Advisor: Dr. Birthe Kjellerup
Qianyao Si (AGNR) | Advisor: Dr. Mitchell Pavao-Zuckerman