Back to Faculty & Staff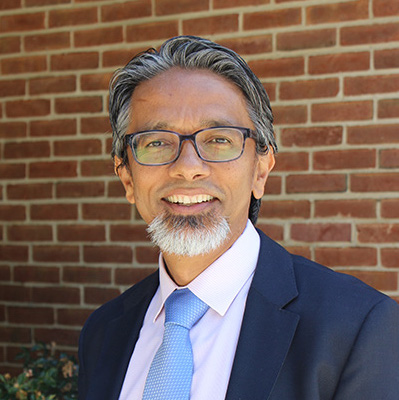 Download CV
Amir Sapkota
Professor and Chair, Epidemiology and Biostatistics
Sapkota's research group focuses on the intersection of climate change and human health with a particular emphasis on cardiopulmonary, renal and diarrheal diseases. His group's ongoing collaboration with the Maryland Department of Health has demonstrated the ongoing health impacts of climate change in our communities. On a global scale, the group is developing an early warning system for diarrheal disease in the Asia-Pacific Region.
Contact
SPH | Room 2234F
(301) 405-8716
Departments/Units
Areas of Interest
Core Faculty
Climate Change and Health; Extreme Events and Hospitalization; Changes in Plant Phenology and Allergic Diseases; Climate Justice; Climate Change and Health Disparities
Amir Sapkota is a professor and chair of the Department of Epidemiology and Biostatistics. He received a BS in Chemistry and Environmental Sciences from Clark University, Worcester MA, a PhD in Environmental Health Sciences from the Johns Hopkins Bloomberg School of Public Health, Baltimore MD and Post-Doctoral training in Environmental Epidemiology from the International Agency for Research on Cancer (IARC), Lyon France.
Sapkota's background is in Exposure Assessment and Environmental Epidemiology. Specifically, he focuses on improving our understanding of how climate change impacts human health. Attributes of changing climate are all around us – increases in frequency, duration and intensity of extreme weather events; changes in plant phenology; length of forest fire seasons; changes in duration and timing of monsoon onset and the list continues.
This trend is projected to continue into the foreseeable future, even under the most optimistic scenarios. As such, it poses a very fundamental question – how do we adapt to these new sets of threats as a society?

The bulk of research activities in Sapkota's research group focus on this fundamental question with an overall objective of driving policy discussion to inform effective and meaningful public health adaptation strategies that will minimize climate change driven morbidity and mortality at local, national and global levels.
To that end, his group is interested in unmasking disparities in climate change driven health burdens, understanding compound hazards and developing early warning systems to minimize morbidity and mortality resulting from extreme events with seasonal to sub-seasonal lead time. Within this framework, their work focuses on diarrheal diseases as well as renal and cardiopulmonary health outcomes.

The group strives to inform policy and increase community resilience. In partnership with the Maryland Department of Health, Sapkota's team has been developing public health strategies against climate change threats in Maryland and drafted the first Climate and Health Profile Report for the State that shows how increasing the frequency of extreme weather events is adversely impacting the health of Marylanders. The report further highlights how the burden varies across geographic areas and ethnic subgroups, underscoring the need to incorporate such differential vulnerability in local and regional adaptation strategies to protect public health in changing climate.
More recently, the group formed an international consortium (AWARD-APR) to develop an early warning system for diarrheal diseases in the Asia-Pacific Region to increase community resilience against threats of climate change. Weather-based warnings with 7-10 days lead time do not provide public health professionals enough time to prepare while climate-based warnings with 50-100 years lead time are too distant in the future to drive any meaningful policy discussion at present. Thus, Sapkota's group's focus is to develop location-specific actionable warnings with seasonal to sub-seasonal lead time that are useful to public health agencies.
Post Doc, Environmental Epidemiology, 2007
International Agency for Research on Cancer, Lyon France

PhD, Environmental Health Sciences, 2005
Johns Hopkins Bloomberg School of Public Health

BS, Chemistry and Environmental Sciences, 1997
Clark University
MIEH400 Introduction to Global Health
PHSC426 Climate Change and Health
MIEH771 Exposure Assessment of Environmental Hazards
Fulbright Senior Research Scholar to Nepal. U.S. Department of States, 2017

Council on Environment, Outstanding Young Faculty Award, 2013

Delta Omega, Alpha Chapter, Honorary Public Health Society, 2012

Research Training Fellowship Awardee, International Agency for Research on Cancer, 2005

Cornelius W. Kruse Award for Outstanding Graduate Studies, Johns Hopkins University, 2004
Sapkota A, Dong Y, Li L, Asrar G, Zhou Y, Li X, Coates F, Spanier AJ, Matz J, Bielory L, Breitenother AG, Mitchell C, Jiang C. Association Between Changes in Timing of Spring Onset and Asthma Hospitalization in Maryland. JAMA Netw Open. 3(7):e207551. 

Iyer V, Sharma A, Nair D, Solanki B, Umrigar P, Jiang C, Murtugudde R, Mavalankar D, Sapkota A. Role of extreme weather events and El Niño Southern Oscillation on incidence of Enteric Fever in Ahmedabad and Surat, Gujarat, India. Environmental Research. 

Liao W, Wu J, Yang L, Benmarhnia T, Liang XZ, Murtugudde R, Sapkota A, Ma W, Zhong S, Huang C. Detecting the net effect of flooding on infectious diarrheal disease in Anhui Province, China: a quasi-experimental study. Environ Res. Let. In Press

Zhu L, Jiang C, Panthi S, Allard SM, Sapkota AR, Sapkota A. Impact of high precipitation and temperature events on the distribution of emerging contaminants in surface water in the Mid-Atlantic, United States. Sci Total Environ. 755(Pt 2):142552. doi: 10.1016/j.scitotenv.2020.142552 (2020).

Remigio RV, Jiang C, Raimann J, Kotanko P, Usvyat L, Maddux FW, Kinney P, Sapkota A. Association of Extreme Heat Events With Hospital Admission or Mortality Among Patients With End-Stage Renal Disease. JAMA Network Open. 2(8):e198904. doi: 10.1001/jamanetworkopen.2019.8904 (2019).

Sapkota A, Murtugudde R, Curriero F, Upperman CF, Ziska L, Jiang C. Associations between alteration in plant phenology and hay fever prevalence among US adults: Implication for changing climate. PLoS One. 14(3):e0212010. doi: 10.1371/journal.pone.0212010 (2019)

Fisher JA, Puett RC, Laden F, Wellenius GA, Sapkota A, Liao D, Yanosky JD, Carter-Pokras O, He X, Hart JE. Case-crossover Analysis of Short-term Particulate Matter Exposures and Stroke in the Health Professionals Follow-up Study. Environment International. 124:153-160 (2019)

Soneja S, Jiang C, Fisher J, Upperman CR*, Mitchell C, Sapkota A. Exposure to extreme heat and precipitation events associated with increased risk of hospitalization for asthma in Maryland, U.S.A. Environmental Health. 15(57):1-7 (2016).

Raspanti GA, Hashibe M, Siwakoti B, Wei M, Thakur BK, Pun CB, Al-Temimi M, Lee YC, Sapkota A. Household air pollution and lung cancer risk among never-smokers in Nepal. Environ Res. 146:141-145 (2016).

Jiang C, Shaw KS, Upperman CR, Blythe D, Mitchell C, Murtugudde R, Sapkota AR, Sapkota A. Environ Int. Climate change, extreme events and increased risk of salmonellosis in Maryland, USA: Evidence for coastal vulnerability. Environment International. 83:58-62 (2015).