Back to Faculty & Staff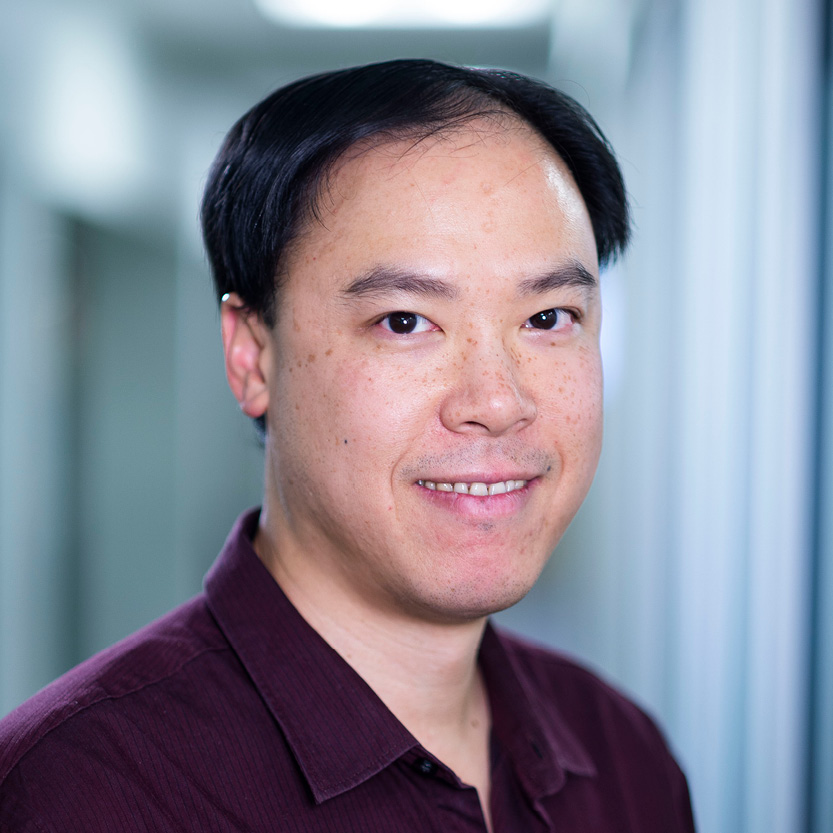 Download CV
Filbert Hong
Senior Faculty Specialist, Maryland Institute for Applied Environmental Health
Filbert Hong is a data manager and a project manager for the Public Health Aerobiology, Virology and Exhaled Biomarker Laboratory (Milton group). He was project and data manager for the DARPA-sponsored Prometheus @UMD program and serves the same roles for its successor the StopCOVID@UMD study. He joined the UMD School of Public Health in 2017.
Contact
SPH | Room 2234U
(301) 405-4081
Departments/Units
Areas of Interest
Core Faculty
Respiratory Virus; Environmental Health; Infectious Disease
Dr. Filbert Hong is the senior project manager and data manager for the StopCOVID@UMD study and PHAB lab (continuing his roles from Prometheus@UMD), assisting in study coordination and REDCap administration.
Filbert had left the world of scientific research for a long time but has since come back. For more than ten years, he was Director of Artistic Operations for the National Philharmonic (based at the Music Center at Strathmore in North Bethesda, MD), a $2 million-budget symphony orchestra and chorus. He was orchestra personnel manager, production manager, chorale manager, stage manager, guest artist manager, education coordinator and music performance librarian.
He has also done orchestra personnel and production work with the Takoma Ensemble (based in Takoma Park, MD) and the Concert Artists of Baltimore. While he was a graduate student at Harvard University, he was Resident Tutor for Music and Biophysics at Lowell House and managed many of Harvard's student orchestras. For four years, he was executive producer for the Lowell House Opera, New England's oldest continually running opera company. He is a violinist and violist and choral singer.

Filbert earned his A.B. in Chemistry and Physics at Harvard College, and his PhD in the Harvard University Biophysics program, studying agonist and antagonist interactions with the nicotinic acetylcholine receptor ion channel, using electrophysiology methods (on whole cells and on detached patches), in the Department of Neurobiology at Harvard Medical School in the laboratory of Jonathan B. Cohen. He has also done work on the isolation of novel kinesin-related proteins and the photoelectric action of bacteriorhodopsin.
PhD, Biophysics, 2004
Harvard University
AB, Chemistry and Physics, 1994
Harvard College
Adenaiye O. et al., "The effect of COVID-19 stay-at-home order and campus closure on the prevalence of acute respiratory infection symptoms in college campus cohorts." IRV (2020), DOI:10.22541/au.160430947.76739519/v1

Khan S. et al., "Analysis of Serologic Cross-Reactivity Between Common Human Coronaviruses and SARS-CoV-2 Using Coronavirus Antigen Microarray" bioRxiv (2020) DOI:10.1101/2020.04.15.043364

Zhu S. et al., "Ventilation and laboratory confirmed acute respiratory infection (ARI) rates in college residence halls in College Park, Maryland" Environment International 137 (2020):105537, DOI:10.1016/j.envint.2020.105537

Chiara D. et al., "Time-Resolved Photolabeling of the Nicotinic Acetylcholine Receptor by [3H]Azietomidate, an Open-State Inhibitor" Molecular Pharmacology 75 (2009): 1084-1095

Nirthanan S. et al., "Photolabeling the Torpedo Nicotinic Acetylcholine Receptor with 4-Azido-2,3,5,6-tetrafluorobenzoylcholine, a Partial Agonist" Biochemistry 44 (2005): 13447-13456a