Back to Faculty & Staff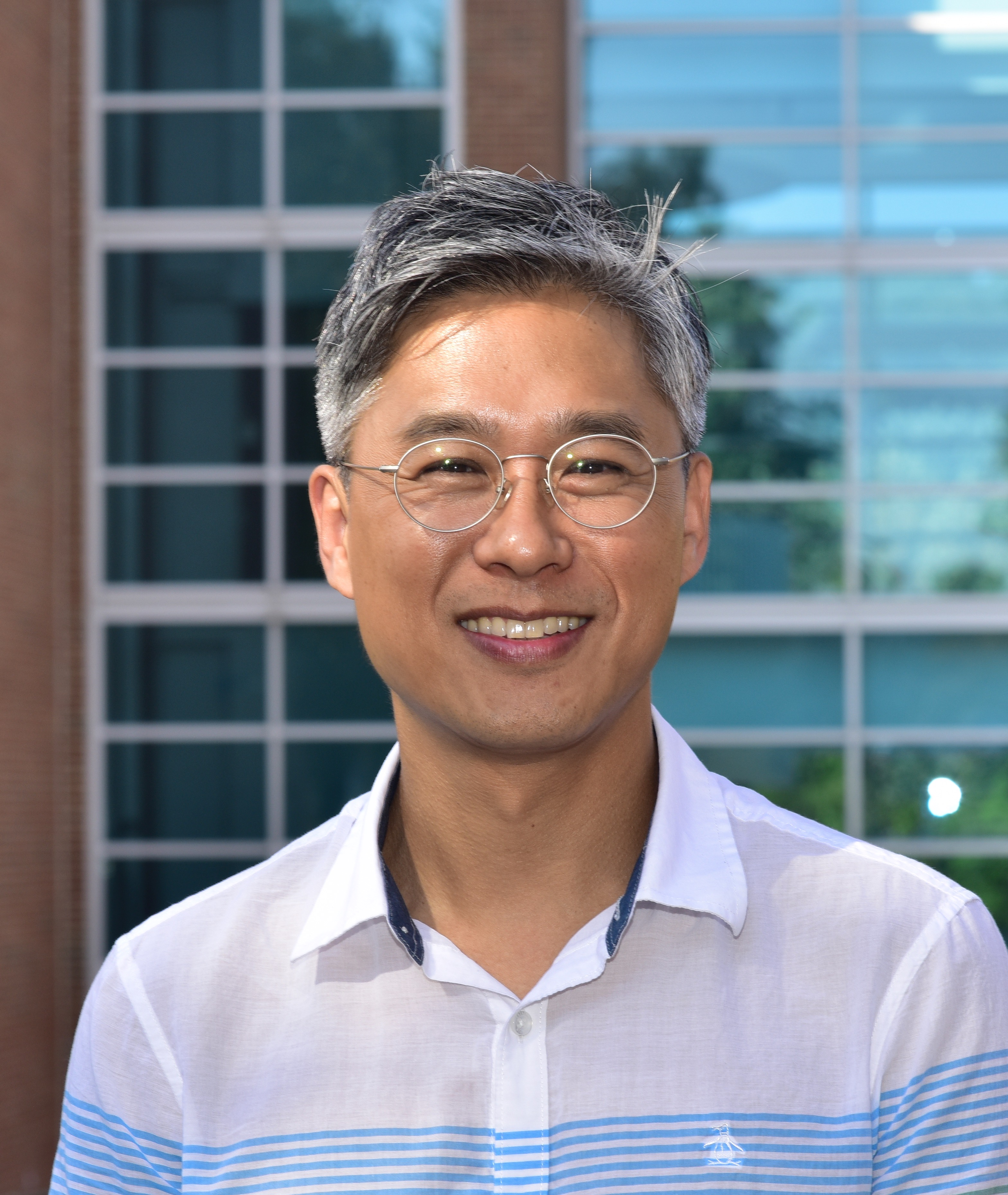 Download CV
Jae Shim
Professor, Kinesiology
Dr. Jae Kun Shim is Professor in Kinesiology and directs the Neuromechanics Research Core at the University of Maryland. His research is focused on neural and mechanical mechanisms of human hand and digit actions and locomotion, as well as their applications to rehabilitation, medicine and ergonomics. Dr. Shim serves as Specialty Chief Editor of Frontiers in Human Neuroscience (Sensory Neuroscience) and Associate Editor of the Journal of Applied Biomechanics.
Contact
SPH | Room 0110F
(301) 405-2492
Departments/Units
Areas of Interest
Core Faculty
Neuromechanics; Biomechanics; Neuroscience; Robotics; Bioengineering
PhD, Kinesiology (Area: Biomechanics & Neuroscience), 2005
Pennsylvania State University

M.S. Exercise Science (Area: Clinical Biomechanics)
School of Physical Education, 2002
Ball State University
B.S. Major (Summa Cum Laude) in Physical Education
College of Exercise Science & Physical Education, 1999
Kyung-Hee University, Seoul, South Korea.
 
KNES289P Mathematical and Physical Bases of Human Movement
KNES300 Biomechanics of Human Motion
KNES498V Clinical Biomechanics: Musculoskeletal Injury
KNES498W Prosthetics for Limb Amputations
KNES670 Biomechanics Theory
KNES689C Kinematics of Human Motion
KNES689F Neuromechanics of Muscles
KNES698G Research Techniques in Neuromechanics
KNES689L Neuromechanics of Bipedal Locomotion
KNES689W Anthropomorphic Robotics
KNES789A Advanced Neuromechanics
KNES789B Advanced Biomechanics
KNES789P Contemporary Neuromechanics
KNES789T Current Issues in Hand and Finger Biomechanics and Motor Control
Research & Development Award School of Public Health, University of Maryland, 2015
Kyung Hee International Scholar, Kyung Hee University, 2010
Young Scientist Award (honorary), American Society of Biomechanics (ASB), 2009
Promising Young Scientist Award (honorary), International Society of Biomechanics (ISB), 2009
Park YS, Koh K, Yang JS, Shim JK. Efficacy of rhythmic exercise and walking exercise in the older adults' exercise participation rates and physical function outcomes. Geriatrics & Gerontology International. 17: 2311–2318. 2018.

Park YS, Koh K, Kwon HJ, Lee OJ, Shim JK. Aging differentially affects online control and offline control in finger force production. PLOS ONE 13 (5), e0198084. 2018.

Koh K, §Kwon HJ, Kiemel T, Miller RH, Park YS, Kim MJ, Kwon YH, Kim YH, Shim JK. Intra-auditory integration between pitch and loudness in humans: Evidence of super-optimal integration at moderate uncertainty in auditory signals. Scientific Reports, 8:13708. 2018.

Kim YS, Koh K, Shim JK. Inter-dependence between mathematically independent variability components in human multi-finger force control. Neuroscience Research. 158: 16-20. 2019.

Hunter JG, Garcia GL, Shim JK, Miller RH. Fast Running Does Not Contribute More to Cumulative Load than Slow Running. Medicine & Science in Sports and Exercise, 51(6):1178-1185, 2019.

Baum BS, §Hobara H, Koh, K, §won HJ, Miller RH, Shim JK. Amputee Locomotion: Joint Moment Adaptations to Running Speed using Running-Specific Prostheses. American Journal of Physical Medicine and Rehabilitation 98(3):182-190. 2019.

Caminita M, Garcia GL, Miller RH, Kwon HJ, Shim JK. Sensory-to-Motor Overflow: cooling foot soles impedes squat jump performance. Frontiers in Human Neuroscience, 2020. 

Hunter JG, Smith AMB, Sciarratta LM, Suydam S, Shim JK, Miller RH. Standardized lab shoes do not decrease loading rate variability in recreational runners. 2020. Journal of Applied Biomechanics. 36(5):340–344, 2020.

Bell EM, Carrignan J, Collier DK, Yang JS, Shim JK. Identifying Abilities that Define the Physical Function of People with Lower Extremity Amputations. Journal of Prosthetics and Orthotics. 2020. Accepted for Pub.

Kim SE, Lee J, Lee SY, Lee HD, Shim JK, Lee SC. Small changes in ball position at address causes a chain effect in golf swing. Scientific Reports, 2020. Accepted for Pub.