Back to Faculty & Staff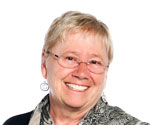 Jane E. Clark
Professor Emerita, Kinesiology
Dr. Jane E. Clark retired in July 2018 and is now a Professor Emerita. Rising through the ranks from assistant professor to professor, she served for 10 years as chair of the Department of Kinesiology (2000-10) and then served as dean of the University of Maryland School of Public Health from July 2012 until December 2016. 
Dr. Clark's passion is to help children achieve the competence and confidence to be physically active throughout their lives. With physical inactivity a leading cause of premature death, engagement in physical activity is an important goal across the life course. Dr. Clark's research focuses on the development of motor skills in infants and young children, with a special focus on those with movement difficulties.
Areas of Interest
Emeriti
Dr. Clark has edited seven books, written over a hundred papers, and presented hundreds of professional papers at conferences and universities here and abroad. The National Institutes of Health and the National Science Foundation have funded her research. Currently, she is on the editorial board of Research in Developmental Disabilities and Frontiers In Movement Science and Sport Psychology and is the founding editor of Kinesiology Review. She has received national recognition for her research and service having served as an elected leader of three national organizations.
Before her retirement, her Motor Development Research Group focused on the development of movement control and coordination in motor skills in children and infants. She researched topics ranging from infant postural control and locomotion to sensorimotor integration in children with and without Developmental Coordination Disorder (DCD). Developmental Coordination Disorder (DCD) encompasses a diverse spectrum of difficulties that affect a child's ability to learn and carry out coordinated motor skills. 
PhD, Kinesiology (Motor Development), 1976
University of Wisconsin-Madison
M.Ed., Physical Education, 1970
University of Washington, Seattle.
BSPE, Health & Physical Education, 1968
State University of New York, Brockport
Honorary Degree, Doctor of Science, State University of New York, 2013
NASPSPA Distinguished Scholar, 2013
University of Wisconsin School of Education, Alumni Achievement Award, 2010
Hall of Heritage Award, Brockport Alumni Association, SUNY Brockport, 2008
Alliance Scholar, American Alliance for Health, Physical Education, Recreation & Dance, 2007
University of Maryland Undergraduate Research Mentor of the Year, 2007
Phillip Merrill Presidential Scholar Mentor to Annie Wong, 2004-05
NASPSPA President's Award, 1999
NASPSPA Senior Scholar Lecturer, 1999
Illinois State University Physical Education Scholar Lecturer, 1999
Jerry P. Wrenn Outstanding Service Award, College of HHP, 1999
McCloy Lecturer, AAHPERD Research Consortium, 1995
EDA Scholar, Eastern District Association of AAHPERD, 1995
Slaughter Lecturer, University of Virginia, Charlottesville, 1994
D'Agostino Lecturer, Distinguished Alumni, SUNY- Brockport, 1994
Distinguished Service Award, Research Consortium, AAHPERD, 1993
Elected Fellow, American Academy of Kinesiology and Physical Education, 1993
Outstanding Teacher - College Division, American Alliance for Health, Physical Education, Recreation and Dance, Eastern Division, 1988
Fellow, Research Consortium, American Alliance for Health, Physical Education, Recreation and Dance, 1985