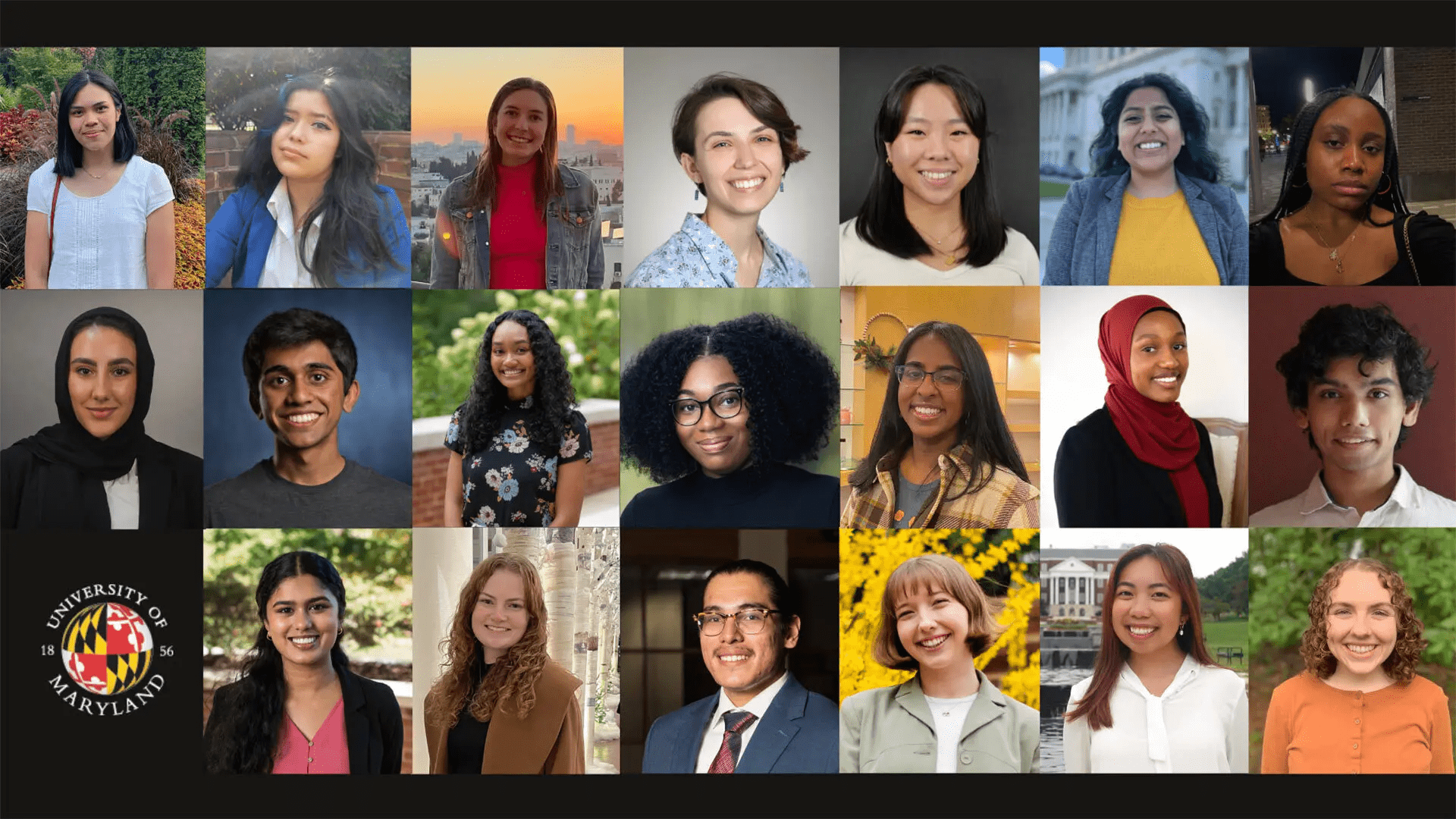 The University of Maryland Office of Undergraduate Studies recently announced Maria Ahmed '24, a senior majoring in community health, and Kelly Biglin '24, a senior majoring in public health science, as recipients of its annual Philip Merrill Presidential Scholars Program.
Named for the late university supporter and Washington-area publisher, the Philip Merrill Presidential Scholars Program recognizes top graduating seniors at the University of Maryland and the professors and K-12 teachers who mentored them.
Ahmed and Biglin were among 20 recipients honored during a special event on November 3, along with the K-12 teachers and UMD faculty members who helped guide, inspire, coach, tutor and challenge them during their academic journeys.
Ahmed recognized Matthew Gresick, her former teacher at Reservoir High School in  Fulton, Md., and Dina Borzekowski, a research professor with the Department of Behavioral and Community Health.
Both educators taught Ahmed to understand true growth comes with both successes and shortfalls. 
"(Gresick) nurtured my passion for public service and provided opportunities to connect with local leaders and policymakers," she recalled.
At UMD, Dr. Borzekowski helped Ahmed become more confident as a transfer student.
"In my first semester at UMD, I walked into Professor Borzekowski's classroom, nervous that I was in over my head after transferring to the university," she said. "At the end of class, she reassured me that community college students are often some of the brightest and that I had nothing to worry about."
Biglin recognized Brooke Fallon, her former Spanish teacher at Leonardtown High School in Leonardtown, Md., and Elisabeth Maring, a clinical professor with the Department of Family Science. 
Fallon encouraged and challenged Biglin to grow as a student and leader. 
"Her clear belief in my potential and high expectations emboldened me to have more confidence in myself and my language acquisition skills, enabling me to earn the Maryland Seal of Biliteracy and inspiring my pursuit of a Spanish minor in college," Biglin said.
Dr. Maring's mentorship at UMD has also been instrumental in Biglin's success.
"As the director of the Global Public Health Scholars Program, Professor Maring has supported me through my exploration of classes, programs and internships as well as graduate school applications and future public health career options," she said. "I am beyond thankful for the impact of these mentors on my academic and professional journey.
In addition to recognizing seniors' achievements and mentors, the Philip Merrill Presidential Scholars Program will award a $1,500 scholarship in each K-12 teacher's name to a new, first-year UMD student from the teacher's high school or school district.
"The late Philip Merrill established this program to foster a community of scholars, faculty members and K-12 teachers who understand the pivotal role of mentoring and educating the upcoming generation," said UMD President Darryll J. Pines. "We are profoundly thankful for all the individuals, including the many teachers, who have significantly influenced our students' academic progress."
Categories
Students
Faculty
Departments
School of Public Health
Public Health Science
Department of Behavioral and Community Health
Department of Family Science