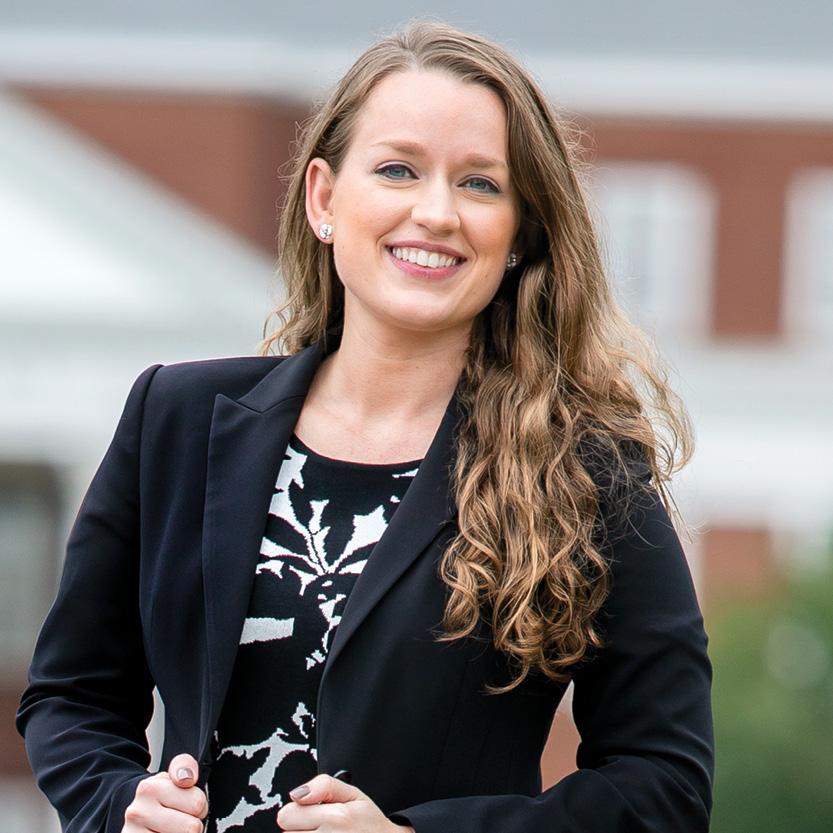 Amanda Hemmer
Master of Health Administration
Amanda Hemmer is a Senior Health Care Consultant at Guidehouse, Inc., a global consulting firm providing services to public and commercial clients. She works within the company's Healthcare Strategy segment and partners with commercial clients, including hospitals and health systems going through transformational change. Hemmer's specializes in operationalizing medical management programs to improve care quality, enhance patient and provider engagement and reduce the total cost of care. She also spent a few months during the pandemic assisting clients in securing FEMA and CARES Act funding. 
Hemmer was a 2015-2016 Fulbright Fellow who studied "Hospital Finance and Health System Reform in the Capital Region of Denmark" and has served on the School of Public Health Alumni Network Board as the VP of Professional Development since 2017. This year, she moved into an Ex-Officio capacity. 
What inspired you to study public health, and why did you choose UMD?
I was inspired to study public health because I was in a sociology course as an undergrad. It was a sociology of medicine class, and we learned about the proportion of your health that was actually attributed to exogenous factors, such as your ability to access healthy foods and the environment, with everything but your medical care, which only comprises like 30% of health outcomes for people. I was very intrigued by that. I felt that society should be built appropriately to build health so that it's available to everyone and built into the culture and into the structure of society, not necessarily a personal responsibility. 
I chose UMD because I thought the program was really exciting. The MHA program was relatively new, and the School of Public Health wasn't very old. I liked that the SPH was new enough so that you could really create your own sort of destiny within the School, and there was an opportunity to grow the program. It wasn't so much that it was just going to take you in and spit you out. It was going to the people and the professors in the school that allowed you to really forge your own path. 
What person or experience had the greatest impact on you during your degree program? 
Oh, that's tough. Former professor Karoline Mortensen helped me design the Fullbright application for the Fullbright Fellowship that I won. Dr. Luisa Franzini, chair of the Health Policy and Management Department, was new that year, and she really went out of her way to include students and include me. Dr. Dushanka V. Kleinman was a really fantastic mentor that I really appreciated for leadership support throughout my education. Dr. Lori Simon-Rusinowitz was also someone with who I worked very closely for a couple of years as a graduate assistant for the department. There were so many others like former Dean Robert Gold. He was really great. 
I started my education, I had a really exciting time while I was in school, I was supported while I was there, and then I've made connections after the fact. I think that's really beautiful.
How did the Master of Health Administration program and your experiences at UMD prepare you to do what you're doing now? 
The School of Public Health will get you where you want to go. The degree track is very important and really lays the groundwork for whatever you will be doing in the future. The MHA program was great because it combined both the business principles of health and health care systems, as well as the core principles of public health, which is unique to the program. It allows you to create an impact.
How has COVID-19 impacted your role?
I think in terms of how COVID has impacted my work is that organizations are careful not to engage over really big projects that aren't Covid related. Right now, a lot of hospitals and health systems are struggling to support their workforce and distribute the vaccine. The type of work we typically do is completely unrelated, so we want to balance what the client's current needs are based on there being a pandemic is directly impacting your workforce. So we're sensitive to the fact that to be a good partner means to find ways to help them with what's going on currently.
How do you think this pandemic will change or impact public health? 
I hope there's a resurgence of workforce building, infrastructure, grants, fellowships, opportunities within the public health sphere, in terms of resource allocation so that public health can really become something that we know it could be, in terms of Gross Domestic Product (GDP) spending. Only 3% of health care spending is spent on public health, so I would like to see that increase. 
I would like to see investments made that are more of a population health focus versus more of a welfare or sick care focus. I'd like to see the pandemic really bring people together. I know it's been very divisive for people who are not supportive of science and research necessarily, but I think this year has shown us where the inequities and inadequacies are. I hope that's something that we can work on improving and eliminating. 
Departments
Department of Health Policy and Management