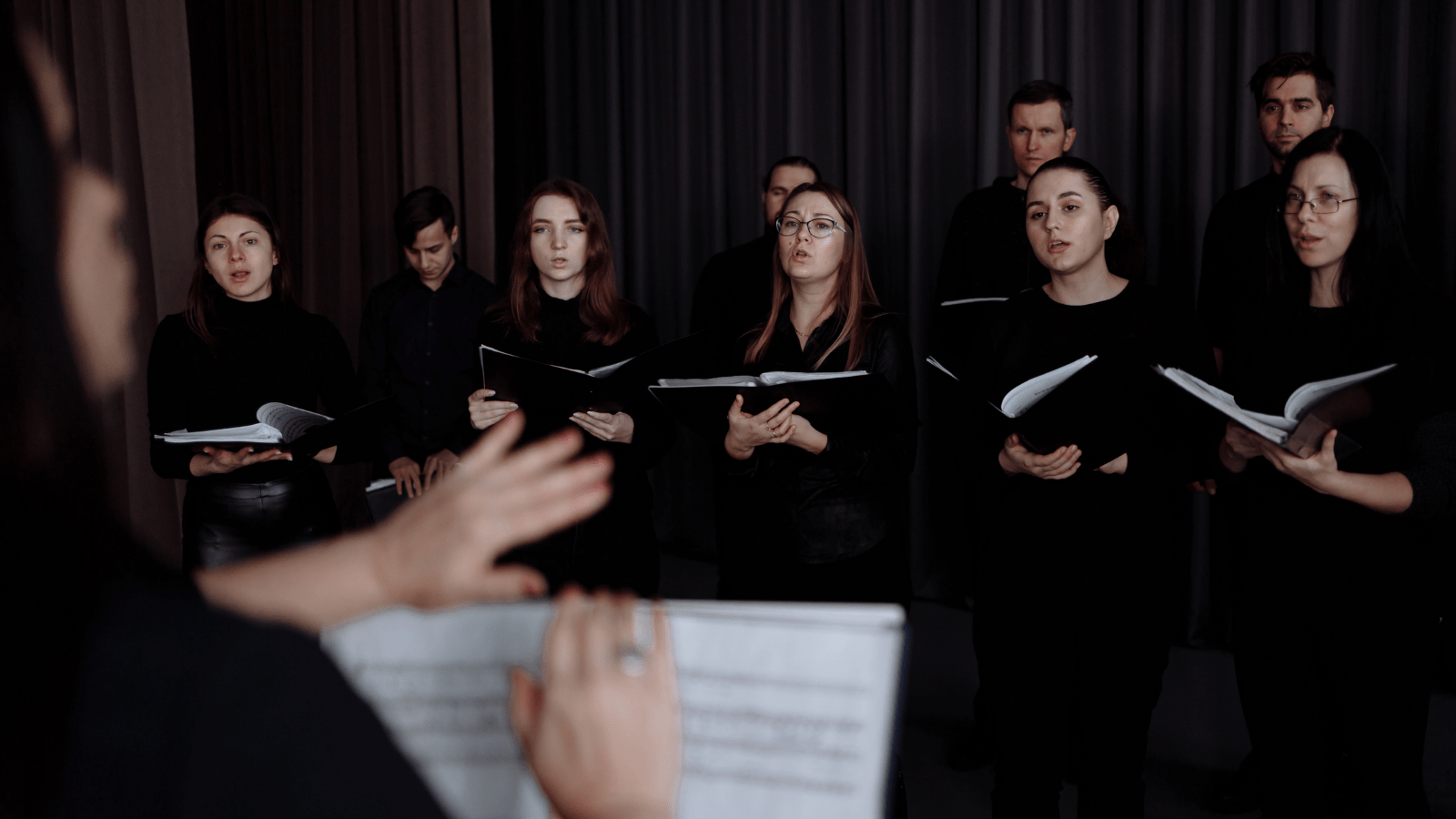 Researchers know that SARS-CoV-2 (the virus that causes COVID-19) spreads through air, but are working to pinpoint how much virus hangs in small airborne particles. A new study published in Clinical Infectious Diseases explored how much SARS-CoV-2 virus is released into the air when people infected with COVID-19 sing, talk or simply breathe. 
Led by Dr. Kristen Coleman, a Senior Research Fellow at Duke-NUS Medical School who is joining the University of Maryland School of Public Health (UMD SPH) faculty this fall, the research found that a group of COVID-19 patients emitted the majority of virus particles through fine aerosols that float or drift around in the air and can be easily inhaled by others, especially in indoor settings. 
"Our study demonstrates that tiny aerosols produced by breathing, talking, and singing contain the virus and therefore may play a critical role in the spread of COVID-19. This reinforces the importance of well-fitted masks, ventilation and air filtration to protect people from COVID-19," Dr. Coleman said. "Schools especially should consider these data as they plan to reopen in person soon since many schools do not have adequate airborne virus protections in place."
Conducted in Singapore, this study utilized the "Gesundheit II machine" developed by Dr. Don Milton, a professor of applied environmental health at the UMD School of Public Health to measure the "viral load" of SARS-CoV-2 in respiratory aerosols emitted by COVID-19 patients during 30 minutes of breathing, 15 minutes of talking and 15 minutes of singing. 
The laboratory experiments, conducted in the NUS Biosafety Level 3 Laboratory in Singapore, demonstrated that 59 percent of the participants emitted detectable levels of coronavirus in their breath, including three asymptomatic participants and one presymptomatic participant. Singing emitted the highest amount of the virus overall, followed by talking, then breathing. Patients earlier in their illness were more likely to emit detectable levels of the virus, supporting a growing body of research that suggests that COVID-19 patients are more contagious in the early stages of their illness.
To further explore how COVID-19 and other respiratory diseases such as influenza are transmitted through the air, Dr. Coleman will be joining the Public Health Aerobiology, Virology and Exhaled Biomarker (PHAB) Laboratory as an Assistant Research Professor in the UMD School of Public Health this fall.
In light of the SARS-CoV-2 Delta variants (and other emerging variants), Coleman and Milton both continue to advocate for universal masking (with N95 or FFP3 respirators for healthcare and frontline workers), physical distancing and air filtration, disinfection and ventilation measures in indoor settings. The fine aerosols emitted by talking, singing and breathing can leak through face masks that are not well-fitted and require adequate ventilation and high efficiency particulate air (HEPA) cleaners to be quickly removed from indoor environments.
The study, Viral Load of SARS-CoV-2 in Respiratory Aerosols Emitted by COVID-19 Patients while Breathing, Talking, and Singing was published in Clinical Infectious Diseases and conducted by researchers from the Duke-NUS Medical School, the National University of Singapore, National Centre for Infectious Diseases, and the University of Maryland School of Public Health.
Categories
Press Releases
Research
COVID-19
Departments
Maryland Institute for Applied Environmental Health