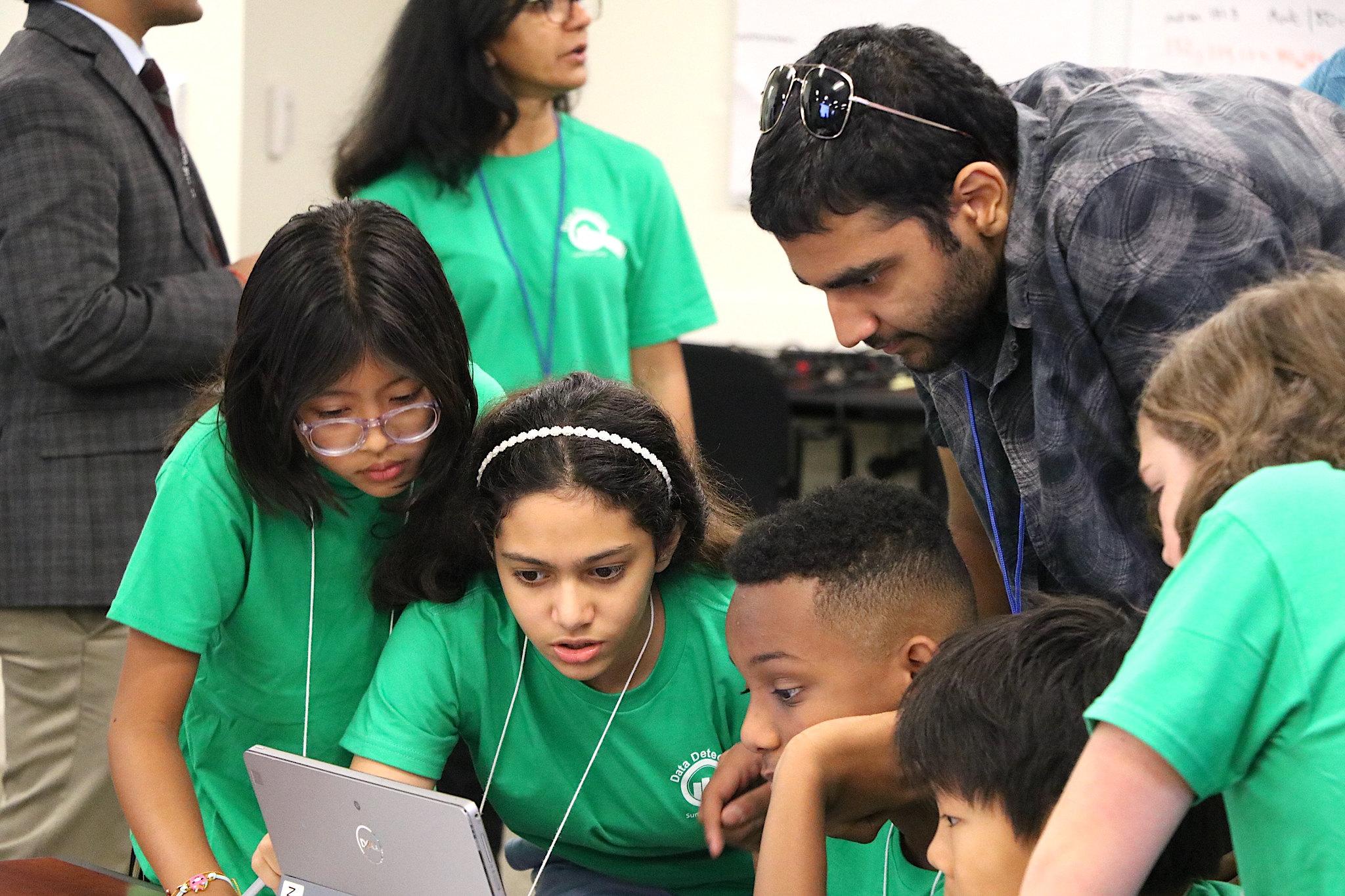 Surrounded by computer screens and sticky notes filled with colorful bar graphs and pie charts, a group of rising sixth and seventh graders recently huddled around tables at the National Center for Health Statistics (NCHS) to answer one important question: what is Maryland middle schoolers' favorite food?
The answer: meat, with pizza running a close second, according to data students analyzed during the free, weeklong NCHS Data Detectives Camp in Hyattsville, Md. Now in its eighth year, the annual science, technology, engineering and math (STEM) summer camp focuses on statistics and draws students from across the country. 
The camp is co-sponsored by the University of Maryland School of Public Health, the Joint Programs in Survey Methodology in UMD's College of Behavioral and Social Sciences, the American Statistical Association, the CDC Museum, the Bureau of Labor Statistics, the Bureau of Justice Statistics and the National Center for Education Statistics.
Thirty-four students learned how to collect and analyze statistical data and then display what they discovered in creative ways. For example, after learning middle schoolers' favorite foods in Maryland and other states, students created menus for an imaginary restaurant targeted to the age group.
Students also created scientific posters and participated in a game of data Jeopardy hosted by Aruna Miller, lieutenant governor of Maryland.
"When I was your age, I wanted to change the world," Miller said as she greeted students. "The way you can change the world is by doing exactly what you're doing right now. In statistics and STEM, you're going to come up with the solutions for the 21st century." 
Dr. Ryne Paulose, NCHS scientist and the camp's founder, echoed Miller's sentiments. 
"The real value of the Data Detectives Camp is to teach children the importance of data and how to understand it," she said. "This is especially important in today's world, where many of our main decisions are made with data."
Paulose launched the camp in 2016 with the support of then NCHS Director Charles Rothwell and Dr. Jane Clark, professor emerita and former dean of the School of Public Health. Initially hosted at the School of Public Health, the camp moved to NCHS in 2018. 
Even with the physical separation, the university's connection to the camp remains strong. Four of the camp counselors were UMD students: Katherine Badia '24, Evan Cranmer '24, Cindy Liu '23 (public health science) and Siddharth Gupta '25. Associate Professor Xin He also served on the camp's Application Review Committee for his eighth year.    
"I think that there are some grown-ups who don't know how to do some of the things [the students] learned here," said Dr. Gladys Martinez, NCHS demographer and camp lecturer. "The kids really enjoy it. They're doing what a real scientist does."
Categories
Students
Some Good News
Departments
School of Public Health
Public Health Science