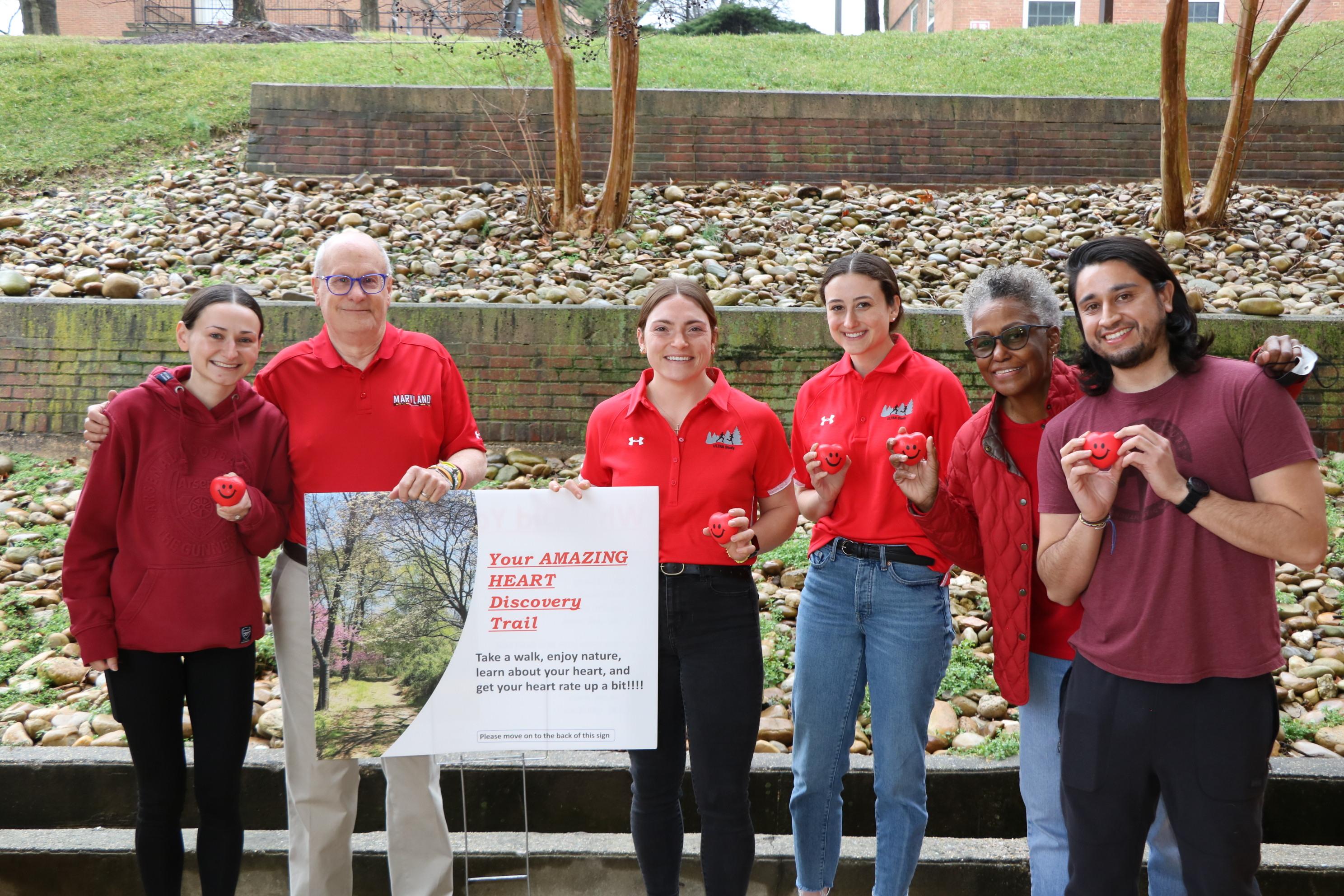 Kinesiology Professor Jim Hagberg takes heart health seriously - and for good reason.
He's built his career studying how exercise reduces the risk of cardiovascular disease. He also practices what he teaches in the classroom, walking up to 30 miles a week in Howard County's Middle Patuxent Environmental Area (MPEA).
So it's no surprise that during one of these walks, he developed another way to educate Marylanders about the human heart: a trail dedicated to its capabilities.
The "Heart Discovery Trail," which opens February 11 at noon in honor of American Heart Month, is an existing one-mile loop through the MPEA that includes 16 educational signs bearing heart facts and quizzes. The project is in partnership with the Howard County Department of Recreation & Parks.
"People take the heart and its 'amazingness' for granted," said Hagberg, who created the trail's content and voluntarily paid for all signage. "This trail will help teach people of all ages about the power of the heart and the importance of physical activity for overall heart health."
Studies show adults need 150 minutes of moderate-intensity physical activity, such as brisk walking or riding a bike on level ground, weekly to maintain good health. Regular exercise can prevent or improve risk factors that contribute to heart disease, including diabetes, obesity and high blood pressure. Walking - especially in nature - can also reduce anxiety and depression.
Still, most people do not make exercise a priority in their lives, Hagberg said.
"I've done tons of work on the benefits of exercise, but people still don't exercise," he said. "Many people don't do it because they think they need to be a 10K runner to get the benefits. That's not the case … The best form of exercise is the one that you will do."
On their journey, trail visitors will learn what the heart is made of, how often it beats in a day, how much blood it pumps and how much physical activity children need compared to adults. They'll also measure their own pulse before and after running or walking. 
Afterward, visitors will complete a survey developed by Pamela R. Smith-Purgason, MPH '23, to gauge the impact and effectiveness of the Heart Discovery Trail. Smith-Purgason is earning her MPH in Physical Activity - one of only three fully online MPH programs in the country with a physical activity concentration.
Eventually, the trail model could be used for other health topics such as mental health, bone health and obesity and in other locations, including libraries and schools, Hagberg said.
For now, the Howard County Department of Recreation & Parks is happy to be part of the project.
"Spending time in nature provides proven health benefits," said Cheryl Farfaras, natural resources program manager with the MPEA. "Add to that the benefits of getting out and moving, and the Heart Discovery Trail delivers a unique and fun way to learn the importance of healthy habits."
The Heart Discovery Trail, located inside the MPEA, 5795 Trotter Road, Clarksville, MD, will run from dawn to dusk February 11 to 21. For more information, call 410-313-4726.
Categories
Faculty
Students
Departments
Department of Kinesiology
School of Public Health