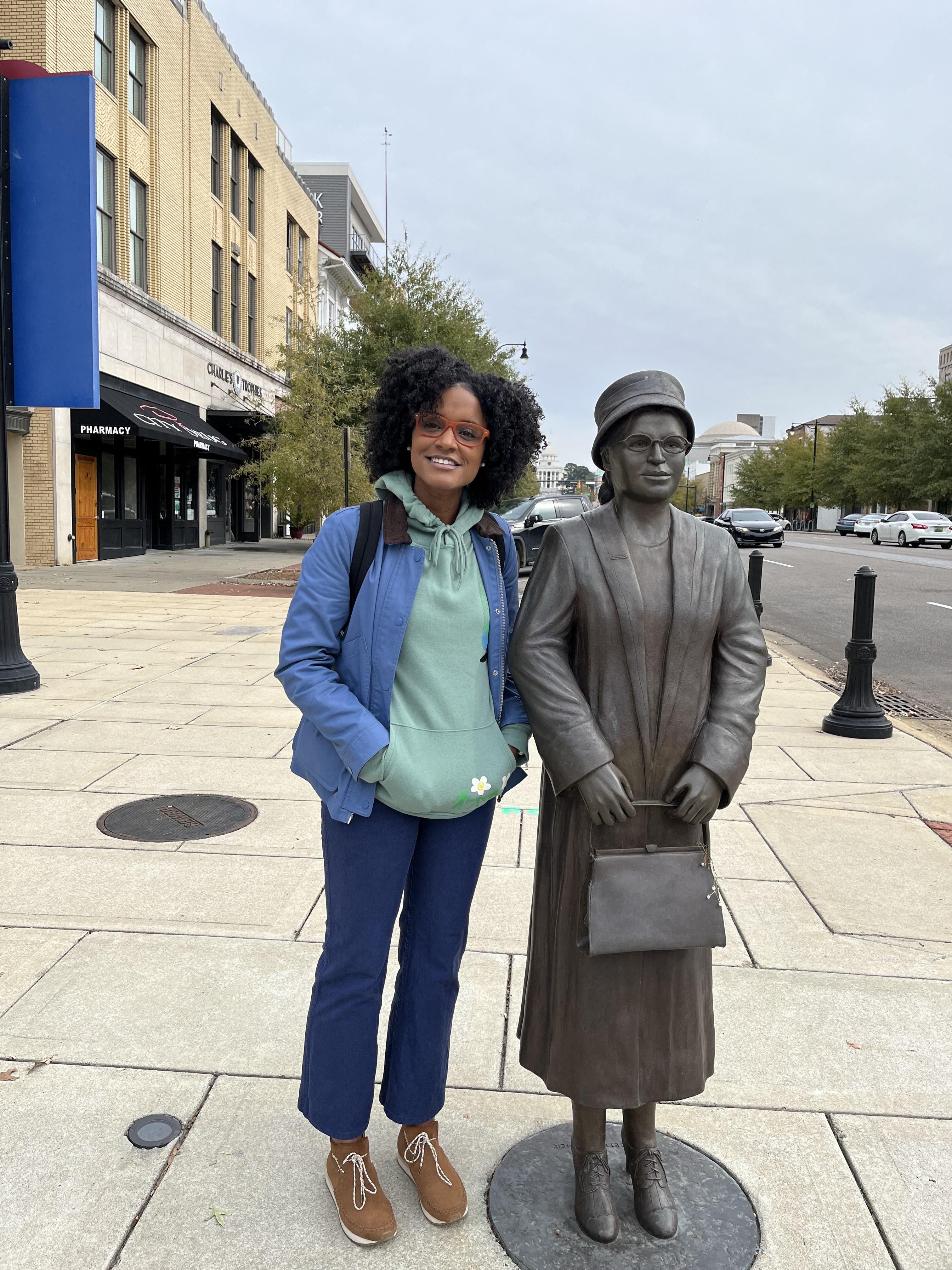 Our Happiness and Wellness Initiative shares "Some Good News" from the SPH and our extended community. You can submit your own good news by email to: happyandwell@umd.edu.  
Wandering through downtown Montgomery, Alabama on the last day of Bryan Stevenson's Equal Justice Initiative's (EJI) Education Convening, held November 17-18, 2022, Jennifer D. Roberts, associate professor of kinesiology and Harvard JPB Fellow, was approached by a man who asked her if she could help him to get some food. Jennifer made a split-second decision to not only give the man, who introduced himself as AJ, money for lunch, but to spend her last hours in the city with him. During their time together, AJ showed her the Rosa Parks statue and famous bus stop as well as other historical sites in Montgomery. He shared that he previously worked for a company that offered city walking tours but has been unable to continue due to an injury. He now finds himself unhoused and trying to meet his most basic needs. After asking and receiving assistance from Jennifer to fill out a medical form, they enjoyed talking for a while before eventually agreeing to stay in touch, exchanging contact information, and parting ways.
Injustices don't happen in singular, they pile on top of each other.
Jennifer, whose scholarship on health inequities and disparities among marginalized populations is recognized throughout the justice community and beyond, attended Bryan Stevenson's EJI by special invitation. Attendees visited EJI's Legacy Museum and were later encouraged to explore the city which is filled with civil rights movement history. Traversing what felt like the "barren" streets of Montgomery, Jennifer was struck by the fact that the Legacy Museum now occupies a former warehouse in which Black people were once auctioned, sold and forced to labor. Less than a mile away, she walked to the National Memorial for Peace and Justice, an open space in which 800 six-foot corten steel monuments are suspended from a structure. Each monument represents a county in which people were lynched, and the names of the victims are engraved on the columns. Some lines simply and hauntingly read 'unknown,' followed by a date.
If we are going to say that we're scholars of justice or people dismantling health inequities, we have to walk the walk and not just talk the talk.
Reflecting on her time in Montgomery, Jennifer calls the whole experience "visceral," and says that her encounter with AJ, a gentleman nearly old enough to be her father, fully brought home the fact that "these injustices don't happen in singular; they pile on top of each other, when there are inequities in housing, there are often inequities in education, health, and so on.  Despite all the issues that AJ was dealing with, he still had such a kindness about him." The impact was significant enough that Jennifer contacted the JPB Fellowship administrators to pitch Montgomery and the Legacy Museum as a destination for a workshop for the next cohort of fellows. They have since asked her to help organize it, giving incoming fellows access to a wealth of history they may otherwise never have seen up close. Jennifer plans to reach out to her new acquaintance to see if he is willing to meet with them and perhaps share his story along with the city's past and living history.
As Jennifer reflects forward, she hopes that people will, "first, try not to be as hesitant to interact, meet, and engage with people who are not in your immediate circle," and ultimately, "it's important that if we are going to say that we're scholars of justice or people dismantling health inequities, we have to walk the walk and not just talk the talk." As we embark on a new year with renewed spirit in 2023, Jennifer's experience and words remind us that it is an opportunity to actually do something that is beyond more than just studying it: "You might be doing something that can actually push the needle forward, that is going to make an immediate impact for someone."
Categories
Some Good News
Departments
Department of Kinesiology
School of Public Health