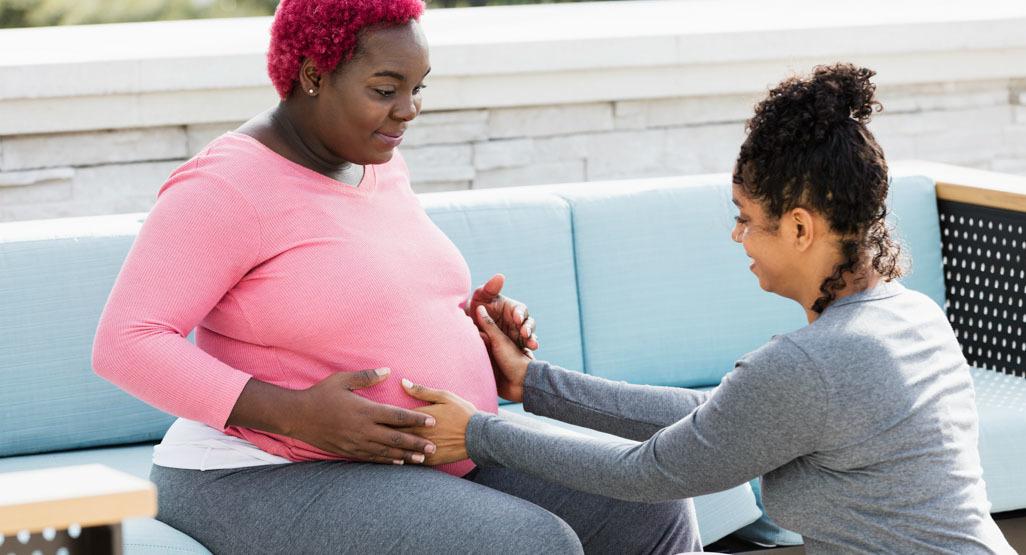 Story by Sala Levin '10

A valuable but underutilized resource in the field of maternal health is linked to better pregnancy outcomes and more respectful health care from providers: a doula. 
According to a recent University of Maryland study led by Lindsay Mallick, doctoral student in the School of Public Health's Department of Family Science, the ongoing presence of a doula–a trained professional who provides information about pregnancy and labor, as well as physical and emotional support during labor and birth–was associated with more respectful health care –especially among Medicaid enrollees and People of Color.
A doula's presence contributed to the future parent feeling supported, experiencing good communication, and participating in decisions during labor and birth, according to the study published this month in the journal Birth Issues in Perinatal Care. In addition, previous research has established that a doula's presence is also connected to reduced preterm and low birth weights, fewer C-sections and shorter labor.
"Having a doula can help ensure  (patients') voices are being heard," said Mallick. "Especially for people of color, whose voices tend to be dismissed, having a doula can be a safeguard against racism."
Mallick, along with Associate Professor Marie Thoma and Professor Edmond D. Shenassa, evaluated data from 1,977 respondents to a 2018 survey of California mothers led by the National Partnership for Women and Families. They found that 49.6% of people who used the services of a doula reported respectful health care compared to 43.3% of those without a doula. Asian and Black people who used a doula were two to three times the odds of indicating having respectful care than if they did not have a doula.
Mallick suggested that doulas, through their prenatal visits and continuous support during labor and birth, have the opportunity to explain what happens during pregnancy, what labor options are available and how to prepare for the experience of birth. Their sole priority is to act as support for an individual, whereas medical staff must also handle emergency C-sections or more complicated deliveries. A doula also often acts as an advocate for the person giving birth, serving as a bridge between patient and doctor.
Doulas, in one form or another, have existed for centuries: the word in ancient Greek means "a woman who serves." Before hospitals and birthing centers, grandmothers, neighbors, aunts and friends would act as deliverers and soothers during at-home births. As hospital births rose, midwives and traditional doulas lost some of their popularity, but as the desire for a more natural birth experience surged in the 1970s and '80s, professional doulas became hot.
Mallick developed her own interest after a distressing incident during her first child's delivery. Despite Mallick's objections, the obstetrician performed a membrane sweep, a painful procedure to bring on labor that, according to Mallick, triggered "a slew of interventions I didn't want," she said. She secured a doula for her second child's birth, "and it was such a different experience. It was the most beautiful birth."  Her recent qualitative research with the Doulas of Prince George's county has also inspired and informed her work on doulas for birthing people of color. 
Finding and hiring a doula can be challenging. Only a few states, including Oregon and Minnesota, cover doulas through Medicaid. They can cost as much as $2,500 or more–expensive for the parent-to-be, but still not enough to constitute a full-time job for most people working as doulas. 
The lack of regulation in training also hinders doulas. Typically, aspiring doulas spend anywhere from eight to 12 weeks at one of several dozen organizations offering courses throughout the country. No standardized test to gain certification exists. "That's an area that needs to be improved: standardizing doula training, ensuring that it's high-quality and has a health equity focus," said Mallick, citing recent recommendations. She also hopes that more states will expand offerings from Medicaid, which covers more than 40% of births annually in the U.S., and that doulas can be paid a living wage. 
Mallick noted that even though doulas can be a critical resource in improving health care for people of color, the major barriers to equitable health care lie beyond the reach of an individual doula. "Doulas are being seen as a tool to reduce racism, but I don't think that they should be left alone to bear this burden in maternity care," she said. "The change really needs to come from systems and policies." 
Departments
Department of Family Science