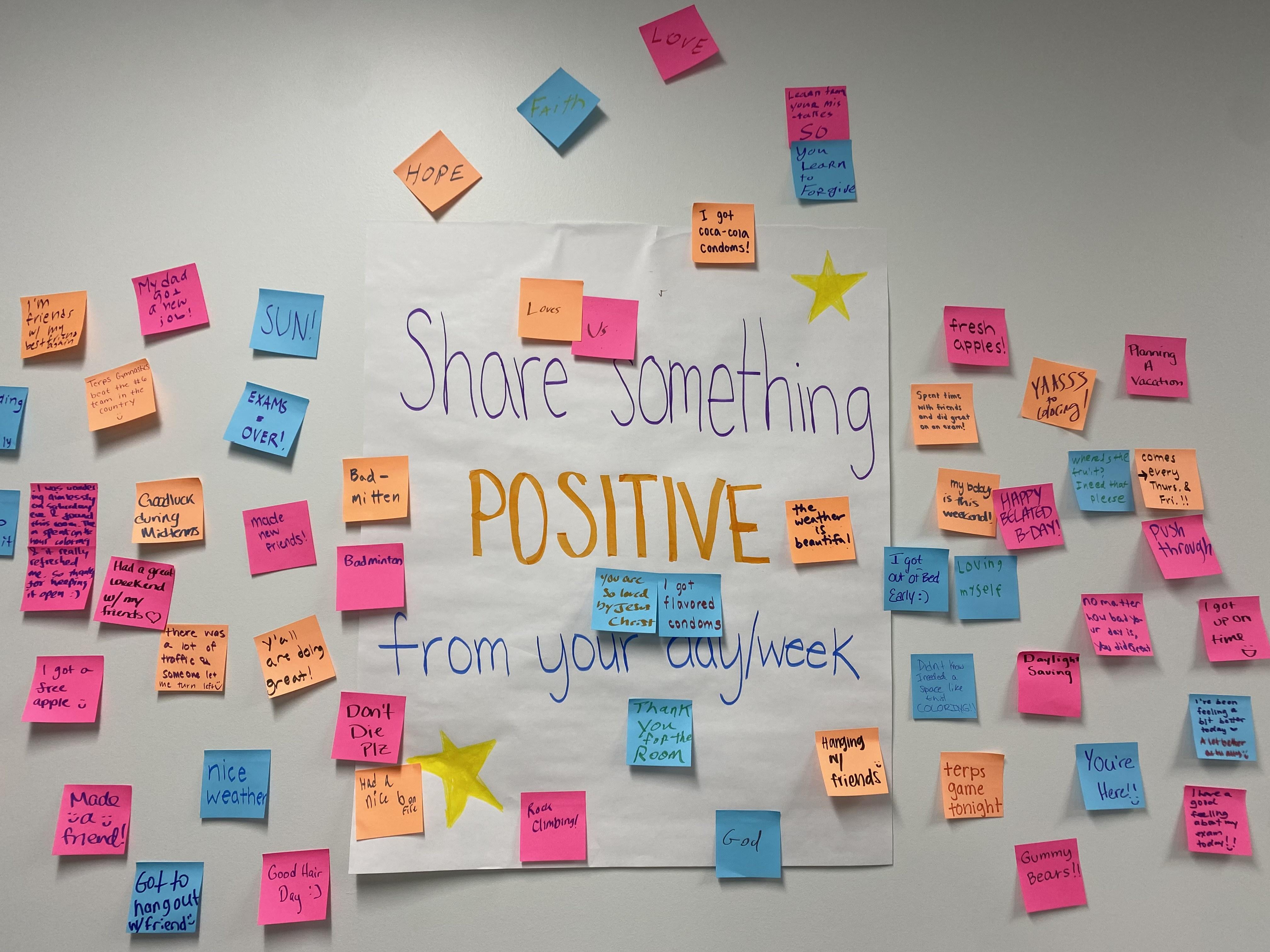 Young people are in the throes of a mental health crisis, with a rising number of teens and young adults experiencing anxiety and depression. For many, the COVID-19 pandemic amplified these disorders and even led to more serious mental health concerns.
That's why now more than ever, the University of Maryland and the School of Public Health are encouraging students, faculty and staff members to care for their whole selves through a series of programs, resources and a new campus-wide mental health task force.
"I use the World Health Organization's definition of health, which is a state of complete physical, mental and social well-being," said Dean Boris D. Lushniak. "Our society has emphasized physical health, and we've made incredible progress through medicines and surgeries. But we've made limited progress on mental health and social well-being. From a public health and societal perspective, these aspects of health can no longer be neglected."
For years, the School of Public Health has worked to create an environment where physical, mental and social well-being is valued. 
Emeritus Professor Olivia Carter-Pokras recognized the importance happiness plays in faculty, staff and students' lives, so before she retired, she proposed the school create an initiative focused on happiness and resilience. Under the leadership of Erin McClure, director of operations and chief of staff, the "Happiness and Wellness Initiative" began in 2020. 
"We accelerated our timeline for the launch of the initiative to ensure we were immediately responsive to issues of isolation due to the pandemic while also emphasizing all eight dimensions of wellness for personal, family and community care," she said. "We take a strength-based approach with tips and programming to empower and motivate our SPH family and beyond."
The initiative partners with the Division of Student Affairs, including RecWell, the Counseling Center, the University Health Center, Department of Resident Life and University Human Resources.  
"Our mental health needs are complex, so it only makes sense that mechanisms for support are multidisciplinary and multifaceted," said Leslie Krafft, program manager, TerrapinSTRONG. "Collaborations like the UMD SPH Happiness and Wellness Initiative make us a TerrapinSTRONG community that is connected, inclusive and thriving." 
I use the World Health Organization's definition of health, which is a state of complete physical, mental and social well-being.
Other SPH wellness programs and resources offered include: 
Fresh Fruit Thursdays - Once a week, SPH offers fresh, local fruit like pears and apples to students, faculty and staff in the lobby thanks to an anonymous donor. 
Wellness Room - Located on the lower level of the SPH building, the wellness room offers space for visitors to stretch, meditate, hydrate, color, work on puzzles and receive education on everything from nutrition to sexual health.
The Center for Healthy Families - Housed in the Department of Family Science, the center offers couple, family, and individual therapy, as well as parent education. 
Campus and Community Leaders in Mental Health (CCLiMH) - This multifaceted program teaches students how to identify mental health worries in themselves and others—including lack of engagement, change in mood or expressions of anxiety—and to implement coping strategies or connect to resources. Read more about "U SAD? Coping with Stress, Anxiety, and Depression," one of CCLiMH's new courses.  
Happy & Well - This monthly e-newsletter is filled with tips for achieving happiness and health. Starting in February, the Happy & Well e-newsletter will be sent independently of the monthly SPH newsletter. Subscribe to receive the latest issue.
Finals Week Wellness - A series of events during finals week to promote health and stress relief, including Reading Day Grab & Go Breakfast, Make Your Own Trail Mix and Chai Tea and Tai Chai.
Gymkana - The SPH-based gymnastics and acrobatic performance group offers classes for adults of all abilities to learn gymnastics, while stressing healthy, drug-free living.
NatureRx@UMD - This initiative emphasizes the benefits of spending time in nature for overall health and encourages the UMD community to explore the natural environments throughout and around the UMD campus.
Exploring what individual schools and colleges are doing to support mental health is just one goal of the university's new mental health task force, which Senior Vice President and Provost Jennifer King Rice and Vice President for Student Affairs Patty A. Perillo initiated last year. Chaired by Dean Lushniak and Warren Kelley, senior associate vice president for student affairs, the task force will also look at what the university is lacking and then make recommendations to UMD leaders this spring on how to take mental health and well-being support to a new level.
"We're looking at the university through a different lens," Lushniak said. "It's one thing to lecture and teach our students about mental health and wellness, but are we actively practicing it right within our community? Are we creating opportunities for our students, faculty and staff population to make this a priority? We're casting a wide net … It's an obligation as a school of public health to practice what we preach. Now we're trying to do it on a school-wide level."
Future SPH programs will include courses and training opportunities based around faculty wellness research.
Categories
Students
Faculty
Departments
School of Public Health