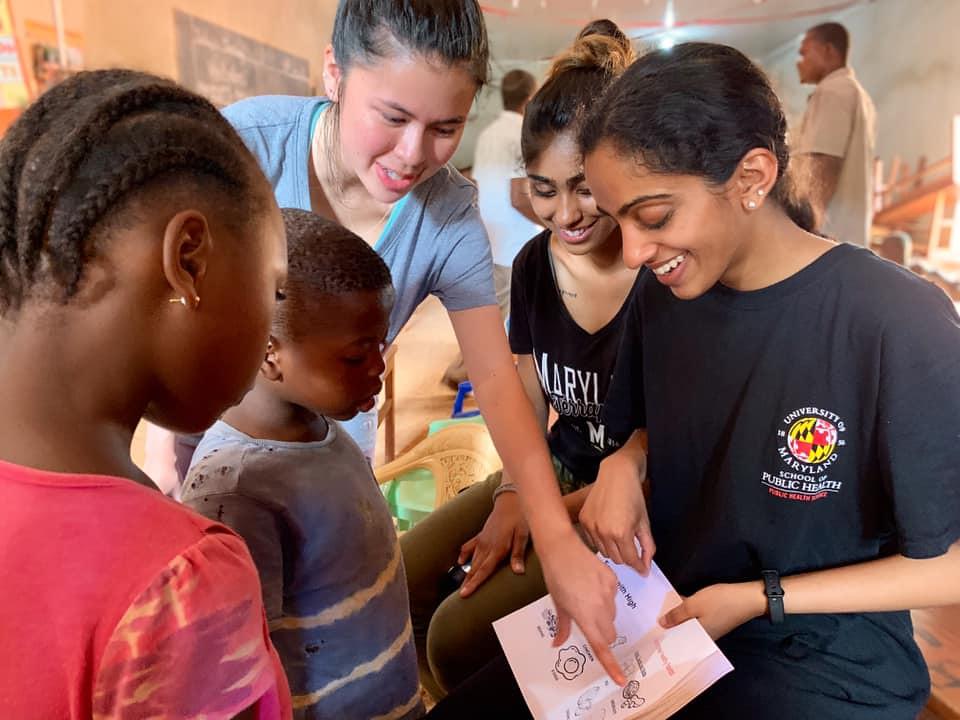 While the COVID-19 pandemic brought global travel to a screeching halt, Public Health Beyond Borders (PHBB), formerly Public Health Without Borders, hasn't stopped advancing its mission around the world.
PHBB students are still working tirelessly with community partners locally and in Peru, India and Sierra Leone to assess health disparities, disseminate educational materials and create sustainable health interventions. 
"When faced with this initial hurdle of not being able to travel and consistently be in physical contact with our partner communities, our students immediately thought outside of the box," said Veeraj Shah (Biological Sciences, Health Policy and Technology '21), PHBB's president.
So far, PHBB students have held a series of social media fundraisers supporting the Black Lives Matter movement, co-hosted a town hall on racism as a public health issue and established a partnership with the University of Maryland Campus Pantry. They have worked with Dr. Dina Borzekowski, a PHBB faculty mentor and director of the School of Public Health's Global Health Initiative, to create a health communications video, "Look Like a Hero," related to COVID-19 and are working with partner communities in Peru, Sierra Leone and India to find innovative ways to work together to maintain connection and address health issues until travel resumes.
"PHBB epitomizes how the SPH Global Health Initiative is supporting members of the UMD community to do amazing global health service and create cooperative, sustainable public health relationships around the world," Dr. Borzekowski commented. 
And now, PHBB is considering its future growth. With a generous strategic planning grant from Rachel Bell '93 (Accounting) and Anthony Samer, plus additional support from Dr. Pamela Clark, professor emeritus in the Department of Behavioral and Community Health and other generous donors, the group is working with the SPH Global Health Initiative to plan an expansion to other institutions.
"We had been talking about expanding PHBB to other universities, but it wasn't until we had someone ask us, 'What would it take to make this happen?' that we were able to really think through how to make it work," said Dr. Elisabeth Maring, an associate clinical professor of family science, director of global health engagement and PHBB's faculty advisor.
The planning grant from Bell and Samer prompted PHBB to conduct a strategic planning workshop over the summer with the University of Maryland's Academy for Innovation and Entrepreneurship. The Academy guided PHBB through 'design thinking' exercises and upon reflecting on its own mission, future expansion and name, Public Health Without Borders became Public Health Beyond Borders. 
"The name Public Health Beyond Borders best encapsulates what our mission has been as an organization and what our mission will continue being in the future," said Shah. 
PHBB is now developing a new brand identity and a toolkit of materials to share with potential partners at other universities.
"This name change, the knowledge we've built over the past six years and the passion of our students and faculty show that there is a great opportunity to take this to other universities and create incredible student organizations like the one we have here at UMD," added Shah. 
Help support PHBB students and their work by contributing to their fund.
Categories
Students
Philanthropy
Departments
Department of Behavioral and Community Health
Global Health Initiative