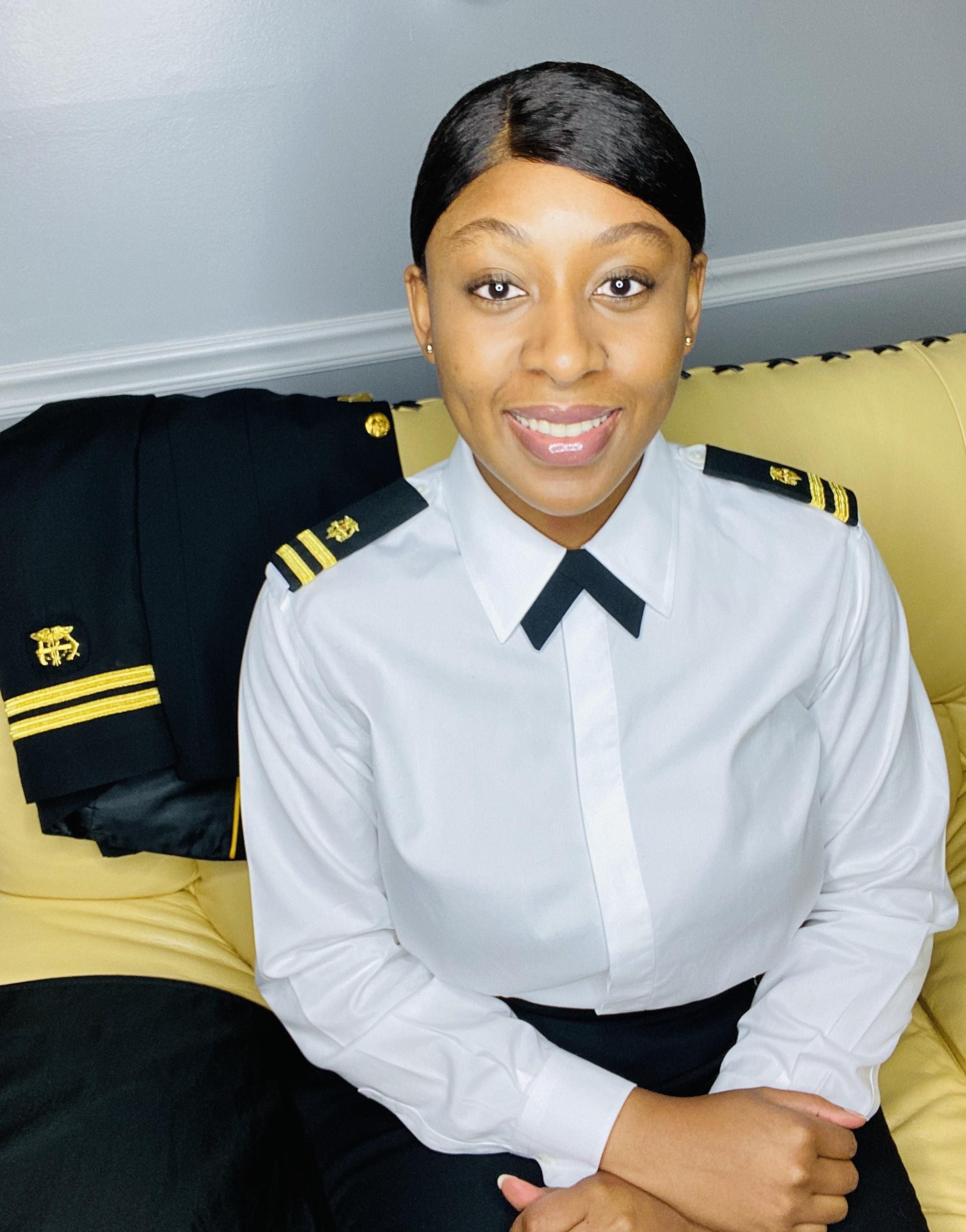 Renee Ngozi Nwankwo
Renee Ngozi Nwankwo, a lieutenant in the U.S. Public Health Service, graduated in January 2020 with her Certificate in Global Health. 
Renee received her nursing degree from Bowie State University and was working as a bedside nurse at Washington Hospital Center when she became discouraged with patients that seemed to come back over and over again with preventable illnesses. Renee said she was burnt out and called her mentor to ask if there was any way to help prevent patients from having these issues.
Her mentor advised her to try public health, a field she knew nothing about. 
"It's so important to have good mentors to steer you in the right direction," Renee said. "You might have the right degree but you might not be applying it to the right place."
Renee continued on to get her master's in public health at Morgan State University and then joined the U.S. Public Health Service— one of the seven uniform services— in 2016. 
"We don't hold guns we hold syringes," Renee said, calling herself a public health advocate in uniform. "We protect and promote the health and safety of our nation." 
Soon after, Renee received the RADM Michael Fellowship award, which funds the continuing education of junior officers servicing in the USPHS Commissioned Corps. She chose to pursue UMD's one-year global health certificate program while working full time at the Health Resources and Service Administration. 
After graduating in January, Renee continues to work at HRSA as a nurse consultant and project manager, where she oversees a $16 million dollar contract for the nursing workforce diversity program. The grant promotes undergraduates in underserved and underrepresented areas. 
Renee plans on serving 25 years with the U.S. Public Health Service and is, at some point, eager to take her public health career internationally. 
In one sentence, what is public health to you?
Public health is improving health and achieving equity in health for everyone—locally, nationally and worldwide. 
What inspired you to study public health?  
My background inspired me to study public health, although I wasn't born and raised here. I have family in Nigeria that aren't privy to the health resources that we have here. My family is always sick from malaria and we just don't experience that here in the U.S. 
I wanted to be that person in the family who serves as someone that would provide awareness about those things. My family members back home aren't aware of the importance of public health, or how simple it is. 
It doesn't take much to be aware of your health— It could be as simple as eating healthy, exercising or just vocalizing that you're not feeling okay. But, it's not something they have time to think about because they are worried about eating or taking care of their children— health becomes secondary to them. 
I wanted to shed light on the importance of healthcare and make it something that people in low and middle-income countries think about. 
I'm also a product of the historically black universities that I attended. I've seen how public health is needed in black communities, which has helped form my interest in public health. 
What do you think is the biggest challenge that the public health field should be focusing on?
With what's been going on in the news lately, I think the biggest challenge in public health is speaking with one voice. There's been so much miscommunication, especially when it comes to healthcare, which is why I'm so big on interagency collaboration. Different agencies need to come together and speak in one voice to serve the public. 
In this particular time, there's not enough communication and you often here misinformation on social media. You want to hear from experts, people on the front lines. 
We operate in a silo sometimes, even as a country. The coronavirus outbreak happened in China— are we speaking other countries? Are we communicating? Are we miscommunicating? Are we operating under one voice? 
Why did you choose the Certificate in Global Health at UMD?
I felt like public health on a local level was not enough for me. I already had my master's in public health from Morgan State University, with a concentration in global health and policy. But it wasn't extensive. 
The global health certificate at the University of Maryland provided me with an extensive and diverse view. It was structured and interactive, and it prepared me to go out into the field. 
I am Nigerian but born and raised in Howard County. I am very eager to step outside and pursue my passion on a global level, particularly in low and middle-income countries with little health infrastructure. 
I want to work in these countries to build a sustainable structure, to help them be prepared for outbreaks like the coronavirus. Global health helps you think outside the box. 
Diseases have no borders, so we need to get other countries up to speed. When we help address issues and outbreaks in every country, it's better for the whole world.
How has the Certificate in Global Health shaped your career goals? 
It helped me to hone in on exactly want I wanted to do. I had no idea how vast global health is— from malaria, to AIDS, to maternal health. It's so important and I took it for granted because I'm here in the United States and there are so many preventative measures. 
For example, there are mothers in third-world countries that aren't getting prenatal and antenatal care and are dying. I had no idea about these things, and the global health certificate helped me to gain a better understanding, be thankful for what I have, and realize that there are people who still need help. We are privileged to have what other people don't. 
The global health certificate really brings out the ability for you to serve and helps you understand what type of service you want to provide and for what communities— whether that is volunteering, educating or providing basic needs. 
What person or experience had the greatest impact on you during your degree program?
I cannot praise the faculty here at the University of Maryland enough— Dr. Muhiuddin Haider made it so interactive. He brought in experts, like people from USAID, to let us know what was going on in the field. 
Even outside school, he would send us awareness emails, which is how I got involved in CUGH global health day on Capitol Hill. That's another way our voice can be heard when it comes to global health— influencing legislation. 
Departments
Maryland Institute for Applied Environmental Health
Global Health Initiative